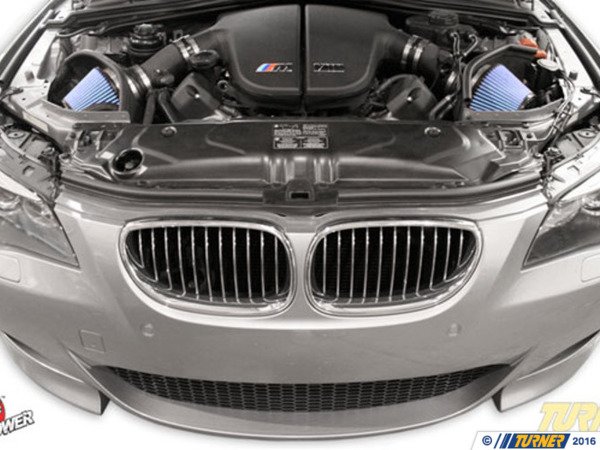 E60 M5 06-10 Stage 1 Turner Motorsport Performance Package
Mfg Part #

E60M5PPST1

Turner Part #

T#

391969

Brand

Packaged by Turner
Ships on May 18, 2018
Free Shipping
Does this fit my vehicle?
For accurate results, specify your model below.
Product Details
2006-2010 E60 M5, E63 M6 Stage 1 Performance Package
Power Gain @ Peak Output: +35hp / +35ft-lbs
Rev limit: 8250 or 8500
Octane: 91 or higher

Carefully selecting some of our least-invasive, best bang-for-your-buck S85 hardware, paired with our Stage 1 Performance Software yields impressive results that can be completed in an afternoon!
TURNER POWER PULLEY
Our Power Pulley reduces rotational mass and safely under drives your belt driven auxiliaries for reduced parasitic power loss. The end result: More power to your M5 or M6's rear wheels! Designed to give the best performance benefit with no sacrifices or compromises to your BMW's reliability. These have been tested on hundreds of cars before public release and there are simply NO DOWNSIDES to this upgrade. CNC machined using aircraft grade 6061 aluminum billet, and anodized with a stealthy black coating. Others may advertise "their" crank pulley boasting higher numbers (using a smaller pulley profile), but we have concluded that for street and track driven M5 and M6, this is the best size and design to ensure proper engine temp and auxiliary functionality. As the S85 V10 engine doesn't use a traditional harmonic balancer, all factory harmonics and dampening are fully and properly retained. We've found this pulley alone adds 18 to 22 HP and 17 to 21 Ft/lbs Torque on a stock M5 or M6 with no other mods(!!).

The E60 M5 / E63 M6 Power Pulley Kit includes:
(1) Underdrive Crank Pulley
(1) Correctly Sized Drive Belt
(6) Allen Head Bolts
(1) Installation instructions
TURNER INTAKE AIR TEMPERATURE SENSOR (IAT) RELOCATION KIT
Got heat soak? The problem is that BMW integrated the S68's intake air temp sensor in the MAF housing, which is sandwiched behind a hot radiator and in some applications next to an even hotter valve cover. The MAF housing absorbs the excess heat from its surroundings and can't shed it fast enough, and the ECU reads a falsely high intake air temperature. It then incorrectly adjusts operating parameters to compensate for the false hot air measurement (pulling timing and running a leaner fuel mixture), and torque output drops like a rock.
The fix? Locate an intake air temp sensor in a location where it can more accurately measure incoming air temps and where it is less prone to heat soak. By mounting a sensor further away from the heat source and divorcing it from the mass of the MAF housing, it can both resist the effects of heat soak longer and respond to temperature changes more quickly. The end result? You'll experience reduced loss in torque and more consistent power output when you're pushing your engine hard.
Result? We recovered 11lb-ft torque at 2500rpm by relocating the temperature sensor on an E39 M5 (E60 owners should expect an even more substantial recovery)!
Installation is as simple as drilling a small hole for the sensor and plugging in the harness.

AFE INTAKE SYSTEM
Rid your M5 or M6's V10 powerplant of both of its restrictive factory air boxes with this cold air intake kit by aFe, and you'll cut the airflow restriction IN HALF. Air flow showed an increase of 117% and dyno testing yielded max power gains of 28hp and 24 ft/lbs of torque . The intake tubes of this kit are custom-designed to accelerate airflow for best performance. Fits all 2006, 2007, 2008 and 2009 and V10 M5 and M6.
Kit includes everything necessary to install, including installation instructions. This kit can typically be installed in less than 60 minutes, and uses all factory mounting points (no modifications). The kit uses 2 high performance 360 degree radial flow air filters which are washable/reusable (or oiled - your choice). The filtration media uses the deepest pleats in the industry, allowing the most surface area and airflow possible, in the space allowed. The increased airflow is significant enough that it is audible while driving, giving your 5.0 liter V10 a subtly more aggressive sound when revving or under load. Best of all, this is a SAFE product that will not cause any longevity issues or malfunctions to your BMW's intricate engine management system.
TURNER STAGE 1 PERFORMANCE SOFTWARE
Adding power and torque to the M5 V10 is as easy as a flash! Where we can make our software better is by tuning it for higher octane gasoline. The stock software is tuned around the 87octane available in the US (most M5 owners would never use 87 but BMW engineers must account for that possibility). With our software, the performance of the S85 engine is optimized for the higher 91 or 93 octane. We tune many areas of the engine programming -
fuel and timing maps at part throttle and wide-open throttle,
revised torque settings and knock control,
improved VAN0S variable valve timing,
smoother and faster pedal response
top speed limiter eliminated
optional raised rev limit
Our software uses a new version of stock BMW software as its base. Even the new stock software is an improvement over the original M5. If you have other modifications done to your M5/M6, we can supply you with specially-developed software to maximize the gains from those upgrades.

Turner Motorsport has been developing software on the S85 since our first car in 2006. Since then we have done software projects for street, track, and 5.7L stroker engine builds using the stock MSS65 DME. Engine tunes have been developed and checked on our Dynapack chassis dyno and further refined with real world testing. For track cars, our Stage 2 cat-delete software will clear check engine lights and faults (to satisfy race series regulations).

Our software is installed via the Turner flashing OBD tool. This tool plugs into the OBD socket in the dash and the performance software is installed from a laptop computer connected to the tool. It also works as a fault code scanner to read and reset diagnostic trouble codes and reset adaptations. The software program requires a Windows XP/Vista/7/8/10 laptop and the installation and setup are very easy. The OBD tool, cable, and files are shipped to you with simple setup instructions. There is no need to remove your ECU and ship it. You can have your M5 flashed in under an hour from the convenience of your garage or driveway!​

Minimum Octane
You can choose between 91 or 93. We have developed tuning for the standard 'high octane' premium fuel found around the country (91 is the maximum available in some areas). Our power and torque gains are advertised with 93. The 91 octane version will have less timing and slightly less horsepower gains.​

Rev Limit
We have two rev limit options: stock 8,250 and raised 8,500. Having a higher rev limit lets you stay in gear longer and avoid an untimely upshift. Higher rev limits should only be used for brief moments and never for sustained running. Additional engine maintenance, with frequent oil changes and oil analysis, is strongly recommended.​​

Base File Update
Our performance software is built around a specific version of stock software that BMW released as an update. It includes a number of significant changes over older versions for driveability and torque management. The M5 update was such a big step forward that it's considered an upgrade all on its own. No worry if you don't have it - we will provide you with a free update before the Turner performance software is installed
Loading Kit Configurator
Kit Configurator
Select your tune:
Description
Qty
Manual transmission, 91 octane, 8250rpm rev limiter ($799.00)

Ships in 1 day

1
Manual transmission, 91 octane, 8500rpm rev limiter ($799.00)

Ships in 1 day

1
Manual transmission, 93 octane, 8250rpm rev limiter ($799.00)

Ships in 1 day

1
Manual transmission, 93 octane, 8500rpm rev limiter ($799.00)

Ships in 1 day

1
SMG transmission, 91 octane, 8250rpm rev limiter ($799.00)

Ships in 1 day

1
SMG transmission, 91 octane, 8500rpm rev limiter ($799.00)

Ships in 1 day

1
SMG transmission, 93 octane, 8250rpm rev limiter ($799.00)

Ships in 1 day

1
SMG transmission, 93 octane, 8500rpm rev limiter ($799.00)

Ships in 1 day

1
Select your intake:
Description
Qty
Magnum FORCE Pro Dry S Stage 2 Air Intake System (Dry Filters) ($841.00)

Direct Ship

1
Magnum FORCE Pro 5R Stage 2 Air Intake System (Oiled Filters) ($841.00)

Direct Ship

1
Turner Power Pulley Kit:
Description
Qty
Yes! ($399.95)

Ships on May 18, 2018

1
Turner IAT Relocation Kit:
Description
Qty
Yes! ($99.95)

In Stock

1
Image may not match selected options.
This Part Fits the Following BMWs
| Make | Model | Submodel | Engine |
| --- | --- | --- | --- |
| BMW | E60 | M5 | S85 5.0L |
| BMW | E63 | M6 | S85 5.0L |
| BMW | E64 | M6 | S85 5.0L |
*The above product applications have been written by Turner Motorsport. All warranties, product application, fitment, and performance are the responsibility of Turner Motorsport. For additional information see the terms of use.
others bought
recently viewed