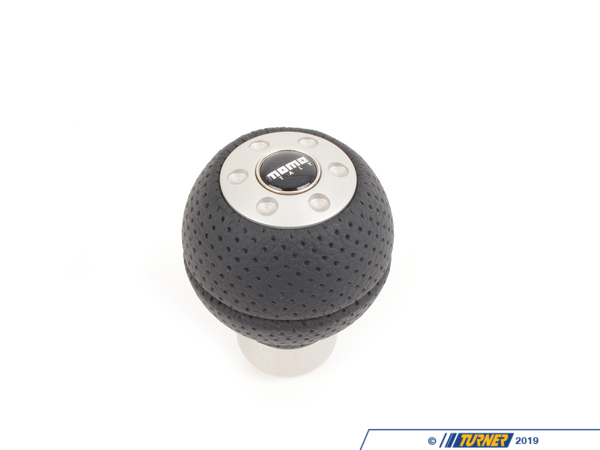 Momo Race AirLeather Shift Knob
Mfg Part #

RACAIR

Turner Part #

T#

414
Price:
Qty
104.95

Free Shipping
on orders $200 and up
Does this fit my vehicle?
For accurate results, specify your model below.
Product Details
Momo Race Air Leather shift knob for nearly all BMWs. Installs in minutes for a unique touch to your interior. Black aerated leather with satin insert and MOMO logo on top, matching satin base. The Race is a globe shape which fits in any palm. This knob is the same weight as stock. Comes with installation kit, ready to install.
This Part Fits the Following BMWs
| Make | Model | Submodel | Engine |
| --- | --- | --- | --- |
| BMW | E12 | 528i | M30 2.8L |
| BMW | E21 | 320i | M10 1.8L |
| BMW | E23 | 733i | M30 3.2L |
| BMW | E23 | 735i | M30 3.4L |
| BMW | E24 | 633CSi | M30 3.2L |
| BMW | E24 | 635CSi | M30 3.4L |
| BMW | E24 | M6 | S38 3.5L |
| BMW | E28 | 528e | M20 2.7L |
| BMW | E28 | 533i | M30 3.2L |
| BMW | E28 | 535i | M30 3.4L |
| BMW | E28 | 535is | M30 3.4L |
| BMW | E28 | M5 | S38 3.5L |
| BMW | E30 | 318i | M10 1.8L |
| BMW | E30 | 318i | M42 1.8L |
| BMW | E30 | 318is | M42 1.8L |
| BMW | E30 | 325 | M20 2.7L |
| BMW | E30 | 325e | M20 2.7L |
| BMW | E30 | 325es | M20 2.7L |
| BMW | E30 | 325i | M20 2.5L |
| BMW | E30 | 325is | M20 2.5L |
| BMW | E30 | 325ix | M20 2.5L |
| BMW | E30 | M3 | S14 2.3L |
| BMW | E31 | 840Ci | M60 4.0L |
| BMW | E31 | 840Ci | M62 4.4L |
| BMW | E31 | 850Ci | M70 5.0L |
| BMW | E31 | 850Ci | M73 5.4L |
| BMW | E32 | 735i | M30 3.4L |
| BMW | E34 | 525i | M20 2.5L |
| BMW | E34 | 525i | M50 2.5L |
| BMW | E34 | 530i | M60 3.0L |
| BMW | E34 | 535i | M30 3.4L |
| BMW | E34 | 540i | M60 4.0L |
| BMW | E34 | M5 | S38 3.5L |
| BMW | E36 | 318i | M42 1.8L |
| BMW | E36 | 318i | M44 1.9L |
| BMW | E36 | 318ic | M42 1.8L |
| BMW | E36 | 318ic | M44 1.9L |
| BMW | E36 | 318is | M42 1.8L |
| BMW | E36 | 318is | M44 1.9L |
| BMW | E36 | 318ti | M42 1.8L |
| BMW | E36 | 318ti | M44 1.9L |
| BMW | E36 | 323ic | M52 2.5L |
| BMW | E36 | 323is | M52 2.5L |
| BMW | E36 | 325i | M50 2.5L |
| BMW | E36 | 325ic | M50 2.5L |
| BMW | E36 | 325is | M50 2.5L |
| BMW | E36 | 328i | M52 2.8L |
| BMW | E36 | 328ic | M52 2.8L |
| BMW | E36 | 328is | M52 2.8L |
| BMW | E36 | M3 | S50 3.0L |
| BMW | E36 | M3 | S52 3.2L |
| BMW | E39 | 525i | M54 2.5L |
| BMW | E39 | 528i | M52 2.8L |
| BMW | E39 | 530i | M54 3.0L |
| BMW | E39 | 540i | M62 4.4L |
| BMW | E39 | M5 | S62 5.0L |
| BMW | E46 | 323Ci | M52 2.5L |
| BMW | E46 | 323i | M52 2.5L |
| BMW | E46 | 325Ci | M54 2.5L |
| BMW | E46 | 325i | M54 2.5L |
| BMW | E46 | 325xi | M54 2.5L |
| BMW | E46 | 328Ci | M52 2.8L |
| BMW | E46 | 328i | M52 2.8L |
| BMW | E46 | 330Ci | M54 3.0L |
| BMW | E46 | 330i | M54 3.0L |
| BMW | E46 | 330xi | M54 3.0L |
| BMW | E46 | M3 | S54 3.2L |
| BMW | E52 | Z8 | S62 5.0L |
| BMW | E53 | X5 | M54 3.0L |
| BMW | E60 | 525i | M54 2.5L |
| BMW | E60 | 525xi | N52 3.0L |
| BMW | E60 | 530i | N52 3.0L |
| BMW | E60 | 530xi | N52 3.0L |
| BMW | E60 | 535i | N54 3.0L |
| BMW | E60 | 535i | N55 3.0L |
| BMW | E60 | 545i | N62 4.4L |
| BMW | E60 | M5 | S85 5.0L |
| BMW | E61 | 530xi | N52 3.0L |
| BMW | E63 | 645Ci | N62 4.4L |
| BMW | E63 | M6 | S85 5.0L |
| BMW | E64 | 645Ci | N62 4.4L |
| BMW | E83 | X3 | M54 2.5L |
| BMW | E83 | X3 | M54 3.0L |
| BMW | E83 | X3 | N52 3.0L |
| BMW | E90 | 325i | N52 3.0L |
| BMW | E90 | 330i | N52 3.0L |
| BMW | E93 | 328i | N52 3.0L |
| BMW | E93 | M3 | S65 4.0L |
| BMW | F10 | 535i | N55 3.0L |
| BMW | F10 | 535i xDrive | N55 3.0L |
| BMW | F10 | M5 | S63 4.4L |
| BMW | F13 | M6 | S63 4.4L |
| BMW | Z3 | 1.9 | M44 1.9L |
| BMW | Z3 | 2.3 | M52 2.5L |
| BMW | Z3 | 2.5i | M54 2.5L |
| BMW | Z3 | 2.8 | M52 2.8L |
| BMW | Z3 | 3.0i | M54 3.0L |
| BMW | Z3 | M Coupe | S52 3.2L |
| BMW | Z3 | M Coupe | S54 3.2L |
| BMW | Z3 | M Roadster | S52 3.2L |
| BMW | Z3 | M Roadster | S54 3.2L |
| BMW | Z4 | 2.5i | M54 2.5L |
| BMW | Z4 | 3.0i | M54 3.0L |
| BMW | Z4 | 3.0i | N52 3.0L |
| MINI | Cooper | Base | L4 1.6L N12B16A |
| MINI | Cooper | Base | L4 1.6L N16B16A |
| MINI | Cooper | Base | L4 1.6L W10B16A |
| MINI | Cooper | S | L4 1.6L N14B16A |
| MINI | Cooper | S | L4 1.6L N18B16A |
| MINI | Cooper | S | L4 1.6L W11B16A |
| MINI | Cooper | S | N18B16A |
*The above product applications have been written by Turner Motorsport. All warranties, product application, fitment, and performance are the responsibility of Turner Motorsport. For additional information see the terms of use.
others bought
recently viewed