ANOTHER MONTH TO ENTER
Open Wheel Driving School Experience Sweepstakes
Presented by HAWK Performance & Turner Motorsport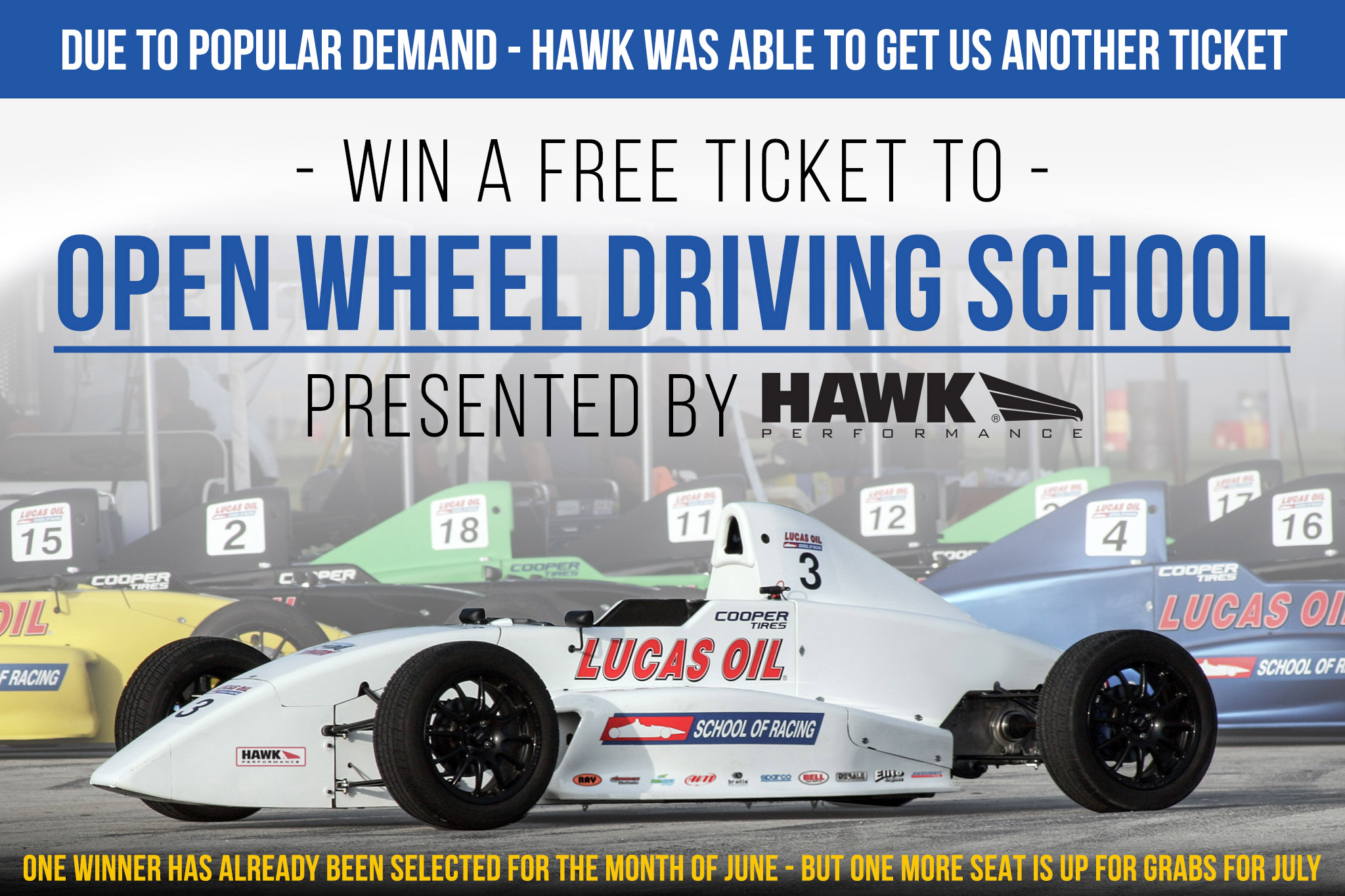 Since 1993, Turner Motorsport has strived to provide our customers with the best quality performance parts and accessories for your high-performance BMW. This year we are thrilled to announce that we are giving away a chance to drive like the pros!

That's right, we are giving away a chance to drive an open wheel formula car! You will attend the Lucas Oil School of Racing presented by HAWK Performance September 5th and 6th 2018 at historic Road America. The driving school will get you 5 hours of seat time - tearing up the famous Moraine Sweep, Hurry Downs, Carousel, The Kink, Kettle Bottoms, and Canada Corner of Road America.

All you have to do to enter is buy HAWK Products at Turnermotorsport.com, and every one dollar ($1) you spend will count as an entry. (Example: Spend $200 on HAWK Rotors receive 200 entries into the sweepstakes).

Cutoff for Entries is Tuesday July 31st 2018 at 11:59 PM (EST)

The winner will receive

Cash Prize:
$500 USD Spending Money

Two Day Open Wheel Driving Program:
2.5 hours of track time each day
Arrive & Drive. All inclusive, includes suit and helmet
Instruction from current and previous racing champions
Learn proper car placement for every corner at every track
Proper techniques for maximum braking and corner entry
Learn proper passing techniques thru on-track practice drills
Practice starts and race so you are ready for your first competition
In-car video and data included at end of school

Accommodations:
3 Nights hotel provided for stay within one hour of track
1 Turner Motorsport Team Shirt
1 Turner Motorsport Team Hat
1 Rental car for the duration of the stay
1 Round trip economy airfare to General Mitchell International Airport - Milwaukee, WI
Breakfast and Lunch Provided

You won't be able to get an exclusive experience like this from anybody else, so be sure to enter now for an event you'll never forget!

Congratulations to peter_anthony00 - He has won the Open Wheel Driving Sweepstakes presented by HAWK and Turner Motorsport

Remember you can still win a seat for the month of July - Get your HAWK orders in now!



For full terms and conditions click here


SHOP HAWK PERFORMANCE