Turner Motorsport Racing News & Press Feed
Trouble viewing this email? Read it online.
Turner Motorsport is the leading source for parts and performance for BMWs. Visit our website at www.TurnerMotorsport.com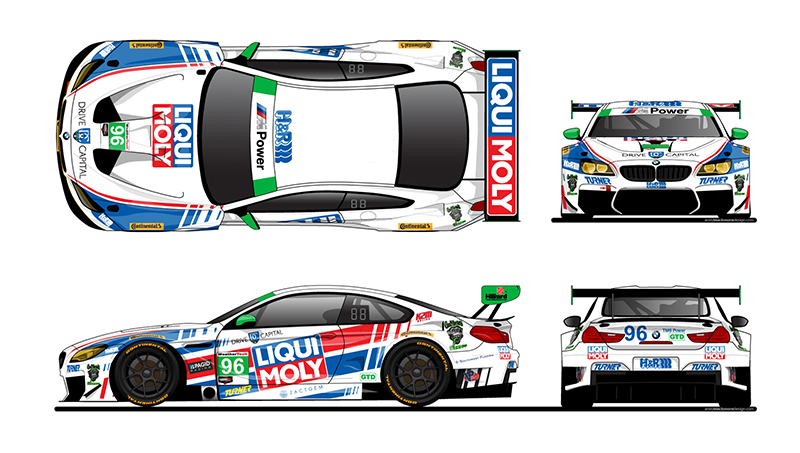 (FOR IMMEDIATE RELEASE)
Turner Motorsport to Debut Fresh New LIQUI MOLY Livery for Rolex 24 at Daytona as part of new partnership.

Amesbury, MA. -- January 15th, 2018 -- After much anticipation Turner Motorsport is exceptionally excited to announce the team's newest partnership to commence the 2018 WeatherTech SportsCar Championship at Daytona International Speedway.

LIQUI MOLY has become the official lubricant supplier and partner of Turner Motorsport. The exciting new partnership will kick off in just a couple short weeks with the white, blue and red liveried No. 96 LIQUI MOLY branded BMW M6 GT3.

As pictured above, the No. 96 LIQUI MOLY BMW M6 GT3 will feature a white base color to contrast with the red and blue signature colors of the iconic LIQUI MOLY brand.

"We maintain a long cooperation with German auto companies," said Peter Baumann Marketing Director for LIQUI MOLY. "Our oils are officially approved by BMW and other German auto manufactures so it is a natural fit for our company. By participating in the IMSA series and promoting it, we are strengthening our brand awareness and showing the quality of our LIQUI MOLY products because what performs well on the racetrack will also perform well on the road."

"LIQUI MOLY is a dream partner," said Will Turner, President of Turner Motorsport. "Without a premium and proven oil, success in endurance racing is not possible. The products we use in our racecars must withstand extreme conditions and LIQUI MOLY can do just that. LIQUI MOLY offers a complete line of al products we use at the track, in our race shop , and in our exclusively BMW service center , making this partnership much more valuable."

LIQUI MOLY offers a unique range of more than 4000 products globally. This product range includes motor oils, additives, greases, pastes, sprays, car care and sealants. Founded in 1957, LIQUI MOLY develops and produces their products in Germany. They are the market leader for additives and are repeatedly voted the best oil brand.

Turner Motorsport, a seven-time Championship BMW race team has followed the same approach with many successful partnerships since 1998, developing and testing products on the racetrack to then retail all around the world.

"I speak for all of us here at Turner Motorsport to say how excited we are to have such a strong partnership with a company and brand like LIQUI MOLY. They are dedicated to providing the highest quality products for automobiles all around the world," said Jay Baier, Director of Marketing, Turner Motorsport. "LIQUI MOLY is a very well-known and established brand in both high performing street cars as well as on the race track so this partnership is a natural fit with Turner motorsport "

Turner Motorsport has competed in over 270 professional races with BMW since 1998 and has been the a constant and prominent BMW race team in North America for over two decades.

The No. 96 LIQUI MOLY BMW M6 GT3 will head south to Florida later this week in preparation for the race on January 27th and 28th.

On track action will begin Thursday, January 25th with the first GTD practice at 9:20am EST. Qualifying for the Rolex 24 at Daytona will be on Thursday at 3:55pm EST and will be LIVE on IMSA TV. The Rolex 24 at Daytona takes the green flag at 2:00pm EST on Saturday and will be broadcast LIVE on Fox.


2018 Partners: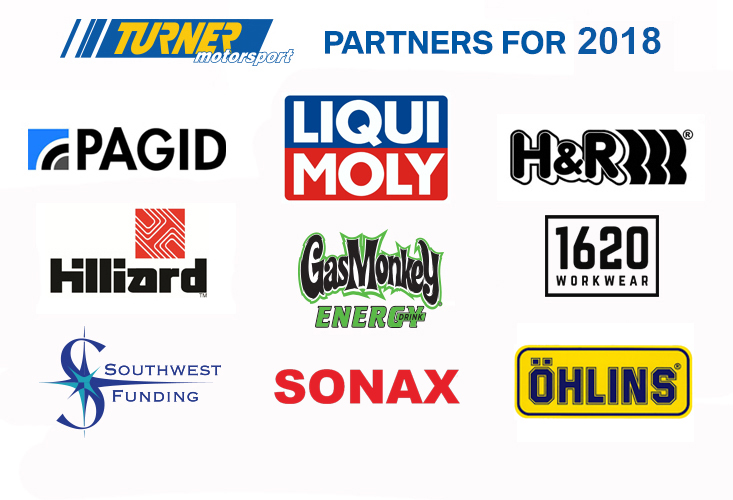 Stay connected. Follow us on Facebook & Twitter to get up to the minute updates from the race track.
About Turner Motorsport

Turner Motorsport is the leading BMW tuner in North America, bringing technology and expertise from the racetrack to the street for over two decades. Since 1993 the Turner Motorsport Team has competed in over 370 professional races, winning seven professional racing championships in four different series since 2003. The most recent being the 2014 Team Championship in the GTD-class of the TUDOR United SportsCar Championship. Their success is passed into every component that Turner Motorsport designs and sells through their comprehensive website and performance showroom. Our Race Team, R&D Engineers and Sales Team work together, ensuring practical knowledge and state-of-the-art engineering flow in both directions. Few companies in North America can claim such a close relationship to what they sell and what they race.


2018 Weathertech SportsCar Championship Schedule
Jan. 25-28 - Rolex 24 At Daytona P/GTLM/GTD Daytona International Speedway – Daytona Beach, Florida - 24 Hours

March 14-17 - Mobil 1 Twelve Hours of Sebring Fueled by Fresh From Florida P/GTLM/GTD Sebring International Raceway – Sebring, Florida - 12 Hours

April 13-14 - BUBBA burger SportsCar Grand Prix at Long Beach P/GTLM Long Beach, California

May 4-6 - Mid-Ohio Sports Car Course P/GTLM/GTD Lexington, Ohio

June 1-2 - Chevrolet Sports Car Classic P/GTD Belle Isle Park – Detroit, Michigan

June 28-July 1 - Sahlen's Six Hours of The Glen P/GTLM/GTD Watkins Glen International – Watkins Glen, New York - 6 Hours

July 6-8 - Mobil 1 SportsCar Grand Prix P/GTLM/GTD Canadian Tire Motorsport Park – Bowmanville, Ontario, Canada

July 20-21 - Northeast Grand Prix GTLM/GTD Lime Rock Park – Lakeville, Connecticut

Aug. 3-5 - Continental Tire Road Race Showcase P/GTLM/GTD Road America – Elkhart Lake, Wisconsin

Aug. 17-19 - Michelin GT Challenge GTLM/GTD VIRginia International Raceway – Danville, Virginia

Sept. 7-9 - Continental Tire Monterey Grand Prix powered by Mazda P/GTLM/GTD Mazda Raceway Laguna Seca – Monterey, California

Oct. 10-13 - Motul Petit Le Mans P/GTLM/GTD Road Atlanta – Braselton, Georgia - 10 Hours


Television coverage by
Please click here to check your local listings for both Fox Sports 1 and Fox Sports 2.
---
Links

TurnerMotorsport.com - Parts, Performance & Service Parts for BMWs
TurnerService.com - Service, Performance & Maintenance for BMWs
IHG Rewards Club - The World's Largest Hotel Loyalty Program
H&R Springs - Premium Quality Suspension Components
PAGID - Motorsport and High Performance Brake Products

Weathertech SportsCar Championship Homepage

---
Press Inquires please Contact

Jay Baier
Director of Marketing
email: [email protected]
phone: 978-388-7769 ext. 630