Turner Motorsport Racing News & Press Feed
Trouble viewing this email? Read it online.
Turner Motorsport is the leading source for parts and performance for BMWs. Visit our website at www.TurnerMotorsport.com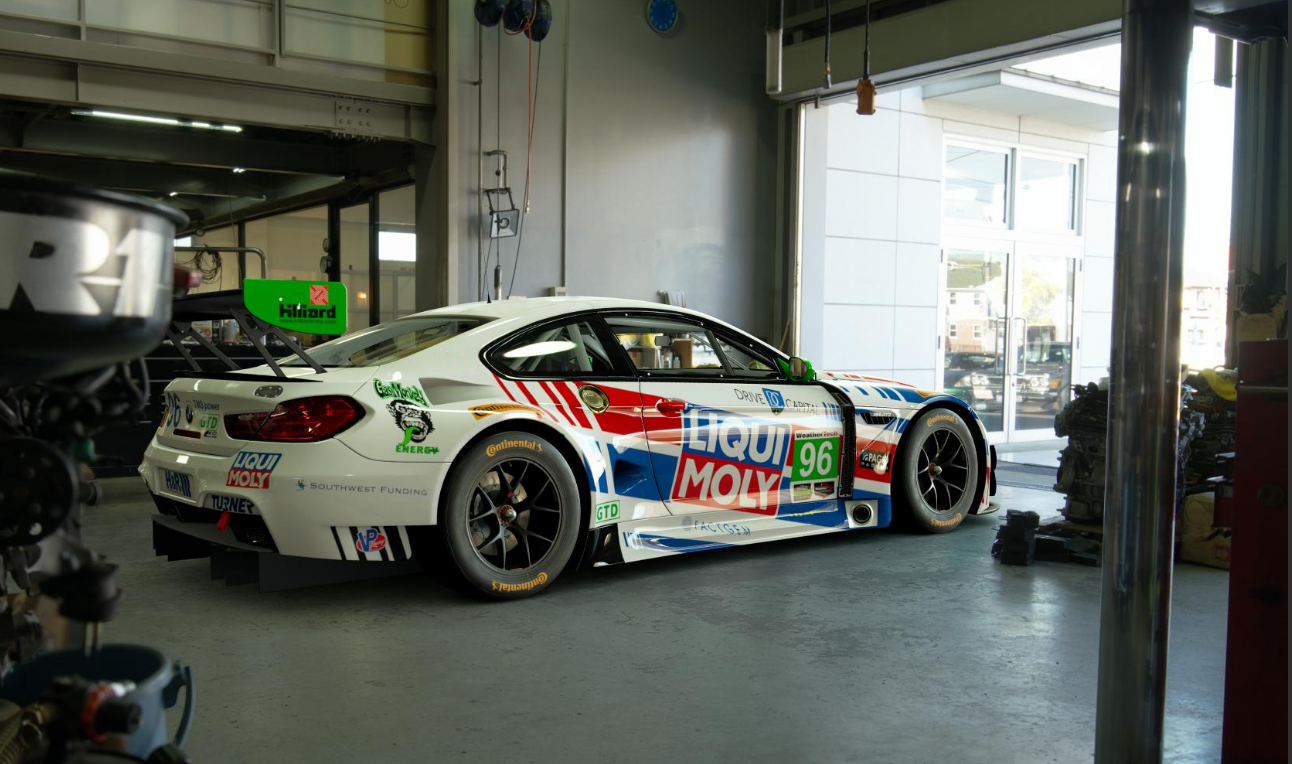 (FOR IMMEDIATE RELEASE)
ROLEX 24 AT DAYTONA DRIVER LINEUP FINALIZED – No. 96 LIQUI MOLY BMW POISED FOR 2018 KICK OFF.

Amesbury, MA. -- January 22nd, 2018 --With just five days until the 2018 WeatherTech SportsCar Championship season commences, Turner Motorsport is geared up for the 56th running of the Rolex 24 at Daytona to debut the brand new LIQUI MOLY livery on the team's No. 96 BMW M6 GT3 entry.

As years past, the seven time championship winning team's driver lineup have included some familiar faces as well as some of the best BMW works drivers from around the globe. Turner welcomes two new drivers to the lineup this year, Don Yount and Mark Kvamme.

Yount and Kvamme will be joined behind the wheel of the LIQUI MOLY BMW by Jens Klingmann, Martin Tomczyk and Cameron Lawrence.

Both Yount and Kvamme are no strangers to the WeatherTech Championship and more specifically the Rolex 24 at Daytona and the North American Endurance Championship. Kvamme finished third in the prototype challenge class in last year's Rolex 24 and third in the Sahlen's 6 Hour in 2016.

Yount captured second place in the 2017 prototype challenge Championship standings with a total of 6 podiums. In 2016 and 2015, Yount recorded nine podium finishes, most notably in the Petit Le Mans.

Klingmann returns back behind the wheel of the No. 96 M6 GT3 for his third straight year after recording one win and three podiums in 2017 and two wins and three podiums in 2016.

Tomczyk will make his debut appearance behind the wheel of a Turner BMW at Daytona after most recently driving for the factory program in the GTLM class last year recording one win at Mazda Raceway Laguna Seca. Tomczyk is a 16 year veteran of DTM, winning the Championship for BMW in 2011.

Cameron Lawrence is set to make his return to a Turner Motorsport BMW after his debut in 2016 at Petit Le Man, finishing third. Lawrence brings a full resume of endurance racing to the Turner team with Rolex 24 at Daytona and Sahlen's 6 Hour wins in 2015 as well as the Tequila Patron North American Endurance Championship.

"Daytona always seems to sneak up so quickly," said Will Turner. "We have been super busy since the final race of 2017 to put together this program for 2018 with some new and exciting partnerships as well as new drivers. This will be our ninth Rolex 24 at Daytona and it still remains that race we dream about winning. Looking forward to this race and working with this driver lineup and the M6 to give it our best and see if we can clinch that top spot on the podium."

Turner welcomes some new and returning partners for the 2018 season including H&R Springs, LIQUI MOLY, The Hilliard Group, Pagid Brakes, 1620 Workwear Drive Capital, Gas Monkey, Factgem, Southwest Funding and RHC.

The on track action is set to begin on Thursday, January 25th with practice followed by qualifying. Visit the IMSA.com timing and scoring to stay updated throughout the weekend as well as the Turner Motorsport social media via Twitter, Instagram and Facebook.

The 56th running of the Rolex 24 at Daytona will take the green flag at 2:00pm ET on January 27th and will be televised LIVE from Daytona International Speedway on Fox Networks.

Driver Quotes:

Don Yount- No. 96 BMW M6 GT3
"I am really looking forward to my first start in the GTD class with Turner Motorsport. GTD is a super competitive class with some tough competition but I think our driver lineup and BMW platform will allow us to do very well. Personally, I will be looking for carry some of my momentum from last year's success into the Rolex 24 and build on that as much as I can."

Mark Kvamme- No. 96 BMW M6 GT3
"I am very excited to get back to Daytona for the Rolex 24 especially behind the wheel of the Turner BMW with Jens Klingmann, Martin Tomczyk, Don Yount and Cameron Lawrence. Last year went very well for me in this race so I am looking to take a similar approach and plan to be in the running at the end."

Jens Klingmann- No. 96 BMW M6 GT3
"Daytona is one of my favorite endurance races so I am very excited to get back in the Turner BMW for the third consecutive year. In the past, we have faced some adversity in this race but overall the team and car performance has been very strong so I am very optimistic for good results this year."

Martin Tomczyk- No. 96 BMW M6 GT3
"I am really happy to come back to Daytona this year, especially after the early retirement last year. I am looking forward to driving with Turner Motorsport and my good friend Jens Klingmann. I have been very familiar with Turner which has had a lot of successes in the states. The professionalism and the team spirit is one of the key strengths of Turner so I feel very confident that we can fight for a win."

Cameron Lawrence- No. 96 BMW M6 GT3
"First off, I want to thank RHC for allowing me to do this race before heading to Bathurst for the 12 Hour next week. I'm looking forward to getting back in the BMW for the Rolex 24. This will be my second race with Turner Motorsport, my first appearance was at Petit Le Mans in 2016 where we finished on the podium in the No. 97 BMW M6 GT3. The car is strong so with our driver lineup, we should be fighting for a strong finish at the end."


2018 Partners: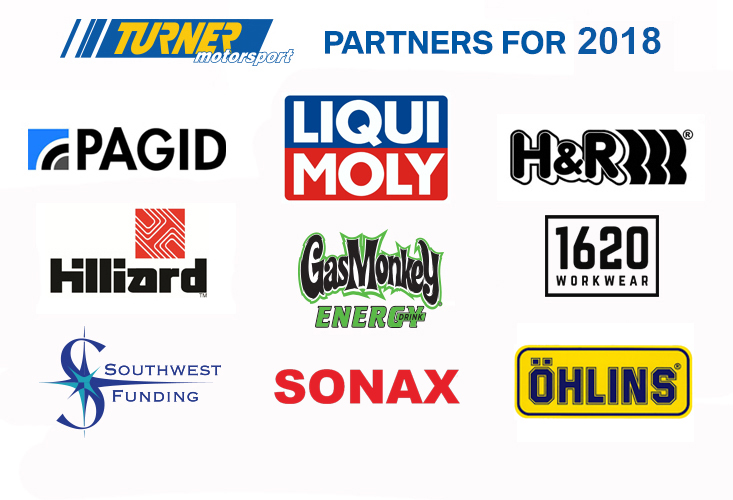 Stay connected. Follow us on Facebook & Twitter to get up to the minute updates from the race track.
About Turner Motorsport

Turner Motorsport is the leading BMW tuner in North America, bringing technology and expertise from the racetrack to the street for over two decades. Since 1993 the Turner Motorsport Team has competed in over 370 professional races, winning seven professional racing championships in four different series since 2003. The most recent being the 2014 Team Championship in the GTD-class of the TUDOR United SportsCar Championship. Their success is passed into every component that Turner Motorsport designs and sells through their comprehensive website and performance showroom. Our Race Team, R&D Engineers and Sales Team work together, ensuring practical knowledge and state-of-the-art engineering flow in both directions. Few companies in North America can claim such a close relationship to what they sell and what they race.


2018 Weathertech SportsCar Championship Schedule
Jan. 25-28 - Rolex 24 At Daytona P/GTLM/GTD Daytona International Speedway – Daytona Beach, Florida - 24 Hours

March 14-17 - Mobil 1 Twelve Hours of Sebring Fueled by Fresh From Florida P/GTLM/GTD Sebring International Raceway – Sebring, Florida - 12 Hours

April 13-14 - BUBBA burger SportsCar Grand Prix at Long Beach P/GTLM Long Beach, California

May 4-6 - Mid-Ohio Sports Car Course P/GTLM/GTD Lexington, Ohio

June 1-2 - Chevrolet Sports Car Classic P/GTD Belle Isle Park – Detroit, Michigan

June 28-July 1 - Sahlen's Six Hours of The Glen P/GTLM/GTD Watkins Glen International – Watkins Glen, New York - 6 Hours

July 6-8 - Mobil 1 SportsCar Grand Prix P/GTLM/GTD Canadian Tire Motorsport Park – Bowmanville, Ontario, Canada

July 20-21 - Northeast Grand Prix GTLM/GTD Lime Rock Park – Lakeville, Connecticut

Aug. 3-5 - Continental Tire Road Race Showcase P/GTLM/GTD Road America – Elkhart Lake, Wisconsin

Aug. 17-19 - Michelin GT Challenge GTLM/GTD VIRginia International Raceway – Danville, Virginia

Sept. 7-9 - Continental Tire Monterey Grand Prix powered by Mazda P/GTLM/GTD Mazda Raceway Laguna Seca – Monterey, California

Oct. 10-13 - Motul Petit Le Mans P/GTLM/GTD Road Atlanta – Braselton, Georgia - 10 Hours