Turner Motorsport Racing News & Press Feed
TURNER BMW FINISHES FOURTEENTH IN RECORD SETTING ROLEX 24 AT DAYTON.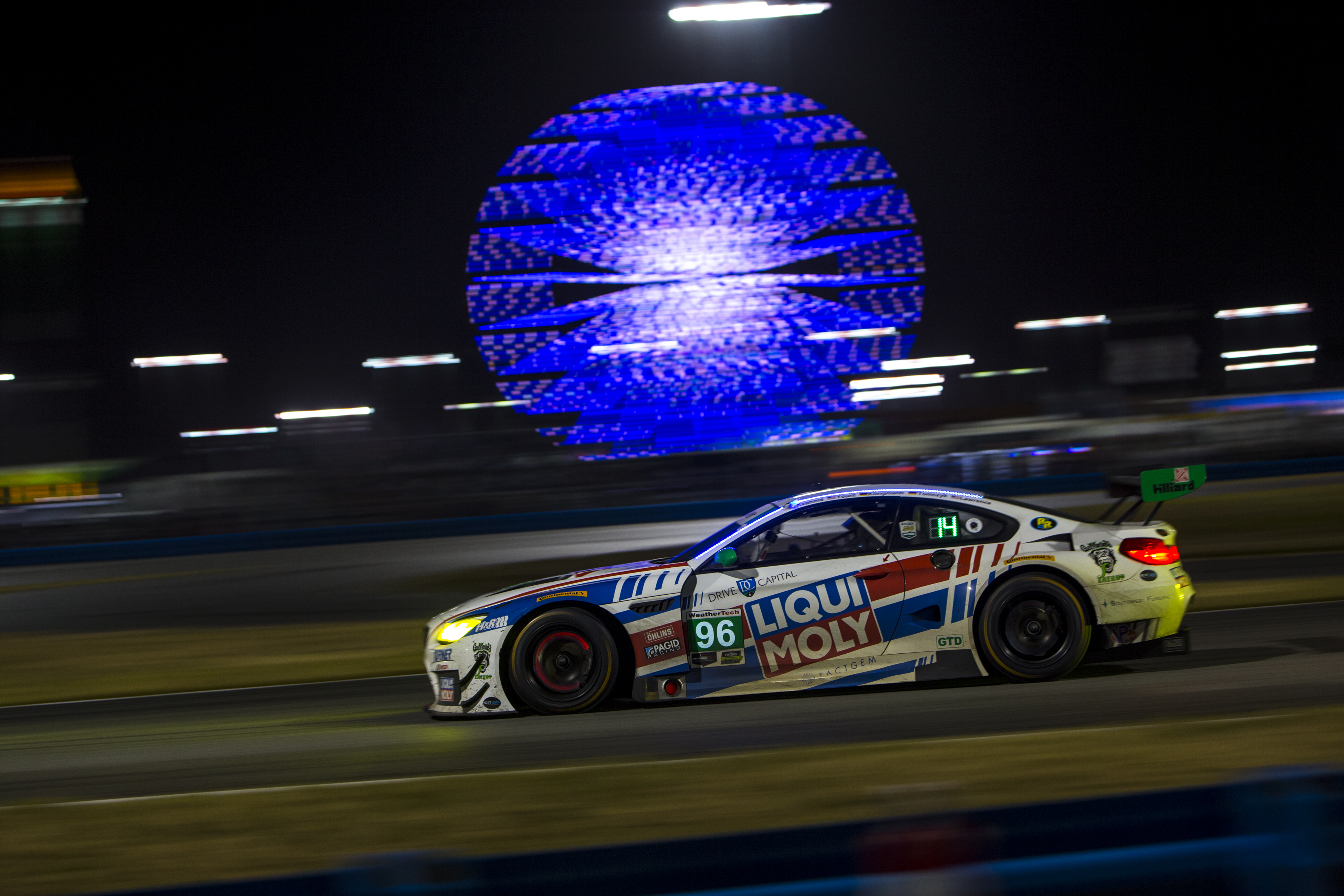 (FOR IMMEDIATE RELEASE)
TURNER BMW FINISHES FOURTEENTH IN RECORD SETTING ROLEX 24 AT DAYTONA.

Amesbury, MA. -- January 30th, 2018 -- The No. 96 LIQUI MOLY BMW M6 GT3 of Turner Motorsport battled the 21- car GTD field to complete a record setting 733 laps in a challenging race to mark the team's ninth finish in the Rolex 24 at Daytona.

The driver lineup of Mark Kvamme, Don Yount, Jens Klingmann, Martin Tomczyk and Cameron Lawrence drove 2610 miles around the 3.56-mile 12-turn Daytona International Speedway to finish fourteenth as the clock reached the 24 hour mark.

The team completed 32 pit stops, 17 driver changes and used 25 sets of tires over the course of the grueling 24 hour endurance test.

Lawrence kicked off the twice-around-the-clock race with a solid opening stint after a strong tenth place qualifying session. Lawrence was able to battle some of the best GT drivers in the world inside the top ten before handing the car off to Kvamme.

"The car felt solid in the opening laps with a strong pace." Said Cameron Lawrence. "The setup on the car was very well balanced which gives the driver a lot of confidence in a long race like this."

Kvamme continued on to complete a grueling double stint before handing the car off to Yount who also completed a double stint. The two alternated throughout much of the opening 12 before handing driver duties to Lawrence, Klingmann and Tomczyk.

"I was super excited to make my GT debut with an opening stint in the Rolex 24." said Don Yount. "I felt very comfortable in the Turner BMW and was able to click off some pretty solid lap times throughout my stint."

Throughout the early morning hours, Lawrence, Klingmann and Tomczyk completed strong stints but due to the extreme lack of full course cautions, the No. 96 was unable to gain crucial laps back to gain position and work their way back into the top ten.

"The Turner team did a great job with car setup and pit stops." Said Jens Klingmann. "We had a strong car with good pace on the track and in pit lane but a few early mistakes set us back and we were just never able to regain position, especially with the lack of cautions in this race."

As daylight broke, the Turner No. 96 was running sixteenth, recording fast lap times with BMW Works drivers Martin Tomczyk and Jens Klingmann behind the wheel.

Klingmann and Tomczyk worked hard throughout the morning hours to make their way up and into the top fifteen to finish fourteenth.

Kvamme returned to the car for the final stint to cross the finish line as the checkered flag waved.

"I am happy with our results but especially happy with the team's performance." Said Will Turner. "Our entire driver lineup did a great job keeping the race clean and holding a consistent pace throughout the race. The Turner crew prepared a flawless car , had perfect pit stops, strategy was spot on and everyone and kept their chins up the entire time. I am proud of everyone's effort to get us to the finish line. If only there were some yellows that would have helped us get some laps back. Its amazing that we had 18 yellows last year and only 4 this year !"

Turner Motorsport would also like to thank all their sponsors and partners for their continued help and support. Finishing the Rolex 24 would not have been possible without LIQUI MOLY, Pagid Racing, H&R Springs, 1620 Workwear, Beeline Coffee, Gas Monkey Energy, Hillard Group, Drive Capitial and Southwest Funding.

Turner Motorsport will be back on track with the No. 96 BMW M6 GT3 for the 12 Hours of Sebring on March 17th for round two of the North American Endurance Championship and the WeatherTech SportsCar Championship.


2018 Partners: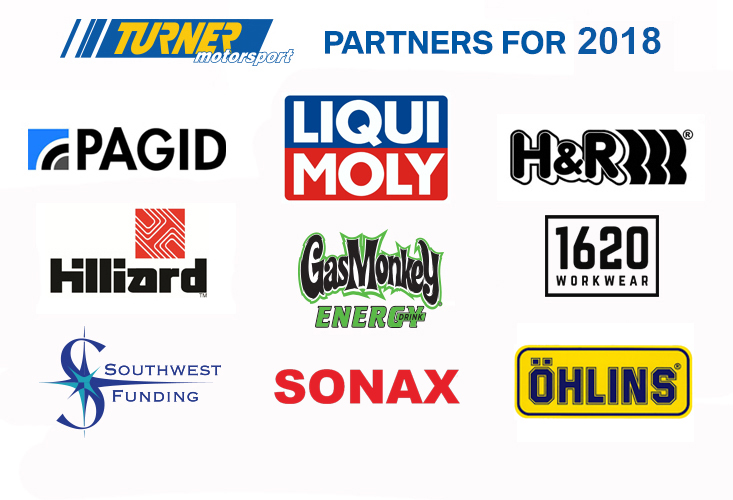 Stay connected. Follow us on Facebook & Twitter to get up to the minute updates from the race track.
About Turner Motorsport

Turner Motorsport is the leading BMW tuner in North America, bringing technology and expertise from the racetrack to the street for over two decades. Since 1993 the Turner Motorsport Team has competed in over 370 professional races, winning seven professional racing championships in four different series since 2003. The most recent being the 2014 Team Championship in the GTD-class of the TUDOR United SportsCar Championship. Their success is passed into every component that Turner Motorsport designs and sells through their comprehensive website and performance showroom. Our Race Team, R&D Engineers and Sales Team work together, ensuring practical knowledge and state-of-the-art engineering flow in both directions. Few companies in North America can claim such a close relationship to what they sell and what they race.


2018 Weathertech SportsCar Championship Schedule
Jan. 25-28 - Rolex 24 At Daytona P/GTLM/GTD Daytona International Speedway – Daytona Beach, Florida - 24 Hours

March 14-17 - Mobil 1 Twelve Hours of Sebring Fueled by Fresh From Florida P/GTLM/GTD Sebring International Raceway – Sebring, Florida - 12 Hours

April 13-14 - BUBBA burger SportsCar Grand Prix at Long Beach P/GTLM Long Beach, California

May 4-6 - Mid-Ohio Sports Car Course P/GTLM/GTD Lexington, Ohio

June 1-2 - Chevrolet Sports Car Classic P/GTD Belle Isle Park – Detroit, Michigan

June 28-July 1 - Sahlen's Six Hours of The Glen P/GTLM/GTD Watkins Glen International – Watkins Glen, New York - 6 Hours

July 6-8 - Mobil 1 SportsCar Grand Prix P/GTLM/GTD Canadian Tire Motorsport Park – Bowmanville, Ontario, Canada

July 20-21 - Northeast Grand Prix GTLM/GTD Lime Rock Park – Lakeville, Connecticut

Aug. 3-5 - Continental Tire Road Race Showcase P/GTLM/GTD Road America – Elkhart Lake, Wisconsin

Aug. 17-19 - Michelin GT Challenge GTLM/GTD VIRginia International Raceway – Danville, Virginia

Sept. 7-9 - Continental Tire Monterey Grand Prix powered by Mazda P/GTLM/GTD Mazda Raceway Laguna Seca – Monterey, California

Oct. 10-13 - Motul Petit Le Mans P/GTLM/GTD Road Atlanta – Braselton, Georgia - 10 Hours


Television coverage by
Please click here to check your local listings for both Fox Sports 1 and Fox Sports 2.
---
Links

LIQUI MOLY - A German Lubricant Company and Official lubricant of Turner Motorsport
TurnerMotorsport.com - Parts, Performance & Service Parts for BMWs
TurnerService.com - Service, Performance & Maintenance for BMWs
IHG Rewards Club - The World's Largest Hotel Loyalty Program
H&R Springs - Premium Quality Suspension Components
PAGID - Motorsport and High Performance Brake Products
1620 Workwear - American Made Workwear and Gear

Weathertech SportsCar Championship Homepage

---
Press Inquires please Contact

Jay Baier
Director of Marketing
email: [email protected]
phone: 978-388-7769 ext. 630