Turner Motorsport Racing News & Press Feed
TURNER MOTORSPORT FOCUSING ON STRONG CLOSE FOR 2019; EXPANDED OPPORTUNITIES FOR DRIVERS IN 2019 ACROSS MULTIPLE CHAMPIONSHIPS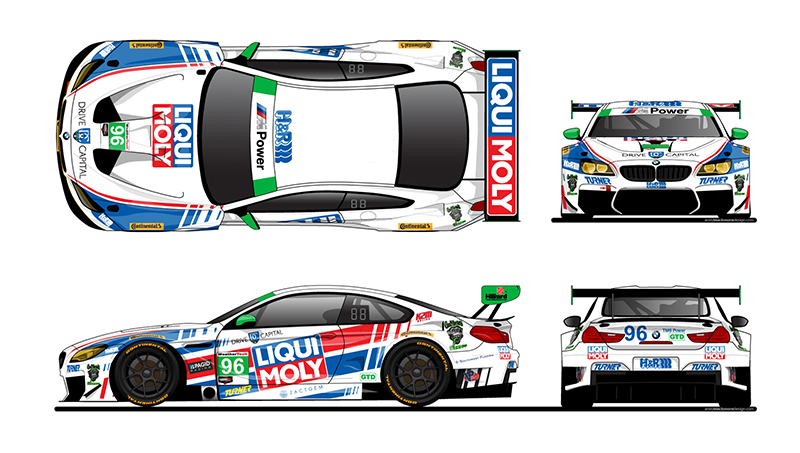 (FOR IMMEDIATE RELEASE)
TURNER MOTORSPORT FOCUSING ON STRONG CLOSE FOR 2019; EXPANDED OPPORTUNITIES FOR DRIVERS IN 2019 ACROSS MULTIPLE CHAMPIONSHIPS
Amesbury, MA. -- September 24th, 2018 --With just one race remaining in the 2018 WeatherTech SportsCar Championship, the Seven-Time Championship Winning BMW team has focused attention on securing 2019 season plans.

The 2018 Season has been a successful one for the Massachusetts based squad despite being faced with adversity in several of the most recent rounds of competition. The team recorded one major win this year in the Sahlen's Six Hours of the Glen.

In addition to the victory, the team has been in contention for several podiums in races throughout the season. The No. 96 BMW of Markus Palttala and Robby Foley ran P3 with just three corners remaining on the final lap of the race until contact from a competition forced him off track to finish fourth in round eight at Road America.

The Blue and Yellow BMW M6 GT3 also made an appearance in Pirelli World Challenge which proved to be a success with a second and third place finish.

Regardless of the team's recent success and their BMW's strong performance, the team approaches its 381th professional race start with BMW at Road Atlanta in just under one month without concrete plans following the finale of the 2018 IMSA season.

"As of today, we do not have a finalized program for next season," Will Turner says. "The M6 GT3 with the Evo package (introduced this year) is one of the easier GT3 cars to drive and is very competitive, so it should be package that appeals to a lot of potential funded drivers, especially with the potential to be paired up with Bill Auberlen."

"Our BMW really has had potential to win every weekend so I am not expecting anything different for Petit Le Mans. We will have Markus Palttala, Dillon Machavern and Don Yount back in the car for the first time since their win at Watkins Glen."

With three different championships on the line for next season, Turner Motorsport will look to continue the approach as they did this year to pair gentlemen drivers with professionals in either the sprint or endurance races.

Turner has seen much success over the years with their gentlemen and pro pairings like Bill Auberlen and Robby Foley and Jens Klingmann and Bret Curtis.

In 2019, IMSA has announced that teams will compete in three separate championships including the four race Michelin Endurance Cup, the seven race WeatherTech Sprint Cup as well as the 10 race season championship.

"We are excited for the new championship formats in 2019," said Will Turner. "The 3 championships will allow for more options for interested drivers, Some want to only do the long races…. Bucket list ones like the Daytona 24 and Sebring 12 so for them having the Endurance Cup is perfect. Then you have drivers that want to do more races but have less budget or less time so the sprint cup makes sense. As of right now because we have two of the M6 GT3's we have open seats available for each of the three championships."

"2019 is shaping up to be a very exciting year for the series and sportscar racing in general, as we will be seeing a new Tire partner in Michelin as well as a new TV partner in NBC networks." Turner added, "I am anxious to get a program finalized for the season so we can begin to prepare. We have the flexibility to run in IMSA or PWC and also different classes with both the BMW M4 GT4s we own or the M6 GT3s."

The finale to the 2018 WeatherTech Championship is set to take place at Road Atlanta on October 13th for the 10- Hour Petit Le Mans which will be televised LIVE on Fox Sports as well as on IMSA TV.

In addition to next year's season plans the team also has an opportunity to race in the Michelin SportsCar Encore at Sebring on November 9-11. The Encore will feature a four hour race where the team could race the M4's or the M6's.

Turner commented, "I think this is a unique opportunity to allow a variety of new teams and drivers to step in a get a taste of IMSA endurance racing. This event is something we are looking forward to and have seats available for interested drivers who may want to try out the GT3 or GT4 platforms in this format at an iconic track. It also gives us the chance to try out the Michelin tires which we will be running next season in the WeatherTech Championship."

The 2019 WeatherTech Championship is set to kick off on January 4th-6th with the Roar Before the Rolex 24 followed by the Rolex 24 at Daytona January 24th-27th.


2018 Partners: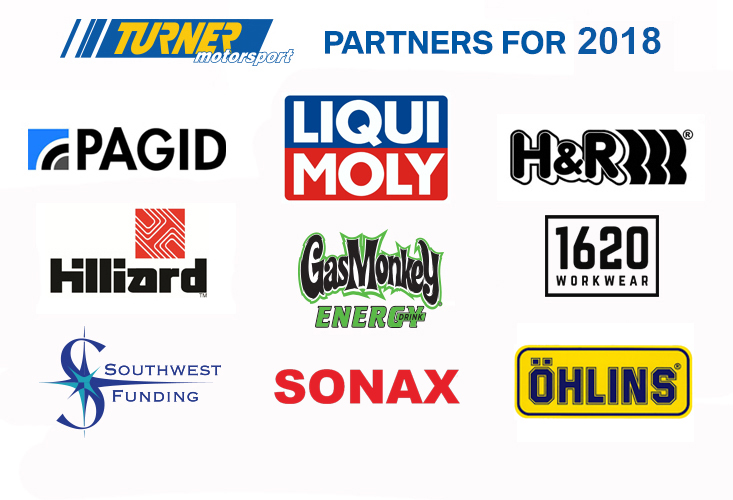 Stay connected. Follow us on Facebook & Twitter to get up to the minute updates from the race track.
About Turner Motorsport

Turner Motorsport is the leading BMW tuner in North America, bringing technology and expertise from the racetrack to the street for over two decades. Since 1993 the Turner Motorsport Team has competed in over 380 professional races, winning seven professional racing championships in four different series since 2003. The most recent being the 2014 Team Championship in the GTD-class of the TUDOR United SportsCar Championship. Their success is passed into every component that Turner Motorsport designs and sells through their comprehensive website and performance showroom. Our Race Team, R&D Engineers and Sales Team work together, ensuring practical knowledge and state-of-the-art engineering flow in both directions. Few companies in North America can claim such a close relationship to what they sell and what they race.


2018 Weathertech SportsCar Championship Schedule


Oct. 10-13 - Motul Petit Le Mans P/GTLM/GTD Road Atlanta – Braselton, Georgia - 10 Hours


Television coverage by
Please click here to check your local listings for both Fox Sports 1 and Fox Sports 2.
---
Links

LIQUI MOLY - A German Lubricant Company and Official lubricant of Turner Motorsport
TurnerMotorsport.com - Parts, Performance & Service Parts for BMWs
TurnerService.com - Service, Performance & Maintenance for BMWs
IHG Rewards Club - The World's Largest Hotel Loyalty Program
H&R Springs - Premium Quality Suspension Components
PAGID - Motorsport and High Performance Brake Products
1620 Workwear - American Made Workwear and Gear

Weathertech SportsCar Championship Homepage

---
Press Inquires please Contact

Jay Baier
Director of Marketing
email: [email protected]
phone: 978-388-7769 ext. 630