Turner Motorsport Racing News & Press Feed
TURNER RACE WINNING DRIVERS RETURN FOR FINAL ROUND OF 2018 SEASON
(FOR IMMEDIATE RELEASE)
TURNER RACE WINNING DRIVERS RETURN FOR FINAL ROUND OF 2018 SEASON
Amesbury, MA. -- October 9th, 2018 -- Turner Motorsport returns to racing action this week for the 2018 WeatherTech SportsCar Championship finale just several days away. The 21st annual running of the 10 hour Petit Le mans will conclude the 2018 WeatherTech Championship and decide the titles in each of the three classes on the 2.54-mile 12-turn Road Atlanta.

On Saturday, Turner Motorsport drivers Don Yount, Markus Palttala and Dillon Machavern will return behind the wheel of their LIQUI MOLY liveried No. 96 BMW for the first time since their win at Watkins Glen in July.

Yount, Palttala and Machavern have clinched the only win on the season for the Turner Motorsport team and will look to bring their endurance success into the 10-hour competition to finish the season on a high note.

"I'm looking forward to race back in the United States after several races back in Europe since Watkins Glen," said Markus Palttala. We had the complete package in July so hopefully we can roll off the truck with a good setup and dial it in from there for Road Atlanta. I think we are all very eager to get in the car!"

This race will mark the end of the 20th professional racing season for Turner Motorsport. Last year, the team lead the GTD class with over a five second gap on second place until an electrical issue took the car out of the race.

In 2016, Markus Palttala and co-drivers Michael Marsal and Cameron Lawrence clinched a third-place finish in their No. 97 BMW M6 GT3.

"I feel like I say this every single year but wow this year has gone by so quickly!" said Will Turner. "Much like past years, this year has been extremely challenging, the competition has been harder than ever which has really added to the contest of recording podium results. I'm looking forward to the 2018 finale and some strong results to close out the year."

Currently the No. 96 BMW M6 GT3 sits eighth in the Team Championship points standings with 231 points which is only 17 points outside of the top-five GTD teams and 45 from the top three.

"I have been waiting for this weekend since Watkins Glen," said Don Yount. "I am very excited to get back in the car with Markus and Dillon with a proven car and driver line up, Turner always provides such a solid package. I would like to quickly thank Gas Monkey Energy and Southwest funding for making this possible."

The Turner team will begin practice on Thursday in preparation for the Petit Le Mans on Saturday. The final round of the 2018 season will kick off on Saturday, October 13th at 11:00am ET televised LIVE on Fox Sports 1 and Fox Sports 2.


2018 Partners: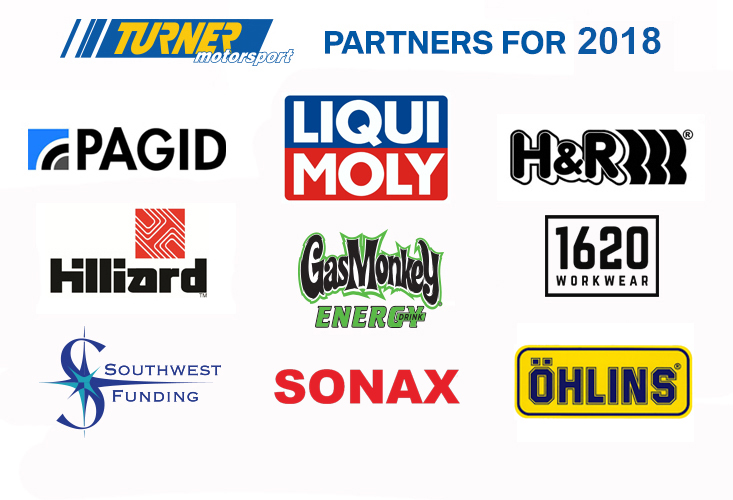 Stay connected. Follow us on Facebook & Twitter to get up to the minute updates from the race track.
About Turner Motorsport

Turner Motorsport is the leading BMW tuner in North America, bringing technology and expertise from the racetrack to the street for over two decades. Since 1993 the Turner Motorsport Team has competed in over 380 professional races, winning seven professional racing championships in four different series since 2003. The most recent being the 2014 Team Championship in the GTD-class of the TUDOR United SportsCar Championship. Their success is passed into every component that Turner Motorsport designs and sells through their comprehensive website and performance showroom. Our Race Team, R&D Engineers and Sales Team work together, ensuring practical knowledge and state-of-the-art engineering flow in both directions. Few companies in North America can claim such a close relationship to what they sell and what they race.


2018 Weathertech SportsCar Championship Schedule


Oct. 10-13 - Motul Petit Le Mans P/GTLM/GTD Road Atlanta – Braselton, Georgia - 10 Hours


Television coverage by
Please click here to check your local listings for both Fox Sports 1 and Fox Sports 2.
---
Links

LIQUI MOLY - A German Lubricant Company and Official lubricant of Turner Motorsport
TurnerMotorsport.com - Parts, Performance & Service Parts for BMWs
TurnerService.com - Service, Performance & Maintenance for BMWs
IHG Rewards Club - The World's Largest Hotel Loyalty Program
H&R Springs - Premium Quality Suspension Components
PAGID - Motorsport and High Performance Brake Products
1620 Workwear - American Made Workwear and Gear

Weathertech SportsCar Championship Homepage

---
Press Inquires please Contact

Jay Baier
Director of Marketing
email: jbaier@turnermotorsport.com
phone: 978-388-7769 ext. 630