BMW E34 M5 Strut Braces & Stress Bars
BMWs need some added chassis strengthening in the front. You may notice some "chassis flex" when cornering or driving over a bumpy road. The reason for this is the incredible amount of force being applied to front strut towers. They have a tendency to flex when force is applied to them. Tying the strut towers together with a brace reduces the amount of flex and soldifies your car's chassis. Easy installation.

For accurate results, specify your model below.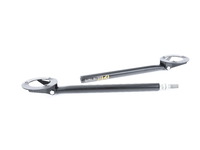 A strut tower brace adds additional reinforcement to the front strut towers, tying them together for extra rigidity. This makes the whole structure stronger with less chassis flex. Handling and steering feel are improved with better turn-in and input with no downsides.
The IRP adjustable strut brace bar is a high quality brace that is constructed of 100% steel for guaranteed reinforcement and prevention of flex. The brace bar is painted black to ensure corrosion protection and to add to the looks of the engine bay.
Easily installed with basic hand tools.
Fits the following BMW chassis:
E34 BMW All Submodels

Part #: IRPFSB-34
In Stock

Free Shipping
on orders $199 and up