Turner Motorsport E9X M3 Project Cars
Turner M3 Project Car #1
  2008 E90 M3 Alpine White Sedan

On
the strength of winning 5 championships in the last 5 years, Turner Motorsport began development on the E90 and E92 platform in late 2007. After many succesful years campaigning the E46 and E46 M3 chassis in both the Speed World Challenge and Grand Am Cup race series (and the E36 chassis before that), work began on the future general Turner Motorsport race and street car programs.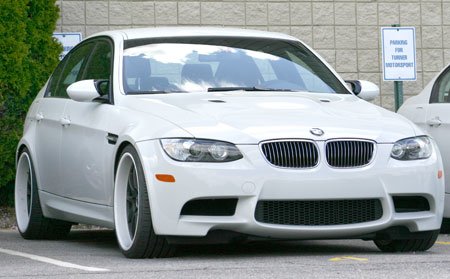 Naturally, we were first in line to acquire one of the first of the latest generation V8 M3s, selecting a white E90 chassis M3 sedan.


Why a sedan and not a coupe?
We've always thought of the M3 as a "touring car", probably stemming from the glory days of Touring Car racing, back when E36 320i sedans ruled a mixed field of assorted production cars, many of which were 4 door sedans. Starting around that point, the sedans have seemed to possess a certain extra charm, reminiscent of the throw-back Touring Car days, with an extra street car "cool factor". If that isn't a good enough explanation, we also have reason to believe this latest 4 door M3 has better aerodynamics than the coupe, due to the rear windshield configuration.
Having an E90 M3 here on hand means we have instant access at all times to develop our own new products, as well as the ability to test fit newly released offerings from our trusted vendors. Not only does this mean a more rapid delivery of new products to the market, but it means a higher degree of knowledge as well as better product quality control.
Why would you want to buy parts for your "new" M3 from a company that doesn't own one to develop and test their products on?
This is all just part of our commitment to our customers.
Here you'll find information, articles, and all of the performance parts, modifications and enhancements we have made to our E90 M3. You'll also find photos, galleries, and video clips of our M3 as we capture them (coming soon!). Check back often, as we'll be doing extensive work on this M3.
The Gallery:
Turner M3 Project Car #2
  2011 E92 M3 Frozen Gray Coupe

Continuing our passion for all things BMW, Turner Motorsport was the first customer in the US to receive one of thirty 2011 E92 M3s finished in "Frozen Gray" flat paint. This option was made available through BMW's Individual Program and included the Competition Package, Premium Package, Technology Package, the M-DCT transmission, and special Fox Red and black interior colors and trim.
What are our plans for this car? You'll have to stay tuned to this site where we hope to have all kinds of unique Frozen Gray upgrades as well as other tuning and enhancements for this special model.

Check out our newest edition to the Frozen Gray M3. The KW DDC Coilovers with iPhone App. This is an awesome setup. Find more information click here
The Goods:
---
KW DDC iPhone-Adjustable Coil Overs

Adjust front or rear shock damping settings from our iPhone, iPad, or iPod,
Ride-height adjustable coil overs, lowering up to 35mm,
Stiffer springs for less bodyroll and better handling,
Forgeline 20" ZX3P Wheel Set

Forgeline ZX3P Wheels - 20x9.5" fronts, 20x11" rear
Continental DW Max Performance tires
Forgeline wheels are custom made to any size and offset and finish you desire. Contact our sales team for the perfect wheel for your M3.
M3 GT4 Carbon Fiber Replica Splitter

Exact replica of the splitter used on the M3 GT4
Full carbon fiber construction
Integrated brake ducts for adding brake cooling
Akrapovic Evolution Titanium Exhaust

Full titanium - very light weight
Used by BMW Motorsport
Amazing sound!
Turner Stage 2 'Race' Software

Works with Akrapovic Evolution exhaust or Turner Test Pipes
Power and Torque gains at all RPM
Improved response and driveability
---
The Gallery:
Turner M3 Project Car #3
  Â 2013 E92 M3 Lime Rock Park Edition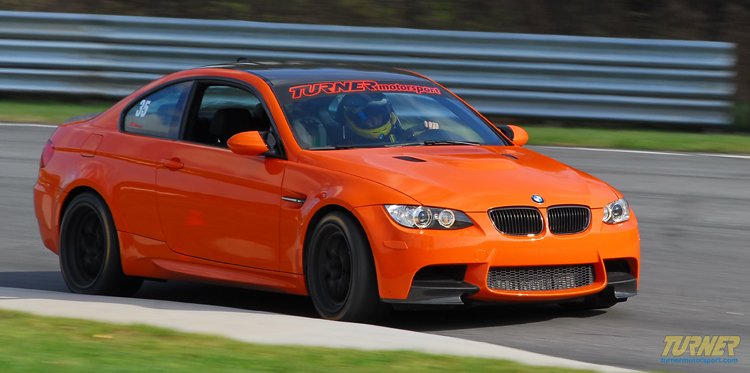 Celebrating BMW's long and enormously successful history at Lime Rock Park is what inspired BMW North America to introduce this special model. Dating back to BMW's modern-day racing program the company has had an envious record at the Connecticut racetrack - since 1997 a BMW product has either won, finished on the podium, or scored the pole positon for every headlining event at Lime Rock. And Turner Motorsport has been right there carrying the torch with 7 wins in a twelve year span, including 4 in a row from 2004-2007.
What are our plans for this car? There are multiple routes we can take with this car. With its Fire Orange paint and black trim it's tempting to create a M3 GTS replica with the stroker motor and build a killer track car. On the other hand this is a limited production model and it may be in the car's best interest to keep it factory-spec and focus our upgrades on simple bolt-on parts that make a difference.

Click here for our Lime Rock M3 page to learn more about this special car and the upgrade path we have chosen.
E90 M3 and E92 M3 Video Media
TMS E90 M3 Plays with a J-Stock E30 M3 Race Car
watch in HD
TMS E90 M3 Dyno: Test Pipes & Stage 2 Software
watch in HD
BMW Motorsport M3 GT4 Imported for a TMS Customer
E90 M3, E92 M3, E93 M3 Performance Parts
---
---
---
---
---
---
---
---
---
---
---
---
---
---
---
---
---
---
---
---
---
---
---
---
---
---
---
---
---
---
---
---
---
---
---
Clone Wars?
Since creating our E90 M3 Project car, we've had several customers approach us to help them duplicate what we've done with our M3, on their own personal E90 and E92 M3 cars. Here's an example of one of these "clones", for reference -- this one is a dark metallic silver E92 M3 Coupe. Click thumbnails for larger image (you can use arrow keys to advance to the next image).


Turner Motorsport
16 Hunt Road South
Amesbury, MA 01913
PHONE: 978-388-7769
FAX: 978 388-4202