Turner Motorsport E9X M3 Project Cars
Turner M3 Project Car #1 -- 2008 E90 M3 Alpine White Sedan

On
the strength of winning 5 championships in the last 5 years, Turner Motorsport began development on the E90 and E92 platform in late 2007. After many succesful years campaigning the E46 and E46 M3 chassis in both the Speed World Challenge and Grand Am Cup race series (and the E36 chassis before that), work began on the future Turner Motorsport race and street car programs.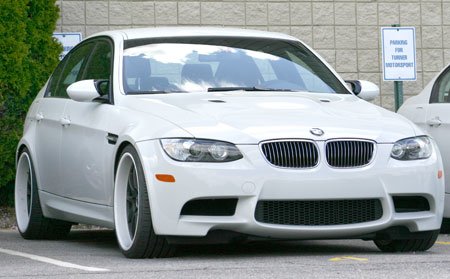 Naturally, we were first in line to acquire one of the first of the latest generation V8 M3s, selecting a white E90 chassis M3 sedan.


Why a sedan and not a coupe?
We've always thought of the M3 as a "touring car", probably stemming from the glory days of Touring Car racing, when E36 sedans ruled a mixed field of assorted production cars, many of which were 4 door sedans. Starting around that point, the sedans have seemed to possess a certain extra charm, reminiscent of the throw-back Touring Car days, with an extra street car "cool factor". If that isn't a good enough explanation, we also have reason to believe this latest 4 door M3 has better aerodynamics than the coupe, due to the rear window configuration.
Having an E90 M3 here on hand means we have instant access at all times to develop our own new products, as well as the ability to test fit newly released offerings from our trusted vendors. Not only does this mean a more rapid delivery of new products to the market, but it means a higher degree of knowledge as well as better product quality control.
Why would you want to buy parts for your "new" M3 from a company that doesn't own one to develop and test their products on?
This is all just part of