Turner 2012 BMW ActiveE 1-Series Project Car
** Updated 12/15/2012 **
Electric cars have been objects of fiction movies in the past, but now they are a reality. BMW announced over a year ago they were going to develop some type of electric car. We didn't think much of it. Then a couple months ago news came to us that BMWs 100% Electric ActiveE 1 series would be available in the US through a special exploratory program. We wanted to see what this was about, so we got on the list to receive one. Here it is.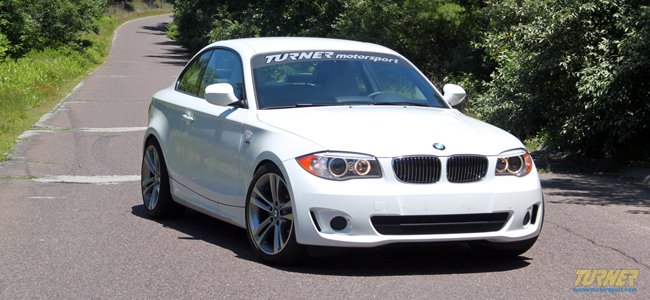 So why an Electric Car?
Simple really. At Turner we pride ourselves on being on the cutting edge of performance and technology for BMWs. Alternative sources of energy are the future and we want to make sure we have a jump start on the things to come. We want to have an understanding of these cars to secure our future as a leading BMW tuner. We chose to be a part of this pilot program with BMW to experience firsthand what it's like to have a BMW that is 100% electric that does not rely on ANY fossil fuels. We want to get a sense of what it's like to drive this car as a daily driver to see the positive as well as see where it can be improved. This car is unlike anything we have ever worked on, built, or raced and that is exciting.
The ActiveE 1 Series is an E82 chassis with an electric power plant consisting of a 32 Kwh lithium ion battery pack which powers a 125 kW (168hp and 184 ft-lbs) electric synchronous motor within the rear axles to power the rear wheels. This motor powers the 4,000 lb car from 0-60 in 8.5 seconds. The ActiveE 1 Series weights approximately 800 lbs more than a E82 135i but has a 50:50 weight distribution front to rear.
The ActiveE program is a test program set up by BMW to field test these vehicles. The testing will include 700 vehicles, 200 which have already been leased as of February 2012.
Here you'll find information, articles and news on our Project ActiveE 1 Series. You'll also find photos, galleries, and video clips of our ActiveE as we capture them.
First Impressions:
No exhaust pipe, no engine noise, and no vibration. The first drive in this car was very strange to say the least. Open the door, interior looks like that of any standard 1 Series, sit in the seat, still not much difference from a 1 Series. Then look closer at the gauge cluster and you will notice there is no tachometer and the speedometer only reads to 110 mph. Look closer and you will find a button labeled "ECO PRO" behind the shift lever. Then you notice the white interior trim with the text; ActiveE. Then it starts to become evident that this is no normal car.
Push the key in and press the on off button and wait.....nothing but a couple lights come on and the car is ready to drive. Put the gear lever into drive and hit the gas and your off. The torque of the electric motor is surprisingly strong down low and the seamless acceleration is also something completely new to us. From 0 all the way up to 95mph there is absolutely no shifting of gears.
Articles & Press:
Quick Drive Turner Project ActiveE
- The Hooniverse
2012 BMW ActiveE Project Car by Turner Motorsport
- TopSpeed
Driving the Turner Motorsport Project ActiveE
- RawAutos