Turner BMW F22 228i Estoril Blue Project Car
** Updated 12/30/2015 **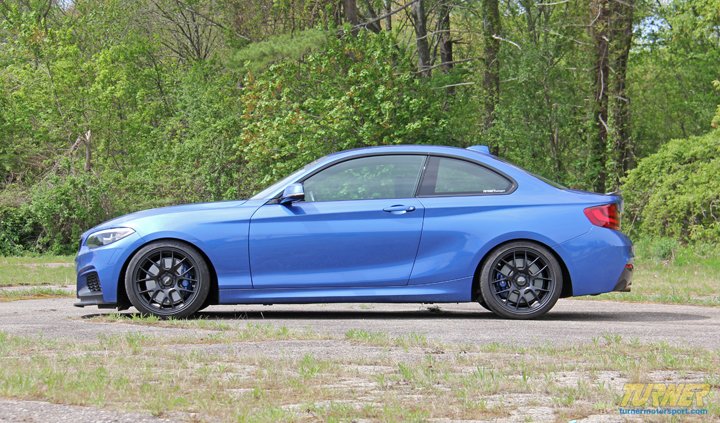 As BMWs progressively become larger year after year and the new 3-series suddenly becomes the new 5 series and the 5 becomes the new 7 and the 7 …well you get it. In a world where the automotive industry strives for more power, more gadgets, more technology and more features, there still remains the small contingent of BMW purists clinging to their 10 year old or 15 year old E46 or E36 3-series in hopes that BMW will again produce a car less concerned with gadgets and features and more about the sheer driving pleasure.
Now enters the F22 2-series, BMWs latest and best attempt to bring that E36 and E46 contingent back into the fold as the "little brother" to the 3 and 4-series. Dimensionally, the new 2-series is just slightly larger than E46 3-series coupes, available with similar power too. Both the new 228i and M235 measure in with a 105.9 inch wheelbase and a 175.9 " length, almost identical to that of the E46 3-series. Unfortunately, even with near identical dimensions the 2-series still weights in at about 200 lbs heavier depending on drive line and options. The relatively smaller size combined with the sporty styling make the 2-series a perfect platform for a performance oriented project car.
The F22 2-series is available with two powerplants, the N20 4-cylinder 2.0l turbo and the N55 6-cylinder 3.0l turbo which first debuted in the E90 3-series. For our project we chose to go with the N20 4-cylinder turbo engine. The N20 is quite impressive producing 240 hp and 255 lb-ft of torque from just 1450 rpm sending the 228i 0-60 in just 5.0 seconds. The engine is extremely light weight and smooth running featuring BMW's award winning precision direct injection, valvetronic and double vanos technologies.
The 2-series also boasts the near-perfect 50/50 weight distribution which lends a hand in the car's nimbleness and precise steering and handling. The double pivot spring strut front suspension and five link rear suspension is tailored to agility and performance. The sharp road feel, precise steering and handling combined with the rear wheel drive drive line gives the 2-series that familiar feeling of it's predecessors.
The Project:

At Turner we pride ourselves on being on the cutting edge of performance and technology for all BMWs, both new and old. The exciting new 2-series is the logical next step in BMW's current model offerings. Please stay tuned as we begin to modify this 228i and review the products we use. Like all new BMWs, the 2-series is highly capable off the showroom floor but we believe there is plenty of room to improve. With our Project 2-series, we are aiming to deliver big performance without the large price tag.

Stay tuned for more to come.


---
---
---
---
---
---
---