Turner 2012 BMW F30 335i Project Car
** Updated 11/09/2015 **
As soon as we heard word of the release of the new 2012 F30 3-series chassis we instantly knew we wanted one as soon as we could get our hands on it. After months of anticipation, watching and waiting for the status to change on the BMW build progress site, we have finally taken delivery of our 335i Sport Line.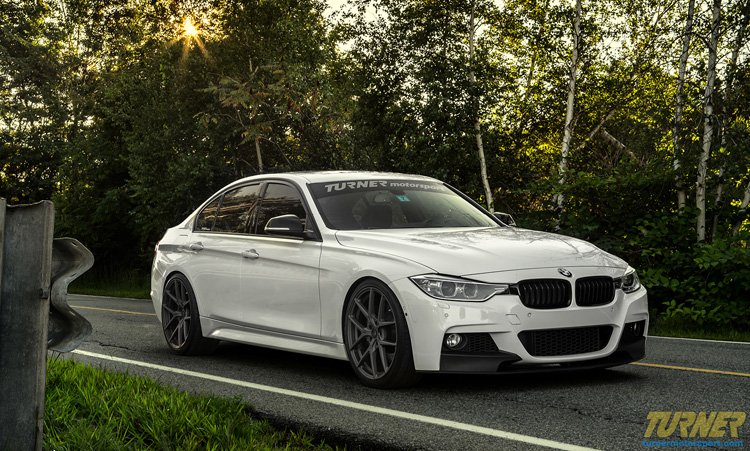 Fortunately for us we are one of the first Tuners to have one of these latest 3 series in our hands and of course we have already started work on it to make it the newest Turner 335. We chose the simple white on black combination again to keep it uniform with our previous project cars such as the E90 M3 and E92 335. 


Why the 335i?
Since the first 335i came out back in 2007 it has become synonymous with tuning. We have seen hundreds and hundreds of E9X 335s come through our shop in the last 5 years and many have been modified in multiple ways (inter-coolers, blow off valves, downpipes, exhausts, coilovers, brakes, intakes and software) and that is exactly the route we want to take with our latest project car, the 2012 335. In fact, we did not even have the car a full day before we put it on the lift and installed some new H&R Sport Springs. (More Info Below).
Although the new F30 335i has a slightly different motor we believe that it will continue to be a widely tuned BMW. SO why didn't we get the 328?, we chose the 335 because we wanted to stick with a power plant that we were familiar with, the traditional BMW inline 6 cylinder power plant. Don't get us wrong, the new 328i is an awesome car with an amazing motor, which we assume will also have a ton of tuning capability but we love the BMW inline 6. The sound and linear power is something we just can't get enough of. 
Having a brand new F30 335 here on hand means we have instant access at all times to develop our own new products, as well as the ability to test fit newly released offerings from our trusted vendors. Not only does this mean a more rapid delivery of new products to the market, but it means a higher degree of knowledge as well as better product quality control.
Here you'll find information, articles, and all of the performance parts, modifications and enhancements we have made to our F30 335i. You'll also find photos, galleries, and video clips of our brand new 335 as we capture them (coming soon!). Check back often, as we'll be doing extensive work on this 335 in the coming weeks.
The Gallery: