Turner Lime Rock Edition M3 Project Car: The Last V8 M3
** Updated 02/24/2015 **
Turner Motorsport yellow and blue BMW race cars are synonymous with Lime Rock Park. Will Turner began tracking his first BMW, a 1985 E30 323i at Lime Rock park back in the late 1980s and has since competed in dozens of professional races at BMW's home track. Turner Motorsport has competed in professional races at Lime Rock since 1998. During the mid-2000s the team prevailed at Lime Rock more than any other professional BMW team, with drivers like Connecticut-native
Boris Said, Bill Auberlen, and Joey Hand
. Auberlen's first race with BMW was at Lime Rock in 1996. He gave us the scoop on the special edition and we were enthusiastically on board.
Apart from its "Limited Edition" quantity or its special edition paint and options, we wanted a "Lime Rock M3" for the sole reason that so much of our history and humble beginnings as a BMW race team and performance tuner take roots from that 1.5 mile road course in Northwestern Connecticut. The fact that the car was associated with Lime Rock was enough for us to necessitate having one of our own. The Lime Rock Edition M3 was the first ever production car named after Lime Rock Park (and hopefully the last).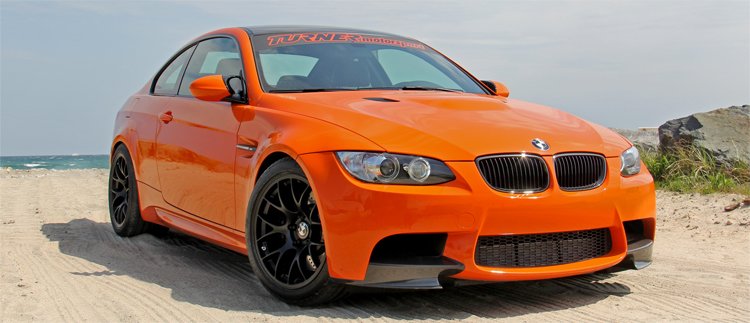 The limited quantity of 200 and the bright orange paint is surprisingly attractive, but what really makes this car special for us is that it's the best of every M3 bundled into one package. Lime Rock luminary Skip Barber described it as a "classic car for a classic track." We celebrate it as the perfect end to an era of naturally aspirated engines and 6 speed manual gearboxes. The Lime Rock M3 could very possibly be the last naturally-aspirated M car with a manual transmission and that's just one more reason to covet this car. All Lime Rock M3s come with a limited options list and we decided to get our's "stripped" with just the basic options to keep it as light and simple as possible. The only options we ordered were the heated seats (for those cold morning drives to the track) and satellite radio (for the long drives). Our approach was echoed by Barber, "There are a lot of BMW enthusiasts who feel that BMW has put too much emphasis on luxury and things are too complicated. The idea here is really back to basics."
We understand that many BMW enthusiasts cried foul with the fact that this M3 is inspired by a racetrack but not any faster out of the box than any other E92 M3 despite the more expensive price tag. But when you look closer at the numbers and recognize the intent of this car it all begins to add up. In fact, the Lime Rock M3 is really no more expensive than your standard E92 M3 with optional BMW M-Performance add-ons.
A standard 2013 BMW M3 Coupe starts at a suggested retail value of $60,100.00. The Lime Rock Edition adds $10,000 for a new starting price of $70,100.00. The $10k Lime Rock package includes these items (as of November, 2012 with discounted retail pricing, not list price):
Competition Package ($2,500)
M Performance Inconel Exhaust ($3,999)
here
M Performance Alcantera Steering Wheel ($800)
here
M Performance Carbon Rear Spoiler ($565)
here
M Performance Front Carbon Splitters ($790)
here
Total = $8,654.00 at our discounted retail pricing
However, this total does not include the BMW Individual paint which typically starts at $3,000.00. It also does not account for installation labor (carried out by BMW NA). With that said, this makes the Lime Rock Edition M3 an excellent value for someone who wants a new and unique M3 with some BMW M Performance parts and accessories installed right from the showroom floor. Yes, these modifications do not ultimately make the M3 perform better than any other ZCP M3 but that wasn't the point. The Lime Rock M3 is an exercise in celebrating BMW's enviable record at one of America's greatest racetracks. Its focus is on sport rather than luxury while still allowing it to be driven as a daily driver on the street with a full factory warranty. Just as the first E36 M3 Lightweight was the same power specs as a standard car, the Lime Rock M3 provides a better basis for a future track car - no sunroof, manual seats, lighter weight titanium exhaust, and limited options. For anyone who does not want to display their appreciation for BMW's M car and racing heritage in this way, there are plenty of silver M3s out on the used market you can build with the same components.
We do not believe the Lime Rock Edition is a waste of money. You can see exactly why the package has a $10,000 price tag, not just because it's a bright color, but because it has parts that would cost anyone with an E92 M3 over $8k. We are happy we opted to order one and stoked to have such a great looking M3 with the V8 power plant and 6 speed manual gearbox like any BMW track car should have.
The History
BMW Race History At Lime Rock Park
1997
IMSA GT
1st
BMW PTG M3
Quiros/Hill
1998
IMSA GT2
IMSA GT3
1st
1st
BMW PTG M3
Said/Duez
Cunningham/Bentley
1999
USRRC GT3
1st
BMW PTG M3
Stuck/Said
2000
Grand-Am
2nd
Genesis Racing M3
Auberlen/Fairbanks
2001
Rolex GT
SPEED Touring Car
1st
1st
JET Motorsports M3 V8
Turner Motorsport 328is
Borcheller/Jennings
Auberlen
2002
SPEED GT
3rd
McMillin Motorsports M3
McMillin
2003
SPEED GT R1
SPEED GT R2
1st
1st
BMW PTG M3
BMW PTG M3
Auberlen
Auberlen
2004
SPEED Touring Car
1st
Turner Motorsport 325i
Auberlen
2005
SPEED Touring Car
1st
Turner Motorsport 325i
Auberlen
2006
Grand-Am Cup GS
1st
Turner Motorsport M3
Auberlen/Gleason
2007
Koni Challenge GS
1st
Turner Motorsport M3
Auberlen/Gleason
2008
Koni Challenge GS
pole
Turner Motorsport M3
Ortiz/Salama
2009
Koni Challenge GS
1st
Turner Motorsport M3
Gleason/Hand
2010
Continental Tire GS
1st
Turner Motorsport M3
Hand/Marsal
2011
ALMS GT
1st
BMW Team RLL M3
Hand/Muller
2012
Continental Tire GS
2nd
Fall-Line Motorsports M3
Boden/Sellers
The Color:
Just where did that color come from anyway?!? Orange hues are nothing new for BMW or for the E92 M3. Many special BMW models have had some form of orange as an option. Inca Orange was a standard color option, and a period favorite, on the 1970s 2002 models. A few 3.0CSL models came from the factory with it as well. In the 1980s BMW offered a Henna Red on E26 M1 models and early E30 models which was close to an orange shade. The color fell out of favor in the 1990s but returned in 2009 with the E92 M3 GTS for the European market. The GTS' paint is the same Fire Orange (paint code: U94) hue as on the Lime Rock models. In addition, Valencia Orange was one of three colors offered for the BMW E82 1M coupe.
There is a coincidental tie-in with the Lime Rock Park racetrack as well. The 'Lime Rock Park Driver's Club' uses an orange in their logo:

The Gallery:


Official Turner Lime Rock Edition M3 Wallpaper here.