BMW E39 M5 Spring & Shock Packages (BMW Performance and More)
These suspension packages consist of H&R Springs combined with Bilstein Sport shocks and struts. This combination works exceptionally well on street-driven cars when coil overs are not available or not desired. These springs and shocks will lower the ride height, firm up the suspension, decrease bodyroll, and provide better handling. There's almost no downside save for a slightly firmer ride.
A shock/spring package is a direct replacement for the existing shocks, struts, and springs in your car. Unlike coil overs, there are no adjustments to be made or complicated mechanisms to use and the parts do not require special bushings and mounts. Our suspension packages install with the same original mounts as your stock shocks and springs (new parts are generally recommended of course). For a simple, inexpensive, and hassle-free suspension upgrade, a shock/spring package is impossible to beat. Bilstein shocks and H&R springs each carry a limited lifetime warranty.
For more information on packages versus coil overs,
click to our guide.

For accurate results, specify your model below.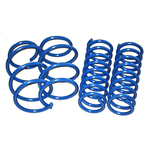 These Dinan Performance Springs have been paired with special Koni shocks and struts to make a balanced tuned suspension that you can live with every day and still extract more performance and handling from your M5. Dinan has partnered with Koni to produce shocks that have been valved especially for their springs. This creates better handling with minimal compromise in ride quality. These are a two-way adjustable shock, allowing you to pick an optimum setting for the driving you're doing.
For over 35 years, Dinan has been America's premier tuning company, pioneering advancements in BMW modification while retaining a focus on balanced performance that preserves the original character and driving feel that a BMW offers. When you install a Dinan part on your car, know that it's not only carefully developed and tested, but that Dinan stands behind it with a four year, 50,000-mile warranty. Dinan believes so fully in their "total package" approach that once your car has been fitted with enough of their parts, they celebrate your conversion from stock to Dinan with an exclusive trunk badge, displayed proudly by BMW enthusiasts everywhere. This shock/spring package is worth 2 points towards your Dinan badge.
This item fits the following BMWs:
1999-2003 E39 BMW M5

Part #: E39M5-D150
Direct Ship