BMW F02 Throttle Body Parts

We carry a variety of parts related to BMW throttle bodies and throttle body upgrades. Modern BMWs have electronic throttles that need replacement rather than repair. A malfunctioning unit can disable the car so it's important to pay attention to any fault codes related to the "EML" system. Older mechanical throttles are much more reliable and less prone to any issues. Replacement of any throttle housing is easy and straightforward.
Larger throttle bodies have been advertised for years as a performance upgrade. On their own they will not make any power difference. But combined with other upgrades, such as larger mass air sensors and intakes, they can contribute to power gains. However, we do not currently sell larger throttle bodies. We do offer adapter plates to mount different throttle housings onto your intake manifold. This is most commonly done along with a stand-alone engine management system with or without drive-by-wire control.

For accurate results, specify your model below.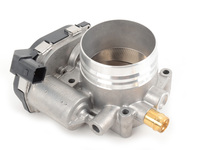 A faulty throttle body can cause poor engine operation or even complete failure to function. Replace your malfunctioning throttle body with a high quality OEM VDO unit to restore proper engine operation.
OEM VDO is one of the largest OE providers in the world, supplying numerous vehicle brands, including BMW, with many of their genuine parts that build the vehicle before they ever reach the car lot. Entrusted by many of the top names in automotives and with their proven history of reliability, it makes all of us here at Turner confident that their line of OEM replacement parts are a perfect option to restore your vehicles original operation and performance. The same great quality or higher than Genuine BMW parts at a lower cost.
As a leading source of high performance BMW parts and accessories since 1993, we at Turner Motorsport are honored to be the go-to supplier for tens of thousands of enthusiasts the world over. With over two decades of parts, service, and racing experience under our belt, we provide only quality performance and replacement parts. All of our performance parts are those we would (and do!) install and run on our own cars, as well as replacement parts that are Genuine BMW or from OEM manufacturers. We only offer parts we know you can trust to perform!

Part #: 13547556119
Ships in 5 days
Free Shipping