BMW F10 Service Reset Tools & Fault Code Readers

Fault Code Readers and Diagnostic Scanners put the power of the dealership in your hands. The Check Engine or Service Engine Soon light means something! It's alerting you to a potential problem and a fault code has been stored in the car's internal diagnostic system. You can take the car to the dealer and have the code pulled for you (for a one-time fee) or you can buy one of these code readers and check the trouble code yourself (and any other code that may come up in the future). These diagnostic tools pay for themselves. They are a must for the DIYer or any mechanic. These tools can read and reset trouble codes and reset your maintenance interval settings. A separate tool can also be used to reset the SRS system (separate from the engine diagnostic system). Peake Reset Tools come with a booklet containing instructions and a list of codes.
For newer cars we also sell multi-function scan tools, gauges, and programmers. Reading and resetting Diagnostic Trouble Codes (DTC) are some of the many functions that these handheld and dash-mounted accessories perform. These are the next generation of 'smart' programmers capable of loading new versions of engine software, recording and playback of data, and timing meters.

For accurate results, specify your model below.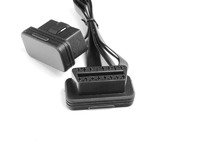 If you have ever wished the OBD plug was easier to access this is the product for you! P3 Cars developed this extension harness for use with their
wonderful P3 Gauges
but it serves other purposes too. The main feature is the low profile plug that is connected to the car's factory OBD port (by the driver's ankle or knee). With the P3 Gauge or other OBD tools the plug can be large and bulky which can interfere with installation or un-plugging the unit. In some cases the installation requires you to modify the cover for the OBD port for a seamless install. But with the slim design of the P3 extension harness it fits out of sight in almost every application.
The second great feature is that you can now plug into the OBD port from almost anywhere around the car. One complaint most people have is the OBD socket is hidden or awkward to plug anything into. With 2 feet of extension you can now mount the new socket in a more convenient location - higher on the dash, the center console, even under the hood (on some models)! The new location is completely customizable. Tuners and service techs who use multiple plug-in OBD tools really love this harness because they no longer have to crawl around the interior over and over.
This extension harness works on all OBD-II vehicles, including non-BMW cars and trucks.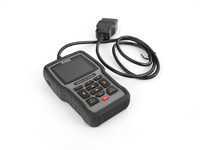 The BMW Service Engine Soon (aka Check Engine Light) has thousands of different meanings. Everything from low coolant messages, engine misfires, transmission temperatures, light bulb failures, brake pad replacement, and so much more. The sophisticated electronics are throughout the car. Isn't it time for a BMW scan tool that can keep up with all of your DIY needs? We think we've found the one - the DIY BMW diagnostic tool that trumps them all. The Schwaben BMW scan tool.
Not all diagnostic scan tools are the same. The cheap ones you find at catalog outlet stores are generic and give you generic information (sometimes not even that). BMW actually has very specialized diagnostic systems that they only share with dealers. The factory diagnostic tools require specialized programs on dedicated laptops that are a pain for the average DIYer to set up and use. The Schwaben BMW diagnostic tool is designed specifically for BMW and MINI. It's not generic and packs some serious features in its small case. We've used this in our service department and were very impressed with the depth of its capabilities. It has features that only the factory ISTA/INPA programs have. Below is a partial list of its prime features -
Works on BMW models from 1987-current*; Works on MINI models from 2002-current*
Compatible with global OBDII / EOBD standards
Reads and clears codes and turns off SES/CEL/MIL/DTC (BMW Powertrain codes, Chassis codes, Body codes, and CAN codes)
Special troubleshooting functions to walk you through codes (like the BMW Test Plan)
Check and activate electronic components like switches, relays, and actuators
Records live sensor data
Provides live data graphing
Merges graphs for easy and intuitive diagnosis
Displays freeze frame data
Create a custom data stream
Reads and resets most adaptations
Reads OBD Readiness
Does active tests on systems and components*
Performs special functions, coding, security access*
Code and program replacement control units
Supports all 10 OBDII test modes
Resets oil service light
Sets inspection 1, 2 service intervals (manual or automatic)
Sets inspection mileage
Deactivates and reactivates brake control system
Retracts calipers for brake pad replacement on newer models
Initializes the wear indicator if new pads installed
Diagnoses Electronic Parking Brake caliper functionality
Multilingual menu options and code definitions
Memory card for data backup and software update
Print feature
Large TFT color screen and menu-driven operations
Free life time updates
*Certain functions may be limited due to the requirement of a special factory access code or tools. While versatile, this scan tool covers a wide range of BMW models and platforms and it cannot be a catch-all tool for every job. Some functions may not be available but will be reviewed in future updates.
Note: Microsoft PC required for updates. You will need to register your scan tool in order to receive update notices via e-mail.
Vehicles with 20 pin under hood connector will require the separate adapter for use. Click here for link.
Part #: 014020SCH01A
Free Shipping

Multi-Informational Display Blended With Your Factory Dash Vent!
Data Display and Recorder
Diagnostic Fault Code Display and Clearing
OEM Appearance and Fitment
Plug & Go Install!
The P3Cars Vent Integrated Digital Interface (vidi) is the data display you've always wanted. It simply plugs in to the OBD communication port - no modifications or re-wiring needed at all! Pop out your stock air vent, run the data cables through the dash, plug in the cable, reinstall the vent with the new display and you're done! The P3 gauge reads and interprets data available from the OBD port and displays it in realtime. Data that was previously only available with advanced factory diagnostic tools is now literally at your fingertips. Use the data stream to evaluate your engine performance, acceleration and braking improvements from modifications, cooling system performance, battery condition, and more. You can record and play back 15 seconds of data for analysis. It also works as a diagnostic trouble code display and has a clear function for resetting the codes.
The whole kit is installed in the original left-side air vent housing. You can order it two ways - the basic display for a DIY install in your original vent (easy!) or pre-installed in a new OE BMW vent (easier!). When you run the cables through the dash and install the vent housing there is no trace of the P3 gauge's aftermarket installation. It's so well-integrated that it looks like a BMW part. It's color-matched to your existing gauges and has a manual dimmer or tap into an existing source to join the dash's auto-dimmer. The entire kit can be un-installed for use in another vehicle or sold. The P3 uses the car's existing OBD communication port, which is the same one used by dealerships, shops, and state inspection stations so unplug the connector when access to the OBD port is required.
For further information, visit our P3 Gauge page.
Data Displays

Intake Air Temp

Exhaust Gas Temp

Coolant Temp

Boost/Vacuum

Ignition Timing

Throttle Opening

Uncorrected Speed

Uncorrected RPM

Programmable Shift Light

Battery Voltage

0-60, 0-100 Timing

60-0, 100-0 Timing
P3 Gauge Installation in F10 5-series:
This item fits the following BMWs:
2011+
F10 BMW
528i 535i 535i xDrive 550i 550i xDrive M5
Part #: P3-F10-GAUGE
Free Shipping