BMW F13 Routine Maintenance & Tune-Up Packages

Keeping up with the maintenance on your car is the smart thing to do. For one thing, it prevents costly repairs in the future. For another, your car performs better, making aftermarket upgrades more worthwhile. And a well-maintained car with complete service records can add substantially to a car's resale value. In the last few years BMW has offered free
scheduled
maintenance on new cars. But this practice has led to deferred maintenance if you stick with their schedule. We don't want to see you left on a ledge after the warranty runs out so our service packages will ensure you get many more miles from your treasured BMW.
These tune-up packages can be configured any number of ways to ensure you get what you need for a full Inspection I, Inspection II, scheduled service, or any other major preventative maintenance service on a US-spec BMW. Our parts are OE, OEM, or performance alternatives that we have been using since our beginnings in 1993. We're dedicated to BMWs only! So you know that the people you're buying from are not just selling products out of a catalog for multiple makes of car. We know your car! You get top
quality
parts, first-rate
service
, and unbeatable
expertise
to keep your BMW in peak condition.
You're currently viewing parts for your
(F13) 6-Series Convertible 2011+
.
Reset your chassis

For accurate results, specify your model below.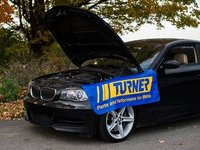 Protect your finish when working under the hood with a high quality Turner fender cover. Made from a synthetic leather layer with a goose flannelette backing for durability and protection. The Turner fender cover holds a tight grip to your fender or core support with four 9.5" magnets sewn into the top layer.
Features:
Durable synthetic leather with the Turner logo
Soft goose flannelette backing
Four 9.5" integrated magnets
Dimensions:

Part #: 019744TMS01A
In Stock

Free Shipping
on orders $199 and up
When it comes time to do your regular maintenance, don't get your supplies at a big box store that might not have exactly what your vehicle calls for. When changing your oil, it's imperative that you get quality parts and components. After all, oil is what keeps your engine lubricated and combats premature wear.
The kit contains:
Nine Quarts of BMW High Performance Synthetic Oil
Mahle Oil Filter Kit
OEM Drain Plug with Crush Washer
Packaged by Turner
Part #: 11427640862KT6
Price: $90.75 (USD)
$100.83
(Sale - Save 10%)
In Stock

Free Shipping
on orders $199 and up