BMW F23 Routine Maintenance & Tune-Up Packages

Keeping up with the maintenance on your car is the smart thing to do. For one thing, it prevents costly repairs in the future. For another, your car performs better, making aftermarket upgrades more worthwhile. And a well-maintained car with complete service records can add substantially to a car's resale value. In the last few years BMW has offered free
scheduled
maintenance on new cars. But this practice has led to deferred maintenance if you stick with their schedule. We don't want to see you left on a ledge after the warranty runs out so our service packages will ensure you get many more miles from your treasured BMW.
These tune-up packages can be configured any number of ways to ensure you get what you need for a full Inspection I, Inspection II, scheduled service, or any other major preventative maintenance service on a US-spec BMW. Our parts are OE, OEM, or performance alternatives that we have been using since our beginnings in 1993. We're dedicated to BMWs only! So you know that the people you're buying from are not just selling products out of a catalog for multiple makes of car. We know your car! You get top
quality
parts, first-rate
service
, and unbeatable
expertise
to keep your BMW in peak condition.
You're currently viewing parts for your
(F23) 2-Series Convertible 2014+
.
Reset your chassis

For accurate results, specify your model below.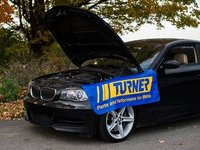 Protect your finish when working under the hood with a high quality Turner fender cover. Made from a synthetic leather layer with a goose flannelette backing for durability and protection. The Turner fender cover holds a tight grip to your fender or core support with four 9.5" magnets sewn into the top layer.
Features:
Durable synthetic leather with the Turner logo
Soft goose flannelette backing
Four 9.5" integrated magnets
Dimensions:

Part #: 019744TMS01A
In Stock

Free Shipping
on orders $199 and up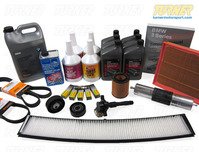 The N55 BMW 6 cylinder gas turbo engine is a potent and efficient power plant -- but don't buy into the hype that your F30 335i is maintenace-free! Those "free" oil changes that BMW performs during the warranty period occur in half the frequency you should really be changing your oil. If you plan on owning your F30 335i past the warranty period, we recommend performing an oil change between each of the scheduled oil services. It's just common sense! By taking charge of your car's care and servicing, your car will reward you in driving pleasure -- not to mention your bank account. Using a preventative service schedule will not only keep your BMW running like new, but will also prevent a more costly repair and inconvenience in the future. It's worth considering that a complete and thorough maintenance record can add hundreds or thousands to a selling price of a used car and give a buyer unmatched piece-of-mind.
Our approach to servicing and caring for newer BMW models is not radically different than when we opened nearly twenty years ago. The design and materials of some components have changed but that only affects WHEN you should replace something, not IF. Through our own Service Department, and thousands of sales annually, we have put together packages for your newer BMW model that will reinject some life into your car and keep it performing at its peak. We use Original Equipment (OE) or Original Equipment Manufacturer (OEM) parts that we have trusted since we opened in 1993. In some cases, we recommend a performance alternative part that we have found works better, or resolves a design flaw, with the original. So you get top
quality
parts, first-rate
service
, and unbeatable
expertise
.
5,000 Mile Oil Service
(click to expand)
engine oil change with filter, using OE BMW 5W30 or Motul
replace drain bolt crush washer
reset oil service/maintenance indicator
inspect and top off any other fluids
Annual Service
(click to expand)
air filter cleaning or replacement
MAF/airflow sensor cleaning
A/C microfilter/cabin filter replacement
brake fluid flush/bleeding
wiper blade replacement
lubricate door hinges and treat rubber door seals
inspect spare tire or tire repair kit, and tire-changing tools
inspect drive belt for cracking or stretching
inspect intake boots and vacuum lines for cracks
inspect brake system for pad wear, rotor wear, parking brake operation, and brake pedal pressure
inspect bushing and ball joints for excess play/movement
ensure the cooling systems are functioning correctly (hoses and thermostat, thermostat housing, auxiliary fan, A/C system, etc)
This package fits the following BMWs:
2012+
F30 BMW
335i sedan (N55 gasoline turbo 6-cylinder)
2013+
F30 BMW
335i xDrive (335xi) sedan (N55 gasoline turbo 6-cylinder)
Put a check in the boxes next to the items you wish to order.

Part #: TMS198570
In Stock

Free Shipping
on orders $199 and up