BMW F23 Brake Calipers

Brake calipers require periodic maintenance just like the rest of your braking system. The number one problem with brake calipers is caused by rust. The caliper and the internal piston are made from cast iron and is prone to rust just like any other ferrous material. Not replacing your brake fluid regularly will lead to water entering or forming in the system and that will rust the calipers and hard brake lines from the inside out. A rusted caliper will cause the piston to seize, creating a stuck caliper, dragging brakes, wheel vibrations, pulling to one side, excessive brake dust and heat, or even a total loss of brake function on that wheel.
We offer brake caliper rebuild kits but sometimes the condition of the inner piston is just not safe to re-use. Unfortunately you really don't know for sure until you have removed the caliper and taken it apart. As a convenience we offer freshly rebuilt calipers. Each caliper is cleaned and sand-blasted to remove surface rust and dirt/grime. The pistons are rebuilt with new seals and dust boots and re-installed into the caliper housing. The caliper you get is ready for a direct replacement on your car! There's no mess from brake fluid leaking everywhere and no fighting to get the piston seals to fit. Replacing the calipers with newly rebuilt units does not take any more signifcant time during a typical brake pad/rotor overhaul. Rebuilt calipers are sold on a core exchange basis so we need your original calipers returned to us.
You're currently viewing parts for your
(F23) 2-Series Convertible 2014+
.
Reset your chassis

For accurate results, specify your model below.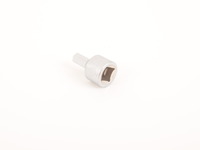 Most BMWs have a 7mm female hex bolt for their caliper guide bolt (what the caliper slides in and out on). And most common hex / Allen socket sets include a 7mm. But one problem you may find yourself in is that the rear shock interferes with the rear caliper guide bolts. Most off-the-shelf sockets are too long overall to fit in between the shock body and where the guide bolt is. This 'stubby' 7mm Allen is the perfect solution. It takes a 3/8 drive and stands 32mm tall (a comparable Craftsman is over 45mm). The Allen section itself is 13mm which allows it to fully engage the guide bolt and leave the minimum amount hanging outside for your ratchet.
Since the 7mm caliper guide bolt is used on almost all BMWs built since 1982, this tool will prove to be extremely useful to any DIYer. 7mm caliper socket applies to the following BMW models:
E24, E28, E30, E31, E32, E34, E36, E38, E39, E46, E52, E53, E60, E61, E63, E64, E65, E66, E70, E71, E82, E83, E85, E86, E89, E90, E91, E92, E93, F01, F02, F07, F10, F12, F13, Z3, MINI R50, MINI R52, MINI R53

Part #: TMS24985
Ships in 7 days

Free Shipping
on orders $99 and up