BMW Z8 OEM Replacement Brake Rotors & Discs
Turner Motorsport sells replacement rotors for your BMW and MINI. These are a direct replacement for your stock rotors but at better pricing than what you would find at a dealership. These rotors come from Original Equipment Manufacturers or performance alternatives and are made to BMW's own design spec with the same performance, reliability, and longevity as BMW-brand rotors. Our rotors are made by the same suppliers that BMW and other German brands use. Given the importance of brakes we pay extra special attention to the brand and quality of the rotors we are selling. We stick with known and proven brands in the German OEM market - Ate, Balo, Brembo, Centric, Zimmerann, Sebro, Stoptech, and of course, Genuine BMW. Many of the rotors we sell come with a corrosion-inhibiting coating that protects the cast iron from rust. Rotors are priced as pairs unless otherwise noted.

For accurate results, specify your model below.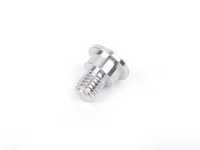 This is a set of stainless steel brake rotor retaining screws to replace the factory steel screws. As everyone knows, the stock screws will seize in the holes over time. And the shallow recess on the head means the screw is easily stripped. These replacement rotor screws are stainless steel and won't corrode and seize in place.
This is a set of 4 stainless screws. Most BMW rotors take one screw but some M cars after 2001 will take two screws per rotor.

Part #: 34211161806KT
In Stock

Free Shipping
on orders $199 and up