BMW Z8 Heating & Air Conditioning

Is your BMW blowing hot air when you want AC? Not getting enough hot air when it's cold out? Well we have the heater cores, heater valves, blower motors and related parts for your BMW. Tip: Is your air conditioning / heater fan going crazy? Does it only run at one speed or not work at all? Then a likely culprit is this blower resistor, often called the "final stage unit" in the BMW world. The function of this part is to regulate the voltage of the blower motor on BMWs which use the digital climate control. This blower resistor is a notorious weakness on the cars that use it. When it fails, your blower fan speed can fluctuate as if it has a mind of its own, or get stuck at one position. BMW has updated this item several times and we only carry the most current version.

For accurate results, specify your model below.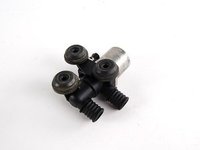 The HVAC heater control valve regulates the flow of coolant into to the heater core. A faulty heater valve can lead to a cabin that is either does not warm up or is too hot.
This item fits the following BMWs:
1999-2005
E46 BMW
323i 323ci 325i 325ci 325xi 328i 328ci 330i 330ci 330xi
2001-2003
E39 BMW
525i 530i - for cars with auxiliary heating option code S536A
2004-2006
E83 BMW
X3 2.5i X3 3.0i
2000-2003
E52 BMW
Z8 Roadster

Part #: 64118369805
In Stock

Free Shipping
on orders $199 and up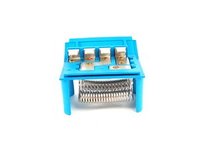 This is the OEM blower resistor for E30 3 series and Z3 models.
For E30 3 series models
it is important to check to see which type of blower resistor you have before order as there are several different types.with the 4 speed blower fan and metal inlet heater core. It has flat spade type connectors.
This item fits the following BMWs:
1985-1991
E30 BMW
318i 318is 318ic 325e 325es 325i 325ic 325is 325ix M3
1996-2002
Z3 BMW
Z3 1.9 Z3 2.3 Z3 2.5i Z3 2.8 Z3 3.0i M Roadster M Coupe
2000-2003
E52 BMW
Z8 Roadster

Part #: 64116912633
Ships in 3 days

Free Shipping
on orders $199 and up