Find Parts That Fit Your Vehicle
BMW Pagid Track and Race Brake Pads
Pagid has long been associated with motorsports - winning endurance races around the world and working closely with factory and privateer teams to supply the very best in racing friction materials. You can find Pagid Racing engineers at all of the major sports car and open wheel races working alongside team engineers on fine-tuning their products for the respective classes. To this day, Pagid remains a very dynamic company, constantly evolving with the ever-changing motorsport environment.
Pagid Race Pad Compounds:Orange RS 4-4.
A mild track pad that is often used as a rear compound to manage brake balance (typically with Yellow front pads). It has very good modulation and release over a medium friction level. It has a moderate wear rate and very gentle on rotors. Orange has good fade resistance up to 560°C (1,050°F). It has a mild bite which makes it a very good pad for beginners or low horsepower cars using DOT race tires where too much brake can lead to lock-up or slowing momentum. Commonly found in Touring Car, time trial, Showroom Stock, and F3.
RS19 Yellow.
Developed in partnership with BMW Motorsport, the RS19 is a favorite of test drivers on the Nürburgring. It's a step up on the aggressive scale from the Orange. RS19 has very good modulation and release thanks to a medium friction compound. It has moderate bite with excellent wear levels so it makes for a good beginner pad or a pad you can drive to the track with. Yellow pads are often used in extended endurance races (sometimes without pad changes). It has good fade resistance up to 600°C (1,00°F). The combination of friction value, fading stability and low wear rates on pads and rotors is unmatched. A multiple winner of Daytona 24h, Le Mans 24h, Sebring 12h, Spa 24 h, and Nürburgring 24h.
Yellow RS29.
An evolution of the RS19 endurance pad designed for more advanced drivers. This compound combines the outstanding wear rate of the RS19 with a slightly higher coefficient of friction and initial bite. RS29 also features improved hot fade resistance over the RS19. In addition to the endurance racing, this pad will also be found in GT and VLN classes and Touring Cars (including our own E46 World Challenge cars).
Yellow RSL1.
The latest in the Yellow line takes all of the RS29 characteristics and adds a bit more aggressive behavior. Friction levels go up for more initial bite and better fade resistance. Modulation and release stays close to RS29 levels. Pad and rotor wear is a little more than on the previous Yellows but still within reasonable levels and the RSL1 is still considered an extended endurance pad. Its development stemming from GT classes at Le Mans and Nürburgring.
Black RS14.
The RS14 is a very aggressive pad, trading low wear characteristics for outright torque and performance. It has a high friction level for an aggressive initial bite and better fade resistance compared to the RS19/RS29. Modulation and release are slightly down compared to the Yellow compound but still comfortable for most drivers. Because of its aggressive compound, more wear to the rotors and the pad itself is expected. RS14 has excellent fade resistance up to 650°C (1,200°F). It's quick reaction and high torque make it a favorite for very fast cars with downforce such as prototypes, Indycar, formula, Super GT, and some Touring Cars.
Red RST.
Pagid's newest sprint racing pad was developed for racing cars achieving very high average speeds with short braking distances and functional aero. The RST pads feature very high friction levels for the quickest bite and highest fade resistance than any other Pagid pad. RST pads are broken into four levels (RST1-RST4) depending on bite and release characteristics. RST pads will trade low wear for torque output and faster response. RST1 being the most aggressive in the range and RST4 being the least aggressive (commonly used only as a rear compound). These were developed based on the needs of race engineers in World Challenge, Daytona Prototype, and GTLM where functional aero meant high grip in the corners and smaller braking zones.
Since Pagid pads tend to "out-gas" we recommend using these pads with a new gas-slotted or cross-drilled rotor for the best performance. Pagid brake pads are not compatible with previously used rotors, especially if used with a carbon or Kevlar based race pad.
Click here for Pagid S Sport Pads for mixed street and track use.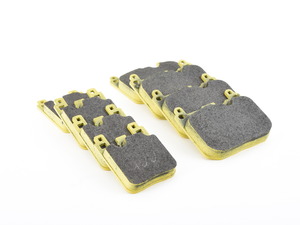 On Order, ETA May 31, 2019
The RSL29 pad is an endurance racing compound with long life and great wear characteristics. It has stable friction over a broad temperature range which makes them a very easy to use and predictable braking pad in a lot of environments. An evolution of the RSL19 endurance pad designed for more advanced drivers. This compound combines the outstanding wear rate of the RSL19 with a slightly higher coefficient of friction and initial bite. RSL29 also features improved hot fade resistance over the RSL19. In addition to the endurance racing, this pad will also be found in GT and VLN classes and Touring Cars (including our own E46 World Challenge cars). BMW has been using Pagid Yellow pads on their Nurburgring test vehicles and Ring Taxi for years.

This is the set of Front and Rear pads.

This item fits the following BMWs:
2014-12/2015 F22/23 BMW 228i/i xDrive (with M sport brakes), M235i/i xDrive, M240i/i xDrive
2012-12/2015 F30/31/34 BMW 320i/i xDrive (with M sport brakes), 328i/i xDrive (with M sport brakes), ActiveHybrid 3 (with M sport brakes), 335i/i xDrive
2014-12/2015 F32/33/36 BMW 420i/i xDrive (with M sport brakes), 435i/i xDrive
2014-12/2015 F8X BMW M2 M3 M4 without Carbon Ceramic Brakes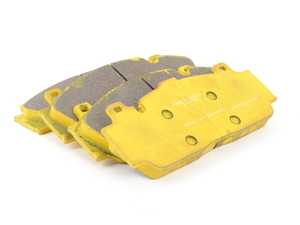 The RSL29 pad is an endurance racing compound with long life and great wear characteristics. It has stable friction over a broad temperature range which makes them a very easy to use and predictable braking pad in a lot of environments. An evolution of the RSL19 endurance pad designed for more advanced drivers. This compound combines the outstanding wear rate of the RSL19 with a slightly higher coefficient of friction and initial bite. RSL29 also features improved hot fade resistance over the RSL19. In addition to the endurance racing, this pad will also be found in GT and VLN classes and Touring Cars (including our own E46 World Challenge cars). BMW has been using Pagid Yellow pads on their Nurburgring test vehicles and Ring Taxi for years.

This is the set of FRONT pads.

This item fits the following BMWs:
2011+ F10 BMW M5 without Carbon Ceramic Brakes
2012+ F13 BMW M6 without Carbon Ceramic Brakes

The RSL29 pad is an endurance racing compound with long life and great wear characteristics. It has stable friction over a broad temperature range which makes them a very easy to use and predictable braking pad in a lot of environments. An evolution of the RSL19 endurance pad designed for more advanced drivers. This compound combines the outstanding wear rate of the RSL19 with a slightly higher coefficient of friction and initial bite. RSL29 also features improved hot fade resistance over the RSL19. In addition to the endurance racing, this pad will also be found in GT and VLN classes and Touring Cars (including our own E46 World Challenge cars). BMW has been using Pagid Yellow pads on their Nurburgring test vehicles and Ring Taxi for years.

This is the set of FRONT pads.

This item fits the following BMWs:
1995-1998 E36 BMW M3
2001-2006 E46 BMW 330i M3
1989-1995 E34 BMW 525i 530i 535i 540i M5
1988-1994 E32 BMW 735i 735il 740i 740il 750il
1997-2002 Z3 BMW M Roadster M Coupe
2006-2008 Z4 BMW M Roadster M Coupe