E92/E93 328i/xi Supersprint Euro Exhaust System with Quad Tips (Center Resonator + Rear Dual Exhaust)
Free ground shipping!
The rear of the 335i and M3 have a very distinctive appearance thanks to their dual exhaust outlets. But the 328i models were equipped with the traditional and plain left rear outlet. With this Supersprint dual exhaust upgrade your 328i or 328xi can also benefit from this muscular and athletic exhaust look. The US E92 328i exhaust is unique to the US market and that has left a void for performance exhaust options. The European exhaust has different components and layout but the Supersprint Euro exhaust can be fitted to US cars. It consists of a stainless performance muffler and stainless center resonator that is clamped to the stock E92 secondary cat (or remove the cat with the Supersprint section 1 straight pipes). This makes for an excellent replacement exhaust system because the sound is sporty but refined and not too loud. It's a muted growl and throaty sound without being overly aggressive.

Supersprint exhaust is widely recognized as the leader in complete exhaust system upgrades - extremely high quality, well designed for optimal flow, and amazing sound. Even at a premium price Supersprint is an unbeatable exhaust system because every aspect is done to such a high level. A Supersprint exhaust rewards you with a terrific sound, long lasting construction and excellent fitment. The Supersprint sound is very 'European' which fits the sporting sophistication of BMWs perfectly. Most systems are also modular - sections can be added or removed to custom tailor the exhaust sound to your preferance. Aside from 'Race' systems, their mufflers meet European noise laws so you get a refined and tuned sound without being excessively loud. Most Supersprint systems are built with larger diameter piping to improve exhaust flow which helps the engine do less work and make more horsepower! Supersprint exhausts generally run at a premium over other systems but no other system on the market can match their quality, performance, or reputation!

Fitment Notes: This system adds an additional pair of tips to the passenger side of the vehicle. Minor trimming of the rear bumper required to match the driver's side is required. Because this system uses parts that are not normally installed on the US exhaust some additional installation and fitment work is required. But the Euro and US cars share all of the same attachment points and hangers and this is the correct system for the Euro 330 coupe (called a 328 in the US market). Our kit includes the Euro installation hardware and gasket.
section:center resonator + rear muffler + right side outlet
connects to:stock cat section
tip style:80mm quad round
material:T304 stainless steel

This item fits the following BMWs:
2007-2013 E92 BMW 328i 328xi 328i xDrive - Coupe
2007-2013 E93 BMW 328i - Convertible

T#:
184014
|
Part#:
980803-981606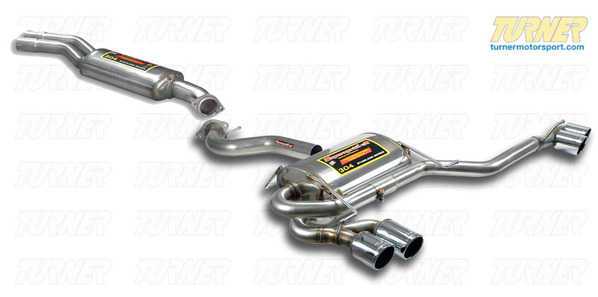 1 of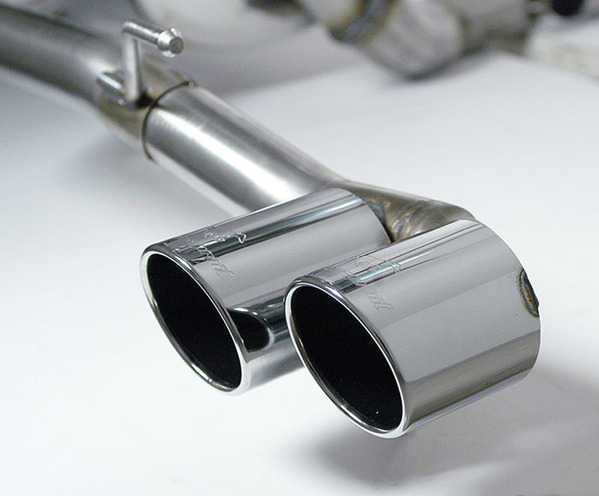 2 of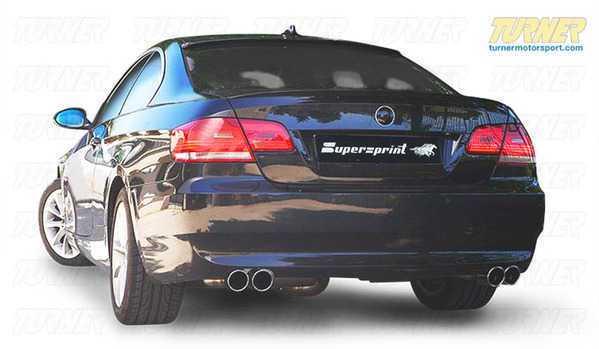 3 of

E92/E93 328i/xi Supersprint Euro Exhaust System with Quad Tips (Center Resonator + Rear Dual Exhaust)