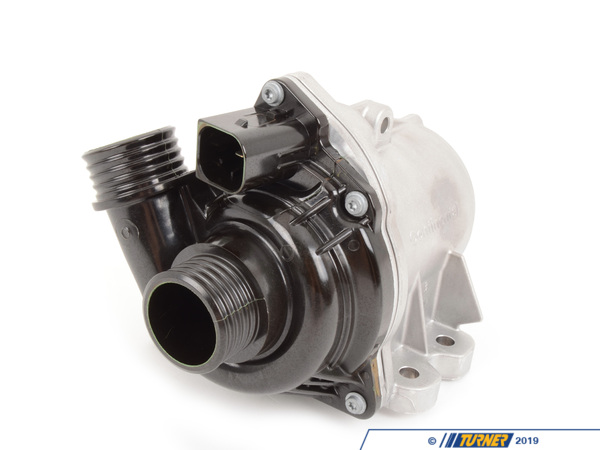 Water Pump - N54/N55 Engine - E82 135i, E9X 335i/xi, E60 535i/xi, E70 X5 35ix
Mfg Part #

11517632426

11-51-7-632-426

11 51 7 632 426

Turner Part #

T#

2755

Brand
Product Details
The N54/N55's water pump is central to the car's cooling system as well as to the performance and fuel economy. BMW's engine efficiency design for these cars includes the water pump for balancing engine power output and efficiency and cooling responsibilities not only for the engine but also for the turbo(s) and transmission cooling. It's a very integral part of the engine. The N54/N55 engined cars already suffer from reduced cooling area because of the factory intercooler, tight space under the hood, and of course heat from the turbo(s). BMW addressed these challenges a number of ways, including a dynamic, 'smart' electric water pump with increased output compared to the N52. The cooling demands mean additional stress on the major cooling components, especially the water pump.

The N54/N55 water pump is electrically driven and varies output based on instructions from the engine computer. Under the best circumstances the pump drives only as much coolant as needed and will shut down or activate as load and performance demands change (combustion chamber temperatures are dynamically changed based on economy, normal, and performance demands). The pump can also run when the car is off to reduce heat soak in the engine and turbo(s). The water pump is now a factor in how much power and fuel economy your car is producing, making it all the more critical to replace during normal maintenance. If a fault or excessive temperature is reached, the dash cluster will display a yellow or red water temp icon depending on the severity of the condition. The car's electronics will begin shutting down various systems in the car to divert more resources to the cooling system. This can include reducing power output and activating 'limp mode'.

The best way to avoid problems and system failures? Preventative maintenance and overhaul of the cooling system, starting with the water pump (and thermostat).

This OEM VDO water pump is the latest design and replaces part number 11 51 7 563 659 (11517563659). It fits all cars with the N54 or N55 engine. Replacement of the aluminum mounting screws is required when changing the water pump.

This item fits the following BMWs:
2008+ E82 BMW 135i 1M Coupe
2007+ E90 BMW 335i 335xi 335i xDrive - Sedan
2007+ E92 BMW 335i 335is 335xi 335i xDrive - Coupe
2007+ E93 BMW 335i - Convertible
2007-2010 E60 BMW 535i 535xi 535i xDrive
2010+ F07 BMW 535i GT, 535i xDrive GT
2011+ F10 BMW 535i 535i xDrive
2011+ F13 BMW 640i Coupe, 640i Convertible
2009+ F01 BMW 740i 740li
2011+ F25 BMW X3 35iX
2010+ E70 BMW X5 35iX
2007-2014 E71 BMW X6 xDrive35i
2009+ Z4 BMW Z4 sDrive35i Z4 sDrive35is
Previous Revisions
others bought
recently viewed