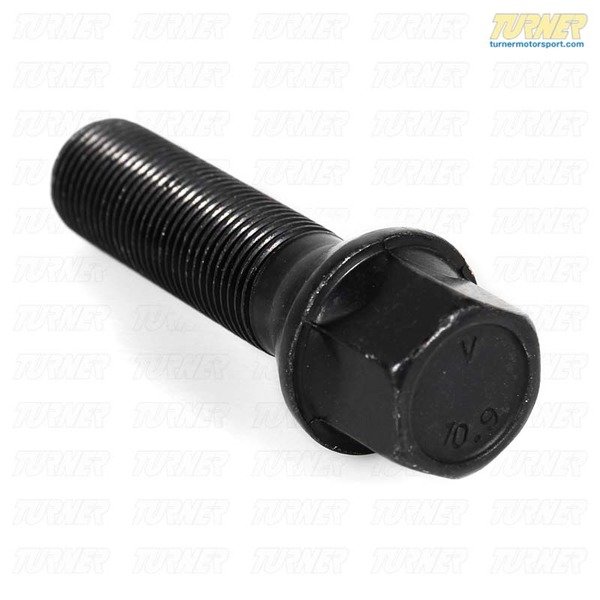 Wheel Bolt for BMW, MINI - 14x1.25 - Black - E70, F01, F10, F25, F30, MINI R56
Mfg Part #

14253501X

Turner Part #

T#

338263

Brand
In Stock

Free Shipping
on orders $199 and up
Does this fit my vehicle?
For accurate results, specify your model below.
Product Details
If you are installing wheel spacers you will need longer bolts to accommodate the extra width. BMW changed their wheel bolt specs around 2006 to use a larger diameter bolt with a rare thread pitch. These 14 x 1.25mm black spacer bolts are correct for the models listed below and have a 17mm head (same as stock). Watch out if you're buying spacers and bolts for these cars as some other retailers are still not up on the change... Replaces BMW part number 36136781151.

Bolts are sold per bolt (each). You can enter the quantity you need below after clicking Update Price button below or from the shopping cart.

Choose the extended length bolt you need below based on the size / thickness of the wheel spacer you are using.

These 14x1.25 bolts fit the following BMWs:
2014+ F22 BMW 228i 228i xDrive M235i M235i xDrive
2012+ F30 BMW 320i 320i xDrive 328d 328d xDrive 328i 328i xDrive 335i 335i xDrive - Sedan
2013+ F31 BMW 328i xDrive 328d xDrive - Wagon
2014+ F34 BMW 328i xDrive GT, 335i xDrive GT - Gran Tourismo
2013+ F32 BMW 428i 428i xDrive 435i 435i xDrive - Coupe
2013+ F33 BMW 428i Convertible 428i xDrive Convertible 435i Convertible - Convertible
2014+ F36 BMW 428i Gran Coupe 428i xDrive Gran Coupe 435i Gran Coupe 435i xDrive Gran Coupe
2015+ F80 BMW M3
2015+ F82 BMW M4
2010+ F07 BMW 535i GT, 535i xDrive GT, 550i GT, 550i xDrive GT
2011+ F10 BMW 528i 528i xDrive 535i 535i xDrive 535d 535d xDrive 550i 550i xDrive M5
2012+ F12 BMW 640i 640i xDrive 650i 650i xDrive M6
2013+ F06 BMW 640i Gran Coupe 640i xDrive Gran Coupe 650i Gran Coupe 650i xDrive Gran Coupe M6 Gran Coupe
2009+ F01 BMW 750i 750li 750i xDrive 750li xDrive 760li
2011+ F25 BMW X3 xDrive28i X3 xDrive35i
2015+ F26 BMW X4 xDrive28i X4 xDrive35i
2007-2013 E70 BMW X5 3.0si X5 4.8i X5 xDrive30i X5 xDrive35d X5 xDrive35i X5 xDrive48i X5M
2014+ F15 BMW X5 sDrive35i X5 xDrive35d X5 xDrive35i X5 xDrive50i
2008+ E71 BMW X6 xDrive35i X6 xDrive50i X6M
2007+ R56 MINI MINI Cooper, MINI Cooper S
2007+ R55 MINI MINI Cooper Clubman, MINI Cooper S Clubman
2007+ R57 MINI MINI Cooper Convertible, MINI Cooper S Convertible,

Loading Kit Configurator
Kit Configurator
Select a bolt length here:
Description
Qty
27mm stock length ($4.95)

In Stock

1
33mm for 3-5mm wheel spacer ($4.25)

In Stock

1
35mm for 5-8mm wheel spacer ($4.25)

In Stock

1
40mm for 10-13mm wheel spacer ($4.25)

In Stock

1
43mm for 13-16mm wheel spacer ($2.89)

In Stock

1
50mm for 20-23mm wheel spacer ($4.25)

In Stock

1
Image may not match selected options.
This Part Fits the Following BMWs
| Make | Model | Submodel | Engine |
| --- | --- | --- | --- |
| BMW | E70 | X5 M | S63 4.4L |
| BMW | E70 | X5 xDrive30i | N52 3.0L |
| BMW | E70 | X5 xDrive35d | M57 3.0L |
| BMW | E70 | X5 xDrive35i | N55 3.0L |
| BMW | E70 | X5 xDrive48i | N62 4.8L |
| BMW | E70 | X5 xDrive50i | N63 4.4L |
| BMW | E71 | X6 M | S63 4.4L |
| BMW | E71 | X6 xDrive35i | N54 3.0L |
| BMW | E71 | X6 xDrive35i | N55 3.0L |
| BMW | E71 | X6 xDrive50i | N63 4.4L |
| BMW | F01 | 740i | N54 3.0L |
| BMW | F01 | 750i | N63 4.4L |
| BMW | F01 | 750i xDrive | N63 4.4L |
| BMW | F02 | 740Li | N54 3.0L |
| BMW | F02 | 740Li xDrive | N55 3.0L |
| BMW | F02 | 750Li | N63 4.4L |
| BMW | F02 | 750Li xDrive | N63 4.4L |
| BMW | F02 | 760Li | N74 6.0L |
| BMW | F06 | 640i | N55 3.0L |
| BMW | F06 | 640i xDrive | N55 3.0L |
| BMW | F06 | 650i | N63 4.4L |
| BMW | F06 | 650i xDrive | N63 4.4L |
| BMW | F06 | M6 Gran Coupe | S63 4.4L |
| BMW | F07 | 535i | N55 3.0L |
| BMW | F07 | 535i xDrive | N55 3.0L |
| BMW | F07 | 550i | N63 4.4L |
| BMW | F07 | 550i xDrive | N63 4.4L |
| BMW | F10 | 528i | N20 2.0L |
| BMW | F10 | 528i | N52 3.0L |
| BMW | F10 | 528i xDrive | N20 2.0L |
| BMW | F10 | 535i | N55 3.0L |
| BMW | F10 | 535i xDrive | N55 3.0L |
| BMW | F10 | 550i | N63 4.4L |
| BMW | F10 | 550i xDrive | N63 4.4L |
| BMW | F10 | M5 | S63 4.4L |
| BMW | F12 | 640i | N55 3.0L |
| BMW | F12 | 640i xDrive | N55 3.0L |
| BMW | F12 | 650i | N63 4.4L |
| BMW | F12 | 650iX | N63 4.4L |
| BMW | F12 | M6 | S63 4.4L |
| BMW | F13 | 640i | N55 3.0L |
| BMW | F13 | 640i xDrive | N55 3.0L |
| BMW | F13 | 650i | N63 4.4L |
| BMW | F13 | 650iX | N63 4.4L |
| BMW | F13 | M6 | S63 4.4L |
| BMW | F15 | X5 sDrive35i | N55 3.0L |
| BMW | F15 | X5 xDrive35d | N57 3.0L |
| BMW | F15 | X5 xDrive35i | N55 3.0L |
| BMW | F15 | X5 xDrive50i | N63 4.4L |
| BMW | F22 | 228i | N20 2.0L |
| BMW | F22 | 228i xDrive | N20 2.0L |
| BMW | F22 | M235i | N55 3.0L |
| BMW | F22 | M235i xDrive | N55 3.0L |
| BMW | F23 | 228i | N20 2.0L |
| BMW | F23 | M235i | N55 3.0L |
| BMW | F23 | M235i xDrive | N55 3.0L |
| BMW | F25 | X3 sDrive28i | N20 2.0L |
| BMW | F25 | xDrive2.8i | N52 3.0L |
| BMW | F25 | xDrive3.5i | N55 3.0L |
| BMW | F26 | X4 xDrive28i | N20 2.0L |
| BMW | F26 | X4 xDrive35i | N55 3.0L |
| BMW | F30 | 320i | N20 2.0L |
| BMW | F30 | 320i xDrive | N20 2.0L |
| BMW | F30 | 328d | N47 2.0L |
| BMW | F30 | 328d xDrive | N47 2.0L |
| BMW | F30 | 328i | N20 2.0L |
| BMW | F30 | 328i xDrive | N20 2.0L |
| BMW | F30 | 335i | N55 3.0L |
| BMW | F30 | 335i xDrive | N55 3.0L |
| BMW | F30 | ActiveHybrid 3 | N55 3.0L |
| BMW | F31 | 328d xDrive | N47 2.0L |
| BMW | F31 | 328i xDrive | N20 2.0L |
| BMW | F32 | 428i | N20 2.0L |
| BMW | F32 | 428i xDrive | N20 2.0L |
| BMW | F32 | 435i | N55 3.0L |
| BMW | F32 | 435i xDrive | N55 3.0L |
| BMW | F33 | 428i | N20 2.0L |
| BMW | F33 | 428i xDrive | N20 2.0L |
| BMW | F33 | 435i | N55 3.0L |
| BMW | F34 | 328i xDrive | N20 2.0L |
| BMW | F34 | 335i xDrive | N55 3.0L |
| BMW | F36 | 428i | N20 2.0L |
| BMW | F36 | 428i xDrive | N20 2.0L |
| BMW | F36 | 435i | N55 3.0L |
| BMW | F36 | 435i xDrive | N55 3.0L |
| BMW | F80 | M3 | S55 3.0L |
| BMW | F82 | M4 | S55 3.0L |
| BMW | F83 | M4 | S55 3.0L |
| BMW | F87 | M2 | N55 3.0L |
| MINI | Cooper | Base | L4 1.6L N12B16A |
| MINI | Cooper | Base | L4 1.6L N16B16A |
| MINI | Cooper | Clubman | L4 1.6L N12B16A |
| MINI | Cooper | Clubman | L4 1.6L N16B16A |
| MINI | Cooper | S | L4 1.6L N14B16A |
| MINI | Cooper | S | L4 1.6L N18B16A |
| MINI | Cooper | S | N18B16A |
| MINI | Cooper | S Clubman | L4 1.6L N14B16A |
| MINI | Cooper | S Clubman | L4 1.6L N18B16A |
*The above product applications have been written by Turner Motorsport. All warranties, product application, fitment, and performance are the responsibility of Turner Motorsport. For additional information see the terms of use.
others bought
recently viewed