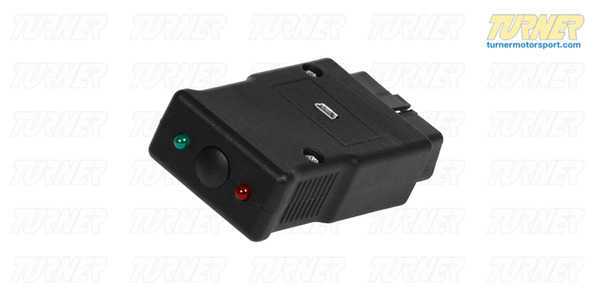 E46 330i/xi Shark Injector Performance Software
Mfg Part #

TMS269

Turner Part #

T#

338935

Brand
In Stock
Free Shipping
Does this fit my vehicle?
For accurate results, specify your model below.
Product Details
Unlock torque and horsepower
Smoother engine with less hesitation
Improved throttle response
Rev limit increased to 7000
Top speed limiter removed
Installs in minutes!
Performance software is a
must-have
upgrade on your BMW and you won't find an easier and better software solution than the Shark Injector. Developed by BMW tuning expert Jim Conforti, this device plugs into the car's diagnostic port and flashes new performance files into your car's engine computer (ECU). There's no removal of the ECU and shipping, no cables, no laptop required - only a battery charger! Installation takes just a few minutes and your engine will perform like never before!
The M54 performance software was developed on the dyno to create maximum power and torque using premium 91+ octane fuel while maintaining BMW reliability and smoothness. The software makes changes to the ECU's maps and algorithms for fuel injection, ignition timing, VANOS and camshaft movement, and transitional fueling. A lot of tuning has been done at the low RPM ranges to improve response. We modify the maps for part throttle and full throttle so you get better response and more torque at all RPM. We also raise the rev limit to 7,000 and remove the top speed limiter. By fine tuning these maps we've been able to improve the M54/M56 engine beyond what BMW did by making more power and torque and a smoother-running engine.
The Shark Injector plugs into the diagnostic port inside the E46 cabin. With the battery charger supplying power, press the Upgrade button and within minutes the ECU is reflashed with the new performance tune. No other software product on the market comes close to how easy it is to install. You can use the Restore button to re-install the stock BMW software at any time. Detailed instructions are included. Other tuners require you to remove the ECU and ship it to them or use a laptop to read and write a new file. The Shark Injector is ready to install right out of the box! A planned future upgrade will allow you to use the USB port to load different performance files.
2001-2005 E46 330i (M54 engine) Performance Software Peak Gains
2004-2006 E46 330i ZHP (M54 engine) Performance Software Peak Gains
E46 330i ZHP Rev Limits
(click to expand)
There are multiple versions of stock ZHP software and BMW used different rev limits in some of them. A ZHP automatic will always have a lower rev limit than a manual in the interest of preserving the automatic transmission. Our engine software will alter the rev limit set in the ECU but other limits in the auto transmission programming will maintain the factory rev limit. Manual ZHPs have stock rev limits that vary - some are set as high as 6920 by the factory software. The Shark ZHP software sets all manual tranmission rev limits to 6920.

Read what others are saying!
(click to expand)
greekpsycho, 325i: "I sharked my 325 a few months ago and I noticed a huge difference. This REALLY brought out the best of my car."
TJ710, 325i: "just did this to my own stock 325i about 3 weeks ago and I definitely felt a difference and it put a smile on my face."
Dahmwern, 325Ci: "I'm definitely noticing a sweetly smooth power delivery, as well as a noticeable power increase in the low end as you being to accelerate (especially up moderate inclines). Note: This is NOT placebo effect. I drove the same route before and after to compare, and while its not perfectly scientific, it was quite obvious that there were some changes that took place - changes for the better. Like many mods, the car should have come this way!"

Rob43, 330i: "besides the 7000rpm, removal of the top speed limiter, and very good(improved) throttle response, I got 6.5WHP on the dyno with my Shark injector. That's worth $300 bucks in my book."
xixixi, 330xi: "I got the shark for my 330xi, I love it. Shark > all. Why? It gives gains that other "custom tunes," can't. What I liked the most about my shark is shift points. If you can shift decent, you can stay in the 5.5k+ range."
Douglas, 330Ci: "Just last week I had your Shark Injector installed in my 2001 330Ci. What a difference it makes! I already loved the car and it's a great car to drive, but this takes it to a new level."
Steve 330i: "I bought the software and CAI by Jim C. Installed both at the same time and have put around 500 miles on over the last month. The car is amazing to drive, and the software seemed to make the power band a bit flatter, less of a dip and a bit better at the lower RPMS."

nleksan, 330i ZHP: "Ditch the Brand XXXXX software and switch it up for the newly-released Conforti Shark Injector for your car. It will give you a higher redline, no top-speed, more power, and much better throttle response, even over the Brand XXXXX."
3579az, 330i ZHP: " The throttle response problem has been solved. I can now perform perfect rev-matches with ease, unlike before. I've been heel-and-toe downshifting all day with a major success rate of perfect shifts, which is a LOT more than could be said compared to stock. I can now pull cleanly through the rev range without feeling any hesitation or dead spots. I have confirmed that the dead spot that was painfully obvious before the flashing… is gone."
pyreguy, 330i ZHP: "I have been VERY pleased with mine. The dead spot being irradiated was the best thing EVER."
Scott, 330i ZHP: "Very increased acceleration - especially from around 3,000 to 6,000. The car feels like a bullet! It is the same smooth kind of power too - just more of it, delivered continuously to the top rpm. So 3rd feels more like 2nd gear now! Throttle transitions are much more refined. So when in low gears, on and off throttle changes are very seamless and smooth (no jerking) - and the change has made shifting gears easier - especially first to second. So now my car is much more fun to drive and shows engine performance that is better matched to the incredible handling ability it has. I'm very pleased with this upgrade and can't thank you enough!!!

Shark Injector Installation Instructions
(click to expand)

Shark Injector installation instructions
A capable battery charger is required for the installation. The charger provides backup power supply to the regular car battery during installation. It must be capable of holding a continuous 10amp charge for the full installation (15-20 minutes).
The minimum octane fuel for this software is 91.
Shark Injector FAQ
(click to expand)

Shark Injector FAQ
This item fits the following BMWs:
2001-2006
E46 BMW
330i 330ci 330xi
Loading Kit Configurator
Kit Configurator
Select your model/production date:
Description
Qty
330i up to 2/2003 production date (MS43 ECU) ($349.00)

In Stock

1
330i from 2/2003 production date (MS45 ECU) ($349.00)

In Stock

1
330i ZHP 2003-2006 ($349.00)

In Stock

1
330xi 2001-2006 ($349.00)

In Stock

1
Add the recommended battery charger?
Description
Qty

No thanks, I have a 10+ amp charger to use.

Yes, add the battery charger ($159.95)

Ships in 1 day

1
Image may not match selected options.
This Part Fits the Following BMWs
| Make | Model | Submodel | Engine |
| --- | --- | --- | --- |
| BMW | E46 | 330Ci | M54 3.0L |
| BMW | E46 | 330i | M54 3.0L |
| BMW | E46 | 330xi | M54 3.0L |
*The above product applications have been written by Turner Motorsport. All warranties, product application, fitment, and performance are the responsibility of Turner Motorsport. For additional information see the terms of use.
others bought
recently viewed