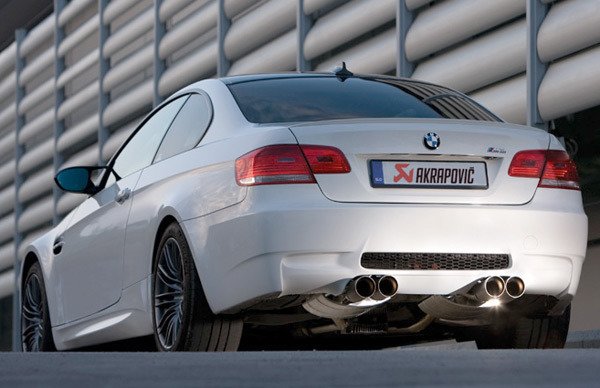 Akrapovic Evolution Titanium Exhaust System - E92 M3 - (NO LONGER AVAILABLE)
Mfg Part #

TMS2433

Turner Part #

T#

340342

Note:

This product is no longer available.
Product Details
This Akrapovic Evolution exhaust system was inspired by Akrapovic's work on the mighty BMW-built M3 GT4 racecar. One of these factory racers is a regular in the Turner shop and we knew that we had to get our hands on its beautifully crafted titanium race exhaust. The Akrapovic Evolution exhaust system is one of the finest exhausts for your E92 M3 coupe, or E93 M3 convertible. Now we have them here, ready to ship! This system is for all 2008+ M3 (please choose either E92 coupe or E93 convertible using the drop down option below).
The Akrapovic Evolution Exhaust System for BMW M3 consists of flow optimized link pipes with 2 x 100 cpsi sports catalysts and integrated resonators. The link pipes are joined to newly developed split-end mufflers. This exhaust system, made fully from titanium, reduces the overall weight when compared to the stock system by 50lbs (23 kg)! From approximately 2500 rpm on, the power increase is about 24 HP. The torque is nearly constant at 25ft-lbs over stock.
That is the real joy of driving: high speed engine benefits in daily practice due to the torque increase. It improves the agility in the lower rpm-range noticeably. Also, the engine is stronger in the higher rpm-range and the elasticity is improved considerably. The improvement of acoustics played an important role in the development. The Akrapovic exhaust system amplifies and rectifies the beautiful sound of the 8-cylinder motor, without appearing invasive or having disadvantages in the daily use. The sound is unlike most other aftermarket exhausts on the market. It's more 'European', accenting the natural mechanical engine noises with a higher pitch and wail. The Akrapovic sound is more like an Italian sportscar than the muscle car rumble of American exhausts.
For the full on track use, we also offer the optional Race center pipes that eliminate the catalytic converters and resonators and shave an additional 9 lbs off the weight of the stock system. The race pipes were developed exclusively for track use where sound levels, and emissions testing, were not a concern. The BMW Motorsport M3 GT4 model used a combination of Evolution and Race with a set of cats but no resonators. The GT4 exhaust is no longer available from BMW or Akrapovic but this is a better system because it completely eliminates the cats and resonators. The Evolution will deliver power improvements over stock but with street-level sound volume while the Race will give additional power gains with much more volume. Race section is expressly designed for track and race (off-highway) use and do not utilize the post-catalytic (secondary) O2 sensors. Special tuning will need to be done to completely eliminate the post-cat O2 sensors. Special software is available from Turner Motorsport for this.
Download the
full brochure here
.
Download the
installation instructions here
This is a race exhaust system which uses sport catalyzers designed for maximum flow while still reducing vehicle emissions. This part alters or deletes the emissions equipment on your car, and may not meet emissions standards in all states. Because of this, we require a waiver of emissions compliance to be signed and sent in to TMS.
You can download the waiver here.
Not for sale outside the US or Canada.
This item fits the following BMWs:
2008+
E92 BMW
M3 - Coupe
2008+
E93 BMW
M3 - Convertible
Kit Configurator
Add Delete-R Check Engine Light Suppressor?
| Description | Qty | |
| --- | --- | --- |
| No Thanks | | |
| Yes Please (#P-DEL1) ($415.00) | 1 | |
Choose Carbon Fiber or Titanium Tips
| Description | Qty | |
| --- | --- | --- |
| Carbon Fiber Tips (#TP-CT/3) ($1500.00) | 1 | |
| Titanium Tips (#TP-BME92H-90/93) ($1425.00) | 1 | |
| -- Please Choose -- | | |
Add Base Exhaust Package:
| Description | Qty | |
| --- | --- | --- |
| Akrapovic Evolution Titanium Exhaust System - E92 M3 ($4720.00) | 1 | |
Add Emissions Wavier (Required):
| Description | Qty | |
| --- | --- | --- |
| Emissions Exemption Waiver Requirement ($0.00) | 1 | |
Image may not match selected options.
others bought
recently viewed