MINI R53 Cooper S 04-06 Borla Touring Exhaust - Cat-Back Mufflers
Section: cat-back rear mufflers
Installation: bolt-on with flange
Tip Style: dual round 76mm Borla angle cut
Power Gain: +7hp
The Borla Touring street exhaust for the R53 Cooper S is a great mild bump in volume output and sound. Borla makes a Street and Race version of this exhaust with the Street being a noticeable but moderate sound easily tolerated for daily driver use. The Street (Touring) exhaust is perfect for someone who wants to hear a bit more of the engine without waking up the neighborhood or annoying the car next to you in traffic. It suits the character of the Cooper S very well. Borla builds this exhaust as a full cat-back system with dual rear mufflers. It's also about 10lbs lighter than the stock original system.
Every Borla is made with 304 stainless steel for the internals and muffler body. Unlike other systems that can use coated aluminum, mild steel, or 409 stainless, the Borla uses true 304 stainless on the inside as well as the outside. This prevents the muffler from rusting and deteriorating from the inside out. Borla guarantees every muffler with a 1,000,000 mile warranty. Turner Motorsport has been the leading Borla dealer for BMW exhausts since we sold our first system in 1996, including using Borla Exhausts on every Turner BMW racecar.
This item fits the following MINIs:
2005-2008 R52 MINI MINI Cooper S Convertible.
2004-2006 R53 MINI MINI Cooper S
Borla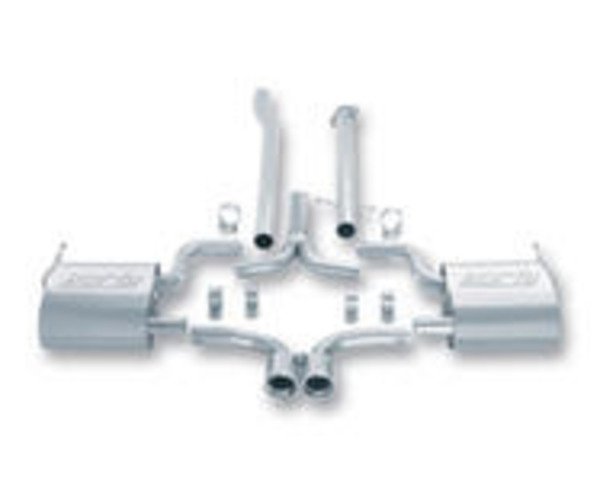 1 of
Direct Ship, Expected Ship Date: Nov 11, 2021