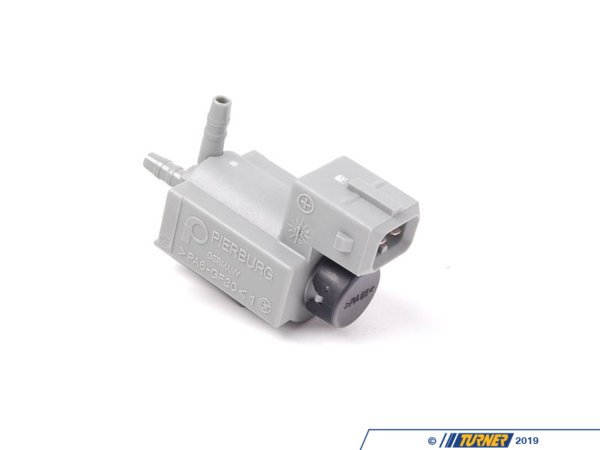 Electric Valve - For Secondary Air System Or Exhaust Flap
Mfg Part #

11747810831

Turner Part #

T#

362205

Previous Revisions

11747810831
Price:
Qty
39.95

Free Shipping
on orders $200 and up
Does this fit my vehicle?
For accurate results, specify your model below.
Product Details
This electric valve serves one of several purposes depending on which car it is used on. Please read the application listings below to ensure you are purchasing the correct part.
This item fits the following BMWs:
Secondary Air System Valve
1996-1998 E36 BMW 323is 323ic 328i 328is 328ic M3
1999-3/2003 E46 BMW 323i 323ci 325i 325ci 325xi 328i 328ci 330i 330ci 330xi
2003-2005 E46 BMW 325i 325ci (M56)
1997-2003 E39 BMW 525i 528i 530i
2000-2006 E53 BMW X5 3.0i
1997-2002 Z3 BMW Z3 2.3 Z3 2.5i Z3 2.8 Z3 3.0i
1997-2000 Z3 BMW M Roadster M Coupe (S52)This electric valve serves one of several purposes depending on which car it is used on. Please read the application listings below to ensure you are purchasing the correct part.

This item fits the following BMWs:
Secondary Air System Valve
1996-1998 E36 BMW 323is 323ic 328i 328is 328ic M3
1999-3/2003 E46 BMW 323i 323ci 325i 325ci 325xi 328i 328ci 330i 330ci 330xi
2003-2005 E46 BMW 325i 325ci (M56)
1997-2003 E39 BMW 525i 528i 530i
2000-2006 E53 BMW X5 3.0i
1997-2002 Z3 BMW Z3 2.3 Z3 2.5i Z3 2.8 Z3 3.0i
1997-2000 Z3 BMW M Roadster M Coupe (S52)This electric valve serves one of several purposes depending on which car it is used on. Please read the application listings below to ensure you are purchasing the correct part.

This item fits the following BMWs:
Secondary Air System Valve
1996-1998 E36 BMW 323is 323ic 328i 328is 328ic M3
1999-3/2003 E46 BMW 323i 323ci 325i 325ci 325xi 328i 328ci 330i 330ci 330xi
2003-2005 E46 BMW 325i 325ci (M56)
1997-2003 E39 BMW 525i 528i 530i
2000-2006 E53 BMW X5 3.0i
1997-2002 Z3 BMW Z3 2.3 Z3 2.5i Z3 2.8 Z3 3.0i
1997-2000 Z3 BMW M Roadster M Coupe (S52)
This Part Fits the Following BMWs
| Make | Model | Submodel | Engine |
| --- | --- | --- | --- |
| BMW | E36 | 323ic | M52 2.5L |
| BMW | E36 | 323is | M52 2.5L |
| BMW | E36 | 328i | M52 2.8L |
| BMW | E36 | 328ic | M52 2.8L |
| BMW | E36 | 328is | M52 2.8L |
| BMW | E36 | M3 | S52 3.2L |
| BMW | E39 | 525i | M54 2.5L |
| BMW | E39 | 528i | M52 2.8L |
| BMW | E39 | 530i | M54 3.0L |
| BMW | E46 | 323Ci | M52 2.5L |
| BMW | E46 | 323i | M52 2.5L |
| BMW | E46 | 325Ci | M54 2.5L |
| BMW | E46 | 325i | M54 2.5L |
| BMW | E46 | 325xi | M54 2.5L |
| BMW | E46 | 328Ci | M52 2.8L |
| BMW | E46 | 328i | M52 2.8L |
| BMW | E46 | 330Ci | M54 3.0L |
| BMW | E46 | 330i | M54 3.0L |
| BMW | E46 | 330xi | M54 3.0L |
| BMW | E53 | X5 | M54 3.0L |
| BMW | E60 | 535i | N54 3.0L |
| BMW | E60 | 535xi | N54 3.0L |
| BMW | E60 | 545i | N62 4.4L |
| BMW | E60 | 550i | N62 4.8L |
| BMW | E61 | 535xi | N54 3.0L |
| BMW | E65 | 750i | N62 4.8L |
| BMW | E65 | 760i | N73 6.0L |
| BMW | E66 | 750Li | N62 4.8L |
| BMW | E66 | 760Li | N73 6.0L |
| BMW | E70 | X5 M | S63 4.4L |
| BMW | E70 | X5 xDrive30i | N52 3.0L |
| BMW | E71 | X6 M | S63 4.4L |
| BMW | E71 | X6 xDrive35i | N54 3.0L |
| BMW | E71 | X6 xDrive35i | N55 3.0L |
| BMW | E71 | X6 xDrive50i | N63 4.4L |
| BMW | E82 | 128i | N52 3.0L |
| BMW | E82 | 135i | N54 3.0L |
| BMW | E83 | X3 | M54 3.0L |
| BMW | E83 | X3 | N52 3.0L |
| BMW | E84 | X1 sDrive28i | N20 2.0L |
| BMW | E84 | X1 xDrive28i | N20 2.0L |
| BMW | E84 | X1 xDrive35i | N55 3.0L |
| BMW | E88 | 128i | N52 3.0L |
| BMW | E88 | 135i | N54 3.0L |
| BMW | F01 | 750i | N63 4.4L |
| BMW | F01 | 750i xDrive | N63 4.4L |
| BMW | F02 | 750Li | N63 4.4L |
| BMW | F02 | 750Li xDrive | N63 4.4L |
| BMW | F02 | 760Li | N74 6.0L |
| BMW | F07 | 550i | N63 4.4L |
| BMW | F07 | 550i xDrive | N63 4.4L |
| BMW | F10 | 528i | N20 2.0L |
| BMW | F10 | 528i xDrive | N20 2.0L |
| BMW | F10 | 550i | N63 4.4L |
| BMW | F10 | 550i xDrive | N63 4.4L |
| BMW | F12 | 650i | N63 4.4L |
| BMW | F12 | 650iX | N63 4.4L |
| BMW | F13 | 650i | N63 4.4L |
| BMW | F13 | 650iX | N63 4.4L |
| BMW | F25 | xDrive3.5i | N55 3.0L |
| BMW | Z3 | 2.3 | M52 2.5L |
| BMW | Z3 | 2.5i | M54 2.5L |
| BMW | Z3 | 2.8 | M52 2.8L |
| BMW | Z3 | 3.0i | M54 3.0L |
| BMW | Z3 | M Coupe | S52 3.2L |
| BMW | Z3 | M Roadster | S52 3.2L |
| BMW | Z4 | sDrive28i | N20 2.0L |
| BMW | Z4 | sDrive30i | N52 3.0L |
| BMW | Z4 | sDrive35i | N54 3.0L |
| BMW | Z4 | sDrive35is | N54 3.0L |
*The above product applications have been written by Turner Motorsport. All warranties, product application, fitment, and performance are the responsibility of Turner Motorsport. For additional information see the terms of use.
others bought
recently viewed