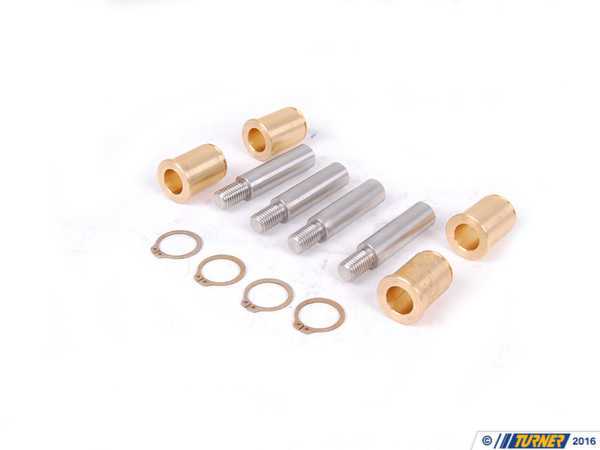 Caliper Bushing Upgrade Kit (CBMW1)
Mfg Part #

34111157038

Turner Part #

T#

376209

Brand
Does this fit my vehicle?
For accurate results, specify your model below.
Product Details
This kit will eliminate caliper twisting caused by rubber guide pin bushings. This kit, consisting of precision guide pins and machined brass guide bushings will allow your calipers to squeeze evenly on both sides of the brake rotor, just like expensive multi-piston big brake kits. This will result in much longer pad life and more consistent brake system feel. These are a must if you race your BMW. This kit is SCCA and BMW CCA Club Racing approved. This kit fits both the front or rear calipers (but sold per axle). The ideal set-up is to run both front and rear on your car. Installation is quite simple. Does not fit E30 318/325 with Girling calipers nor E24 M6/E28 M5.
*For the rear calipers only of E9X 335i and E9X M3 models*
Previous Revisions
This Part Fits the Following BMWs
| Make | Model | Submodel | Engine |
| --- | --- | --- | --- |
| BMW | E23 | 733i | M30 3.2L |
| BMW | E23 | 735i | M30 3.4L |
| BMW | E24 | 633CSi | M30 3.2L |
| BMW | E24 | 635CSi | M30 3.4L |
| BMW | E24 | M6 | S38 3.5L |
| BMW | E28 | 524td | M21 2.4L |
| BMW | E28 | 528e | M20 2.7L |
| BMW | E28 | 533i | M30 3.2L |
| BMW | E28 | 535i | M30 3.4L |
| BMW | E28 | 535is | M30 3.4L |
| BMW | E28 | M5 | S38 3.5L |
| BMW | E30 | 318i | M10 1.8L |
| BMW | E30 | 318i | M42 1.8L |
| BMW | E30 | 318is | M42 1.8L |
| BMW | E30 | 325 | M20 2.7L |
| BMW | E30 | 325e | M20 2.7L |
| BMW | E30 | 325es | M20 2.7L |
| BMW | E30 | 325i | M20 2.5L |
| BMW | E30 | 325is | M20 2.5L |
| BMW | E30 | 325ix | M20 2.5L |
| BMW | E30 | M3 | S14 2.3L |
| BMW | E31 | 840Ci | M60 4.0L |
| BMW | E31 | 840Ci | M62 4.4L |
| BMW | E31 | 850Ci | M70 5.0L |
| BMW | E31 | 850Ci | M73 5.4L |
| BMW | E31 | 850CSi | S70 5.6L |
| BMW | E32 | 730i | M60 3.0L |
| BMW | E32 | 735i | M30 3.4L |
| BMW | E32 | 735iL | M30 3.4L |
| BMW | E32 | 740i | M60 4.0L |
| BMW | E32 | 740iL | M60 4.0L |
| BMW | E32 | 750i | M70 5.0L |
| BMW | E32 | 750iL | M70 5.0L |
| BMW | E34 | 525i | M20 2.5L |
| BMW | E34 | 525i | M50 2.5L |
| BMW | E34 | 530i | M60 3.0L |
| BMW | E34 | 535i | M30 3.4L |
| BMW | E34 | 540i | M60 4.0L |
| BMW | E34 | M5 | S38 3.5L |
| BMW | E36 | 318i | M42 1.8L |
| BMW | E36 | 318i | M44 1.9L |
| BMW | E36 | 318ic | M42 1.8L |
| BMW | E36 | 318ic | M44 1.9L |
| BMW | E36 | 318is | M42 1.8L |
| BMW | E36 | 318is | M44 1.9L |
| BMW | E36 | 318ti | M42 1.8L |
| BMW | E36 | 318ti | M44 1.9L |
| BMW | E36 | 320i | M50 2.0L |
| BMW | E36 | 323i | M52 2.5L |
| BMW | E36 | 323ic | M52 2.5L |
| BMW | E36 | 323is | M52 2.5L |
| BMW | E36 | 325i | M50 2.5L |
| BMW | E36 | 325ic | M50 2.5L |
| BMW | E36 | 325is | M50 2.5L |
| BMW | E36 | 328i | M52 2.8L |
| BMW | E36 | 328ic | M52 2.8L |
| BMW | E36 | 328is | M52 2.8L |
| BMW | E36 | M3 | S50 3.0L |
| BMW | E36 | M3 | S52 3.2L |
| BMW | E38 | 740i | M60 4.0L |
| BMW | E38 | 740i | M62 4.4L |
| BMW | E38 | 740iL | M60 4.0L |
| BMW | E38 | 740iL | M62 4.4L |
| BMW | E38 | 750i | M73 5.4L |
| BMW | E38 | 750iL | M73 5.4L |
| BMW | E39 | 525i | M54 2.5L |
| BMW | E39 | 528i | M52 2.8L |
| BMW | E39 | 530i | M54 3.0L |
| BMW | E39 | 540i | M62 4.4L |
| BMW | E39 | M5 | S62 5.0L |
| BMW | E46 | 323Ci | M52 2.5L |
| BMW | E46 | 323i | M52 2.5L |
| BMW | E46 | 325Ci | M54 2.5L |
| BMW | E46 | 325i | M54 2.5L |
| BMW | E46 | 325xi | M54 2.5L |
| BMW | E46 | 328Ci | M52 2.8L |
| BMW | E46 | 328i | M52 2.8L |
| BMW | E46 | 330Ci | M54 3.0L |
| BMW | E46 | 330i | M54 3.0L |
| BMW | E46 | 330xi | M54 3.0L |
| BMW | E46 | M3 | S54 3.2L |
| BMW | E52 | Z8 | S62 5.0L |
| BMW | E52 | Z8 Alpina | M62 4.8L |
| BMW | E53 | X5 | M54 3.0L |
| BMW | E53 | X5 | M62 4.4L |
| BMW | E53 | X5 | M62 4.6L |
| BMW | E53 | X5 | N62 4.4L |
| BMW | E53 | X5 | N62 4.8L |
| BMW | E60 | 525i | M54 2.5L |
| BMW | E60 | 525i | N52 3.0L |
| BMW | E60 | 525xi | N52 3.0L |
| BMW | E60 | 528i | N52 3.0L |
| BMW | E60 | 528xi | N52 3.0L |
| BMW | E60 | 530i | M54 3.0L |
| BMW | E60 | 530i | N52 3.0L |
| BMW | E60 | 530xi | N52 3.0L |
| BMW | E60 | 535i | N54 3.0L |
| BMW | E60 | 535i | N55 3.0L |
| BMW | E60 | 535xi | N54 3.0L |
| BMW | E60 | 545i | N62 4.4L |
| BMW | E60 | 550i | N62 4.8L |
| BMW | E60 | M5 | S85 5.0L |
| BMW | E61 | 525i | M54 2.5L |
| BMW | E61 | 530xi | N52 3.0L |
| BMW | E61 | 535xi | N54 3.0L |
| BMW | E63 | 645Ci | N62 4.4L |
| BMW | E63 | 650i | N62 4.8L |
| BMW | E63 | M6 | S85 5.0L |
| BMW | E64 | 645Ci | N62 4.4L |
| BMW | E64 | 650i | N62 4.8L |
| BMW | E64 | M6 | S85 5.0L |
| BMW | E65 | 745i | N62 4.4L |
| BMW | E65 | 750i | N62 4.8L |
| BMW | E65 | 760i | N73 6.0L |
| BMW | E65 | 760Li | N73 6.0L |
| BMW | E65 | B7 Alpina | N62 4.4L |
| BMW | E66 | 745Li | N62 4.4L |
| BMW | E66 | 750Li | N62 4.8L |
| BMW | E66 | 760Li | N73 6.0L |
| BMW | E70 | X5 | M57 3.0L |
| BMW | E70 | X5 | N52 3.0L |
| BMW | E70 | X5 | N55 3.0L |
| BMW | E70 | X5 | N62 4.8L |
| BMW | E70 | X5 | S63 4.4L |
| BMW | E70 | X5 M | S63 4.4L |
| BMW | E70 | X5 xDrive30i | N52 3.0L |
| BMW | E70 | X5 xDrive35d | M57 3.0L |
| BMW | E70 | X5 xDrive35i | N55 3.0L |
| BMW | E70 | X5 xDrive48i | N62 4.8L |
| BMW | E70 | X5 xDrive50i | N63 4.4L |
| BMW | E71 | X6 | S63 4.4L |
| BMW | E71 | X6 35iX | N54 3.0L |
| BMW | E71 | X6 50iX | N63 4.4L |
| BMW | E71 | X6 50iX | S63 4.4L |
| BMW | E71 | X6 ActiveHybrid | N63 4.4L |
| BMW | E71 | X6 M | S63 4.4L |
| BMW | E71 | X6 xDrive35i | N54 3.0L |
| BMW | E71 | X6 xDrive35i | N55 3.0L |
| BMW | E71 | X6 xDrive50i | N63 4.4L |
| BMW | E82 | 128i | N52 3.0L |
| BMW | E83 | X3 | M54 2.5L |
| BMW | E83 | X3 | M54 3.0L |
| BMW | E83 | X3 | N52 3.0L |
| BMW | E84 | X1 sDrive28i | N20 2.0L |
| BMW | E84 | X1 xDrive28i | N20 2.0L |
| BMW | E84 | X1 xDrive35i | N55 3.0L |
| BMW | E88 | 128i | N52 3.0L |
| BMW | E90 | 325i | N52 3.0L |
| BMW | E90 | 325xi | N52 3.0L |
| BMW | E90 | 328i | N52 3.0L |
| BMW | E90 | 328xi | N52 3.0L |
| BMW | E90 | 330i | N52 3.0L |
| BMW | E90 | 330xi | N52 3.0L |
| BMW | E90 | 335d | M57 3.0L |
| BMW | E90 | 335i | N54 3.0L |
| BMW | E90 | 335i | N55 3.0L |
| BMW | E90 | 335xi | N54 3.0L |
| BMW | E90 | 335xi | N55 3.0L |
| BMW | E91 | 325i | N52 3.0L |
| BMW | E91 | 325xi | N52 3.0L |
| BMW | E91 | 328i | N52 3.0L |
| BMW | E91 | 328xi | N52 3.0L |
| BMW | E92 | 328i | N52 3.0L |
| BMW | E92 | 328xi | N52 3.0L |
| BMW | E92 | 335i | N54 3.0L |
| BMW | E92 | 335i | N55 3.0L |
| BMW | E92 | 335is | N54 3.0L |
| BMW | E92 | 335xi | N54 3.0L |
| BMW | E92 | 335xi | N55 3.0L |
| BMW | E93 | 328Ci | All |
| BMW | E93 | 328i | N52 3.0L |
| BMW | E93 | 335i | N54 3.0L |
| BMW | E93 | 335i | N55 3.0L |
| BMW | E93 | 335is | N54 3.0L |
| BMW | F01 | 740i | N54 3.0L |
| BMW | F01 | 750i | N63 4.4L |
| BMW | F01 | 750i xDrive | N63 4.4L |
| BMW | F01 | Alpina B7 | N63 4.4L |
| BMW | F02 | 740Ld xDrive | N57 3.0L |
| BMW | F02 | 740Li | N54 3.0L |
| BMW | F02 | 740Li xDrive | N55 3.0L |
| BMW | F02 | 750Li | N63 4.4L |
| BMW | F02 | 750Li xDrive | N63 4.4L |
| BMW | F02 | 760Li | N74 6.0L |
| BMW | F02 | ActiveHybrid 7 | N55 3.0L |
| BMW | F06 | 640i | N55 3.0L |
| BMW | F06 | 640i xDrive | N55 3.0L |
| BMW | F07 | 535i | N55 3.0L |
| BMW | F07 | 535i xDrive | N55 3.0L |
| BMW | F07 | 550i | N63 4.4L |
| BMW | F07 | 550i xDrive | N63 4.4L |
| BMW | F10 | 528i | N20 2.0L |
| BMW | F10 | 528i | N52 3.0L |
| BMW | F10 | 528i xDrive | N20 2.0L |
| BMW | F10 | 535d | N57 3.0L |
| BMW | F10 | 535d xDrive | N57 3.0L |
| BMW | F10 | 535i | N55 3.0L |
| BMW | F10 | 535i xDrive | N55 3.0L |
| BMW | F10 | ActiveHybrid 5 | N55 3.0L |
| BMW | F12 | 640i | N55 3.0L |
| BMW | F12 | 640i xDrive | N55 3.0L |
| BMW | F13 | 640i | N55 3.0L |
| BMW | F13 | 640i xDrive | N55 3.0L |
| BMW | F15 | X5 sDrive35i | N55 3.0L |
| BMW | F15 | X5 xDrive35d | N57 3.0L |
| BMW | F15 | X5 xDrive35i | N55 3.0L |
| BMW | F15 | X5 xDrive50i | N63 4.4L |
| BMW | F16 | X6 sDrive35i | N55 3.0L |
| BMW | F16 | X6 xDrive35i | N55 3.0L |
| BMW | F16 | X6 xDrive50i | N63 4.4L |
| BMW | I01 | i3 | IB3 |
| BMW | Z4 | 2.5i | M54 2.5L |
| BMW | Z4 | 3.0i | M54 3.0L |
| BMW | Z4 | 3.0i | N52 3.0L |
| BMW | Z4 | 3.0Si | N52 3.0L |
| BMW | Z4 | M Coupe | S54 3.2L |
| BMW | Z4 | M Roadster | S54 3.2L |
| BMW | Z4 | sDrive28i | N20 2.0L |
| BMW | Z4 | sDrive30i | N52 3.0L |
| BMW | Z4 | sDrive35i | N54 3.0L |
| BMW | Z4 | sDrive35is | N54 3.0L |
*The above product applications have been written by Turner Motorsport. All warranties, product application, fitment, and performance are the responsibility of Turner Motorsport. For additional information see the terms of use.
others bought
recently viewed