Turner 60A Polyurethane Engine Mount Set - N52 N54 N55
Rubber engine and transmission mounts for a street car and solid aluminum for the track, right? Well, it's not that straightforward anymore.
Stock rubber fluid-filled mounts are designed to be soft and comfortable, limiting the NVH (noise, vibration, and harshness) felt by the driver. The drawback inherent with a conventional design is driveline deflection, making it more difficult to put the power to the wheels, as well as making a money-shift or miss-shift more likely as they age. Solid mounts are exactly the opposite of this - they permit tons of NVH while offering zero deflection, making these a must have for track-driven vehicles looking to capitalize on every ounce of performance available. Enthusiasts looking to find the best of both worlds often look to polyurethane engine mounts - and many are disappointed with other designs on the market. Seeking a mount that offers a positive connection yet doesn't deform, fail, or rattle the fillings out of their mouths is frequently a lost cause.
Until now. 
We engineered these mounts with these very concerns in mind. We know if a soft mount offers a sloppy connection it doesn't work on the track, and a solid mount isn't acceptable as a daily driver (for most!) and set out to engineer a mount that would meet the needs for both. At the core of our enclosed design is a partially-constrained, multi-piece polyurethane bushing with precisely-set preload. This architecture absorbs and disperses resonant engine frequencies as opposed to amplifying them (like some other designs do), which results in a positive-connection, enthusiast-feel mount with the vibration. Understanding that heat is a concern for the passenger side mount's close proximity to the exhaust, we utilize a PEEK thermal insulation plate to greatly reduce heat transfer to the polyurethane, making heat a non-issue for these mounts. 
We offer two durometers, with both densities offering similar "positive connection" feeling. 60A is slightly softer and offers more of a stock feel, while 80A delivers a little more engine "feel" while under acceleration. 
Product features and benefits:
Crisper throttle response, positive shifter location, direct power transfer
High quality polyurethane offered in both 60A & 80A durometers (rebuildable, too)
Resistant to water, ozone, and chemicals, maintaining its resiliency and elasticity longer than conventional rubber.
Precision machined billet 6061-T6 aluminum housing, black anodized for durability and corrosion resistance. Grade 10.9 stud - fear not, big turbo owners.
Thermal isolation spacer on the hot side to resist heat transfer into the poly
Engineered in-house and made in America
*Still require a solid mount? Turner Motorsport solid engine and transmission mounts for N52/N54/N55 coming early July 2017.
This item fits the following BMWs:
2008-2013 E82 E88 BMW 128i 135i 1M Coupe
2006-2011 E90 BMW 325i 325xi 328i 328xi 330i 330xi 335d 335i 335xi - Sedan
2007-2011 E91 BMW 325i 325xi 328i 328xi - Touring Wagon
2007-2013 E92 BMW 328i 328xi 335i 335is 335xi - Coupe
2007-2013 E93 BMW 328i 335i 335is - Convertible
2009-2016 E89 BMW Z4 sDrive30i Z4 sDrive35i Z4 sDrive35is

Turner Motorsport
T#:
393716
|
Part#:
002445TMS01
1 of
2 of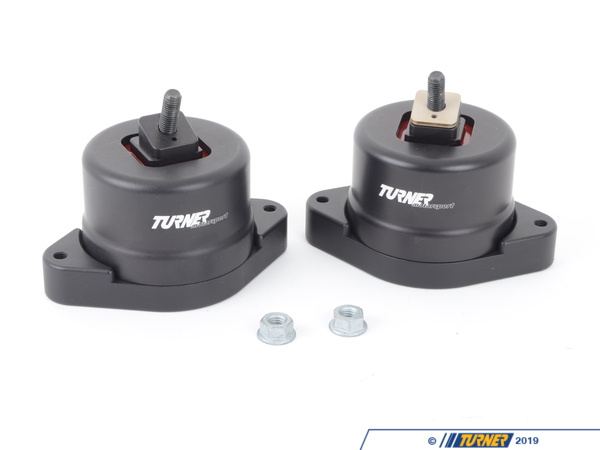 3 of
4 of
5 of