Dual Mass Flywheel (6-Bolt) - E82 135i N54, E9X 335 N54, E60 535, E89 Z4 35i (Genuine BMW)
This is the stock OE BMW twin mass flywheel for the N54 engine in later E82 135i, E9X 335i, E60 535i, and Z4 35i (cars with 6-bolt mounting hub). Sachs recommends a new dual mass flywheel (DMF) on every other clutch replacement. There are several indicators for replacing the flywheel: damage to the clutch contact plate (from a severely worn clutch disc), grease leaking from inside (overheating), build-up of clutch material on the contact plate (excessive slipping and overheating), and failure of the internal damping system.
The dampening system uses rubber or coil springs to absorb driveline vibrations. Through age, excessive heat, and aggressive use the rubber loses its resilience and the metal springs lose their strength and become brittle. If the clutch and flywheel have become overheated the internal grease may break down as well. A DMF failure can be massive and catastrophic, not to mention dangerous as bits of metal and rubber fling themselves through the transmission bellhousing. Heat and aggressive driving will accelerate the wear so race and track cars should have their stock flywheels replaced at regular intervals or with any new clutch. Even normal street cars should plan for a new flywheel if it has high mileage.
DMF wear can only be checked with the transmission and clutch removed. If you can rotate the outer flywheel more than 20mm in either direction then it should be replaced.
A new pilot bearing (roller bearing) is included, pre-installed in the flywheel hub.
This item fits the following BMWs:
1/2009-2010 E82 BMW 135i
1/2009-2010 E90 BMW 335i 335xi 335i xDrive - Sedan
1/2009-2010 E92 BMW 335i 335is 335xi 335i xDrive - Coupe
1/2009-2010 E93 BMW 335i - Convertible
1/2009-2010 E60 BMW 535i 535xi 535i xDrive

T#:
48897
|
Part#:
21207590942
1 of
2 of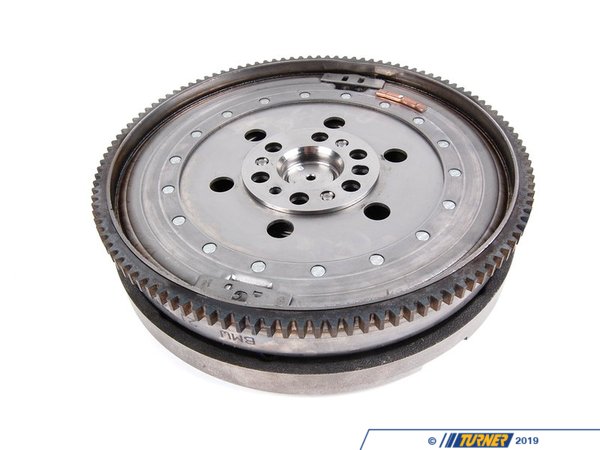 3 of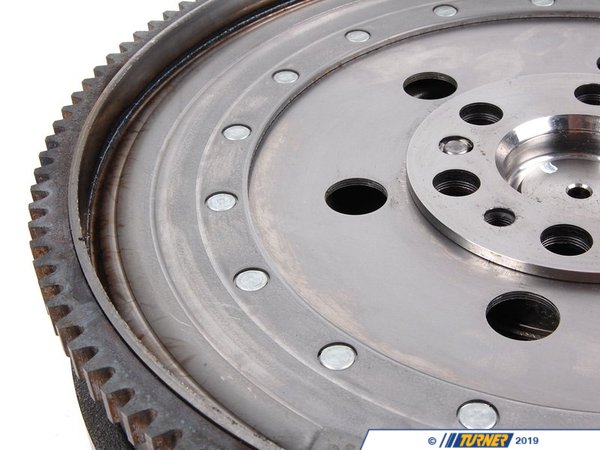 4 of