Product Review:
KW DDC Coilovers for E9X M3
** Updated 07/24/2012 **
When we learned that KW Suspensions was going to have their own version of an EDC system for the E90 and E92 M3 we knew we had to check it out. Then we heard it was going to have an option for adjusting shock damping via a W-LAN module with an iPhone App we fell off our Recaros. Adjusting shocks on the fly? Yes please! We had to be the first BMW tuner with it, so we opted to be in the introduction group for these new systems.
KW Automotive of North America sent us a new DDC system and W-LAN module to try out on our 2011 Frozen Grey E92 M3. The kit arrived in the morning and our M3 was on the lift before noon. We began by removing the stock suspension and replacing it with the new KW coilover V3 kit. The KW DDC shocks and spring hardware install just like any other coil over. After the suspension hardware was installed the wiring began.
The KW DDC kit takes over the stock EDC system. It comes supplied with all the harnesses and wiring that you need to do the install and most of it is (thankfully) plug and play. There is a central brain (they call it an ECU) where all four shocks are wired into. And a separate harness integrates with the car's CAN system. A new KW switch is installed on the dash which allows 3 shock settings (Comfort, Sport, and Sport+). If you opt for the wireless controller with the iPhone app you have full control of the DDC's 100-way adjustable shocks. Unfortunately, the system cannot be retrofitted to a standard V3 set.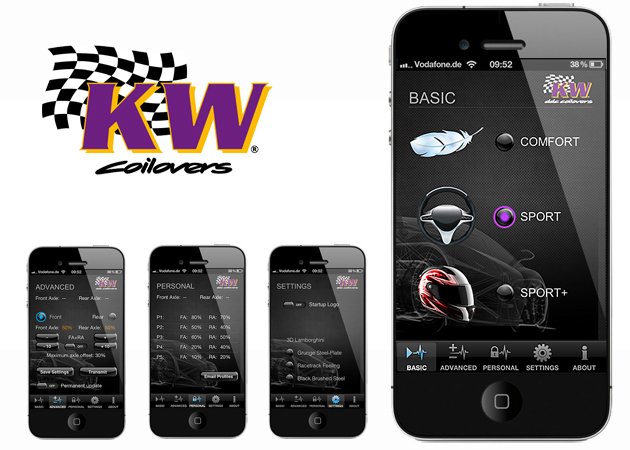 DDC Leaves EDC Behind
The V3 coilover kit is one of the most feature-packed coil over suspensions on the market. We're impressed with the options and controls they give you. The DDC system takes it one giant leap forward. It's a lot like any standard EDC system but with greater control and options. Each shock is adjustable for rebound and compression. You have 100 settings for the compression (bump) and rebound to dial in ride comfort and handling. Adjustments are done with a dash-mounted button for one of 3 pre-set damping rates or from 0-100 in single increments using the app. This gives you full control over the ride and handling characteristics - make it soft and comfy for driving on bumpy city streets; make it stiffer for backroad slicing; turn it way up for track days. It's easy to find a happy medium for whatever driving you're doing. In Comfort mode, the damper settings are dynamically adjusted using speed signals from the vehicle - just like the factory EDC system. KW's coil overs allow ride height adjustment in the front (10-40mm lowering) and rear (5-35mm lowering) which you can use to set your stance, corner balance, and lower your center of gravity.
Suspension Tuning By App
The DDC kit comes with its own dash-mounted selector button (sadly, it's not yet possible to integrate with the BMW's EDC button). Or with the optional KW W-LAN module you can control and configure the V3 coilovers via the free app on your iPhone, iPad, or iPod touch. The app allows you to set the shock damping on the front and rear axles separately, maintain a pre-set front-rear differential setting, save five personal damper setups, and share your setups with friends. With the app each axle can be adjusted between 0% (maximum comfort setting) and 100% (maximum sport+ setting). The communication between app and KW components is via a secure WiFi connection. You can also choose the same 3 pre-programmed settings as the dash switch. And this can all be done on the fly (please practice safe and responsible driving). Overall the app is very user friendly and simple allowing you to make the changes you want very quickly. Will Turner stated, "We are always looking for new technologies to implement into our suspension packages. Having an adjustable suspension like the KW that you can adjust with your iPhone or iPad is not only cool but useable and functional as well."
The Install
Installing the DDC kit was not difficult for our techs. KW supplies just about everything you could need, including instructions, and every connector is a direct plug-in even on the factory BMW harnesses. No cutting and splicing or special wiring was required and it's completely reversible with no permanent changes to the factory hardware. Better yet,
no post-install programming was required with BMW
so no trip to the dealer and we didn't have to fire up our GT-One. The V3 coilover system fit perfectly as always and was very easy to adjust to get the ride height we were looking for. Our BMW master tech Derek N. stated, "The installation is straight forward as if installing a regular coil over kit. Some extra steps are required such as routing the control wires from each individual shock to the rear being careful not to chafe the wires. There are plenty of retainers and tie wraps included in the kit to facilitate a clean install. Slightly more disassembly is required to access the wiring to the stock EDC system to properly integrate the KW conversion. No coding or programming is required."
We would recommend professional installation for this kit since it is very time consuming to install both the coilovers themselves and all the wiring that goes along with them for the DDC system. We would estimate that the entire install took our service technicians 10-12 hours. This includes installation, testing the DDC ECU, and getting the ride height where we wanted it.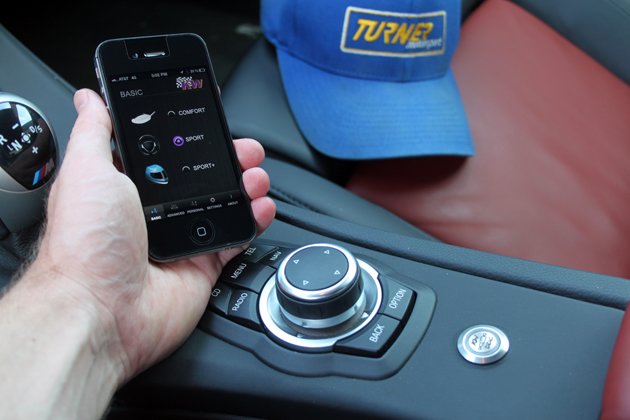 First Impressions:
The first drive in the Frozen Grey M3 with this suspension met every expectation we had. The ride was smooth and the suspension gave the car a little more of the "racecar" feel that it was lacking with stock ZCP suspension on it. On the comfort setting the car felt a lot like stock with the EDC on the softest setting. The sport setting was our favorite for the street. It gave the ride a taut feel but still retained much of the comfort settings ride characteristics. Then of course there is the Sport+ setting that gives the car an entirely new feel. It instantly gave the car a racetrack ready feel making it more responsive to throttle and steering inputs. Beyond the 3 settings you can go advanced with the iPhone/iPad application which is the real draw to this kit, putting it at the cutting edge of suspension technology, making it our first choice for an all-around suspension for any M3.
The 3 standard settings are great for any type of driving on the street from inner city to curvy country roads. To us the 5 advanced settings are reserved for track use, this allows you to experiment with front and rear damping independently to get the correct balance for specific tracks. For example if we were at the NHMS road course we would want the rear to be a bit softer than the front for maximum power down exiting the tight corners. For a track like Lime Rock or Watkins Glen you would want the car to be a bit more neutral for higher speed corners. The 5 personal settings are perfect for setups at five of your favorite tracks!
The Verdict:
We love this kit and all its features. The KW coilovers are very high quality, fit great, and ride awesome. In addition, the iPhone app works seamlessly with the V3 coilover kit. It is incredibly fast and easy to change suspension settings with the push of a button (or the tap of a touch screen). The V3 coilover kit really is the best of both worlds, a coilover that is great for the street as well as those weekend track days. It combines world class suspension technology with cutting edge electronic features. The separate and independently adjustable rebound and compression damping allows for an individual suspension setup for different uses and preferences (street & track). This unique patented system with its two-stage valves allows a rebound damping adjustment (comfort) and a compression adjustment (driving dynamics) in the low-speed range while the high-speed range which controls the driving safety, is fixed. If you find yourself at the track or autocross events on a regular basis this is the kit for your BMW. If you are simply looking for a street-able coilover kit that you can use on the track a couple times a year this probably is not the kit for you and the same goes for people looking for a sole track or race suspension, KW makes a
Clubsport Kit
which uses linear race springs and allows for a bit more adjustment which is perfect for the track car or club racecar. No matter what budget or need you are looking to satisfy KW has the solution for your BMW.
The KW DDC Coilovers with W-LAN are available today! Visit our product listings or contact our sales department for more information - (800) 280-6966.
View the Turner Motorsport Project E92 M3
here.






KW DDC Coilover Gallery:

---

KW Coilovers

KW Variant 3 Coilover Kit for E9X M3


State-of-the-art technology from motor sports for more performance on the road for your E90 M3 Sedan or E92 M3 Coupe. The separate and independently adjustable rebound- and compression damping allows for an individual suspension setup for different uses and preferences.

-Individually adjustable rebound and compression
-Infinitely variable rebound damping adjustment
-14-way adjustable compression damping
-Unique, individually working damping force adjustment
-Stainless steel technology "inox-line"
-Individually height-adjustable - Front - 10-40mm, Rear - 5-35mm
-TUV approved lowering range
-High-quality component parts for long durability

Click here to order.

---

---

KW Clubsport Coilover Kit for E9X M3


KW Clubsport coilovers was developed for E90/E92 M3 & E82 1M Coupe owners who demand a better handling car when participating in track day events, but also require a setup that could be used every day. The Clubsport was specifically designed for the Nordschleife using track day tires. By using the adjustable camber mounts, the suspension geometry can be adjusted to the requirements of tires and the intended use.

KW Clubsport suspension kits are independently adjustable in compression and rebound and include high performance racing springs. Racing front camber plates are included for further performance. KW Clubsport guarantees excellent handling, best performance, highest agility and fantastic lap times.

-Height adjustable coilovers - Front - 10-40mm, Rear - 5-35mm
-Performance setup for the racetrack
-Dampers in compression & rebound forces independently adjustable
-Use of high performance linear race springs: Front 510 lbs/inch, Rear 800 lbs/inch.
-Stainless steel technology "inox-line"
-Includes front camber plate mounts

Click here to order.

---

Turner Motorsport
16 Hunt Road South
Amesbury, MA 01913
PHONE: 978-388-7769
FAX: 978 388-4202




Get notified about money saving
specials & deals for your BMW


enter your email address

22 years of BMW Tuning.
Award winning service.
10,000's of parts in stock.
Quality BMW Parts only.
Hassle-free returns.