BMW E24 Tail Lights & Tail Light Parts
Whether you are replacing a broken tail light or upgrading to the "facelift" style lights we have all the BMW tail lights, tail light bulb carriers, gaskets, and associated parts. We sell the OEM taillight assemblies from Hella, Bosch, Magnetti Marelli, ZKW, and others. Lenses will dull and fade over time and even the best polishes will not fully restore their lustre. Replacement and proper care is the best route.

For accurate results, specify your model below.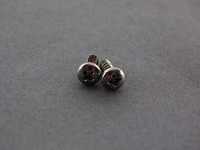 Keep your license plate illuminated and keep your local law enforcement happy with this replacement license plate light assembly for the E30 3-series. It's a great replacement for your cracked, corroded, or altogether missing assembly, and it includes a fresh seal and new hardware.

This item fits the following BMW Chassis:
3' E30 (12/1981 - 02/1994)
5' E12 (02/1972 - 07/1981)
5' E28 (09/1980 - 12/1987)
6' E24 (10/1975 - 04/1989)
7' E23 (10/1976 - 06/1986)
M1 E26 (06/1980 - 07/1981)
Z1 Roadster (07/1988 - 06/1991)

Part #: 63261372763
In Stock

Free Shipping
on orders $99 and up