BMW E24 Fuel Filters
The first place to look at for fuel supply and lean condition faults is the fuel filter. It's not hard for contaminants, dirt, and dust to find its way into your fuel system. Even rust can form in the tanks of some cars and that debris gets transferred through the system until eventually reaching the filter. There's nothing wrong with the system - the filter is doing exactly what it's supposed to do! But regular replacement of the fuel filter will ensure plenty of fuel is available for the engine to make power with. Is there a power
gain
from a fuel filter? No, but there is
power restoration
. The fuel filter is easily accessible on most cars and replacement is straight forward.

For accurate results, specify your model below.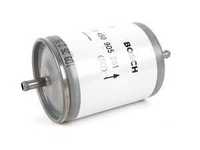 This OEM fuel filter is a must during any major service or tune-up. With a clogged or dirty filter, you are starving your engine of gasoline which can result in dangerous cutting out, rough running, or even a no-start situation. Bosch filters are premium grade filters that will keep your fuel system in top shape the same as, or better than, Genuine filters, without having to spend the Genuine BMW price. We recommend changing the fuel filter as part of a regular 30,000 mile tune-up. But you may want to replace it more often if your regular fuel quality is low. OEM replacement for BMW part number 13321270038, 13321268231, and 13329063165.
Bosch is one of the largest OEM producers of Genuine BMW and aftermarket parts in the world, providing parts for almost every major automotive manufacturer. Bosch has likely supplied many of the original electrical (and mechanical) parts for your BMW. Thanks to their quality, high durability, and reliability, you should expect a long service life from Bosch products.
As a leading source of high performance BMW parts and accessories since 1993, we at Turner Motorsport are honored to be the go-to supplier for tens of thousands of enthusiasts the world over. With over two decades of parts, service, and racing experience under our belt, we provide only quality performance and replacement parts. All of our performance parts are those we would (and do!) install and run on our own cars, as well as replacement parts that are Genuine BMW or from OEM manufacturers. We only offer parts we know you can trust to perform!

This item fits the following BMWs:
1984-1991 E30 BMW 318i 318is 318ic 325e 325es 325i 325ic 325is 325ix M3
1992-1994 E36 BMW 318i 318is 318ti 318ic 325i 325is 325ic
1982-1988 E28 BMW 524td 528e 533i 535i 535is M5
1989-1995 E34 BMW 525i 535i M5
1982-1989 E24 BMW 633csi 635csi M6
1988-1994 E32 BMW 735i 735il

Part #: 13321270038
In Stock

Free Shipping
on orders $199 and up