BMW E34 Heating & Air Conditioning

Is your BMW blowing hot air when you want AC? Not getting enough hot air when it's cold out? Well we have the heater cores, heater valves, blower motors and related parts for your BMW. Tip: Is your air conditioning / heater fan going crazy? Does it only run at one speed or not work at all? Then a likely culprit is this blower resistor, often called the "final stage unit" in the BMW world. The function of this part is to regulate the voltage of the blower motor on BMWs which use the digital climate control. This blower resistor is a notorious weakness on the cars that use it. When it fails, your blower fan speed can fluctuate as if it has a mind of its own, or get stuck at one position. BMW has updated this item several times and we only carry the most current version.

For accurate results, specify your model below.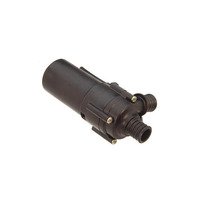 The auxiliary water pump helps to move coolant through the heating system. Sometime the unit can develop leaks or the pump itself may fail.
When doing any sort of repair or maintenance there is no replacement for genuine factory parts. Turner Motorsport carries the Genuine BMW brand with pride and has the parts you need to complete your next project with confidence.
This item fits the following BMWs:
3/1990-1995
E34 BMW
525i 530i 535i 540i M5
1988-1994
E32 BMW
735i 735il 740i 740il 750il
1990-1999
E31 BMW
840i 840ci 850i 850ci 850csi

Part #: 64118390063
Price: $183.09 (USD)
$208.31
(Sale - Save 12%)
Ships in 4 days

Free Shipping
on orders $199 and up