BMW E36 M3 Underdrive Power Pulleys

Reduce parasitic loss of power on your BMW's engine by safely under driving the belt driven auxiliary systems. Reducing this drag on your engine results in MORE HORSEPOWER AND TORQUE to the wheels of your BMW. Our BMW underdrive power pulley kits are specifically designed for each BMW application to make the best power while maintaining stock driveability and reliability, eliminating potential downsides. Others may advertise "their" pulleys boasting more power, but we concluded that for street and track driven BMWs, ours are the best size and design to ensure both your engine and it's belt-driven systems (alternator, water pump, power steering etc) are well within safe operation. We run these under drive pulleys on our own BMWs, so we would not want them any other way.

For accurate results, specify your model below.
Must have Turner Power Pulley Kit already installed!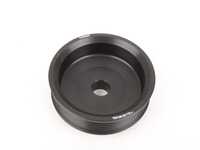 Part of the process of building a proper race car is to delete and simplify portions of the wiring harness. This not only saves weight and reduces complexity, but it also allows you to run a smaller, lighter racing battery. So why is your alternator still charging at the original rate?!? This M50/M52/S52 racing alternator pulley underdrives the alternator more than our standard Power Pulley, freeing up horsepower and reducing alternator wear. This pulley is over 80% larger than the original stock pulley. With less electrical load, you don't need the original alternator output anymore. You can drive the alternator less and return that "lost" horsepower back to the engine. This part is an upgrade to the alternator pulley already included in our Power Pulley kit and was developed and race-proven on our E36 and E46 Touring Cars.
Because this pulley is so much larger than the original (80%), special care will need to be taken so that it does not interfere wtih other components on the engine - power steering lines, oil cooler lines, coolant hoses, etc. The upper idler pulley is no longer needed with the racing pulley and will be removed. A new belt is required (add one from the options below).
For Bosch alternators only.
The remainder of the Turner Power Pulley Kit is required (water pump and power steering pump pulleys).

Part #: TEN9922778
In Stock
Free Shipping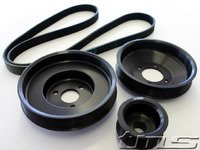 Underdrive Power Pulleys work to 'free up' horsepower. Any accessory that spins from the main drive belt is using up power. That's power that could otherwise be used to move the car. By giving some of that power back to the engine, you can make the car faster! It's like FREE HORSEPOWER! We measured 10.7 whp at 6960 rpm and 8.1 lb-ft of torque at 5550 on a 1995 M3.

Underdrive pulleys for your BMW will slow down engine-mounted accessories - the water pump, power steering pump, and alternator*. These systems contribute to 'parasitic losses' - power lost from what the engine could produce if it did not have these systems. Since less energy is used to move them, that power is transferred back to the engine and used to propel the car. Our pulleys give a 10-20% reduction in rotation, releasing up to 11hp on most BMW six-cylinder engines. There's also a small but noticeable improvement in throttle response too! We have done extensive testing and development work, both on and off the track, to ensure that the accessory systems function as they should. On our Racing pulley kits we actually underdrive certain components more so we feel our Street pulleys are an ideal compromise between power/torque gains, reliability, and system performance. Our pulley kits have been on the market for over ten years, and used in all of our own cars, with zero component failures related to their use.

Our pulleys are made from T-6061 aluminum and finished in a durable black hard anodize that is very resistant to wear, chemical exposure, and heat. We designed our pulleys to look similar to the factory parts but also to be stronger and, in most cases, slightly lighter too. For example, a Turner alternator pulley is less than half the weight of the stock steel pulley! With our hardcoat aluminum you will never have to worry about a serious failure of a stock plastic pulley. A 'stealth' approach to aesthetics was our goal and we let the results speak for the pulley design. Installation is straight forward and easy with simple hand tools. Removal of the fan is required for access to the front of the engine. Total install time for a 3-piece pulley set should be around 1.5 hours. A new longer belt is included and we also recommend replacing the separate A/C belt, belt tensioners, and the guide and deflection pulleys at the same time.
Alternator Pulley Options
(click to expand)
Bosch or Valeo? BMW built your car with either a Bosch or Valeo brand alternator. Unfortunately, the pulley is not the same for both brands. The brand is usually printed on the black plastic cover of the alternator but may be facing the frame rail or the ground. If you know which brand you have, select your option below and we'll send you the correct alternator pulley for your BMW. Don't know which you have? NO PROBLEM! We can send you both. The 2nd pulley costs $40 but you will receive a refund once we get the un-used pulley back (return shipping not included).
Aftermarket Stereo Systems
(click to expand)
We offer our kits in two different ways: the full Power Pulley Kit with all 3 pulleys or a 2 pulley kit if you do not wish to underdrive your alternator (for large stereo systems or other battery-draining modifications). Our kits have been tested for compatability with the factory premium stereo systems (Harmon Kardon, etc). But any major alterations or upgrades from the factory system will work best with our 2 pulley kit and no underdriving of the alternator. For all stock stereo systems the 3 pulley set is recommended because the Turner alternator pulley will help make more power and is also much lighter than the stock pulley.
Additional Info
Clickhere for example dyno graph
Click here for installation instructions.
This underdrive pulley kit fits the following BMW:
1991-1995
E34 5 Series
525i without servotronic steering and without self-leveling
1992-1995
E36 3 Series
325i, 325is, 325ic
1995-1995
E36 M3
3.0 liter (S50) **US models only, coupe
1996-1999
E36 M3
3.2 liter (S52) **US models only, coupe, sedan, convertible
1997-2000
MZ3
Z3 M Roadster & Z3 M Coupe (US models, S52US)

Part #: PPK-E36
In Stock
Free Shipping