BMW E36 M3 Spring & Shock Packages (BMW Performance and More)
These suspension packages consist of H&R Springs combined with Bilstein Sport shocks and struts. This combination works exceptionally well on street-driven cars when coil overs are not available or not desired. These springs and shocks will lower the ride height, firm up the suspension, decrease bodyroll, and provide better handling. There's almost no downside save for a slightly firmer ride.
A shock/spring package is a direct replacement for the existing shocks, struts, and springs in your car. Unlike coil overs, there are no adjustments to be made or complicated mechanisms to use and the parts do not require special bushings and mounts. Our suspension packages install with the same original mounts as your stock shocks and springs (new parts are generally recommended of course). For a simple, inexpensive, and hassle-free suspension upgrade, a shock/spring package is impossible to beat. Bilstein shocks and H&R springs each carry a limited lifetime warranty.
For more information on packages versus coil overs,
click to our guide.

For accurate results, specify your model below.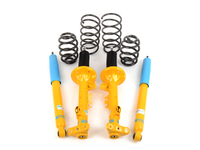 Bilstein has teamed up with Eibach to offer matched shock and spring packages. These Eibach springs are mated to a special set of Bilstein shocks to deliver a sporty and taut ride with as little impact on ride comfort as possible.
The Pro Kit uses an Eibach Pro Kit spring with Bilstein's Sport shocks and struts. Instead of taking parts from different manufacturers, Bilstein has tested the performance of the Eibach spring and tailored their shocks to be a true match for the new spring rate and ride height. This is known as a matched shock and spring and very few tuning companies take these extra steps. Eibach springs tend to be softer overall than most other aftermarket springs, which ensures the ride stays close to a stock comfort while still giving you a lowered stance and improved handling.

Bilstein B12 Features:
Precise response and excellent driving performance
Springs and shocks road tested and fine-tuned to complement one another
Bilstein Monotube/Inverted gas pressure technology
TUV certified
Made In Germany
Average Lowering of 25 to 40mm
Most cars don't need coil overs to improve their handling and bodyroll. For most drivers, simply replacing the shocks and springs with performance versions will meet their goals. If your shocks need replacing, and you felt the handling could be improved a little bit, this is an excellent performance suspension for you.
This item fits the following BMWs:
1996-1999 E36 BMW M3 Coupe, M3 Sedan

Part #: 46-000781
Direct Ship
Free Shipping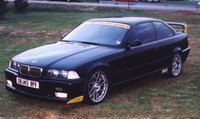 As great as the E36 M3 stock suspension is, it still has compromises. From spring rate to ride height, the suspension was spec'd to be appealing to a wide range of BMW customers. In other words, they couldn't make it a track car for the road and still sell 50,000 of them. If you think your M3 could carry more speed through corners with less bodyroll, and look better with a lower stance, this suspension could be for you.
H&R Sport springs lower the ride height by 1.5" in front and 1.0" in the rear and stiffens the spring rate. Both combine to lower the car's center of gravity and reduce the amount of bodyroll in corners. The springs are progressive rate so their initial stiffness is actually very compliant and it becomes stiffer as the spring is compressed. This is great for street cars that see bumps and potholes where suspension compliance is key. Overall, they are about 30% stiffer than the stock original springs.
We use Bilstein Sport shocks as the dampers and they feature Bilstein's patented and innovative valving system. With this system, small bumps and impacts are absorbed as they should be. But the shocks stiffen for cornering and other suspension motions. It's the best of both worlds as the shock self-adjusts based on suspension motion. These fit with the stock strut and shock mounts, making for an easy and clean install.
Parts list:
1 set - H&R Sport Springs (29910 or 29910-2)
1 - Bilstein Left Front Sport strut (VE3-A585 / 35-105855)
1 - Bilstein Right Front Sport strut (VE3-A586 / 35-105862)
1 pair - Bilstein Rear Sport Shocks (BE5-2453 / 24-024532)
This item fits the following BMWs:
1995-1999
E36 BMW
M3
Packaged by Turner
Part #: E36M3SPORT
Direct Ship
Free Shipping