BMW E39 Strut Braces & Stress Bars
BMWs need some added chassis strengthening in the front. You may notice some "chassis flex" when cornering or driving over a bumpy road. The reason for this is the incredible amount of force being applied to front strut towers. They have a tendency to flex when force is applied to them. Tying the strut towers together with a brace reduces the amount of flex and soldifies your car's chassis. Easy installation.

For accurate results, specify your model below.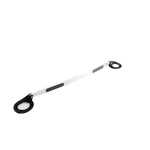 A strut tower brace adds additional reinforcement to the front strut towers, tying them together for extra rigidity. This makes the whole structure stronger with less chassis flex. Handling and steering feel are improved with better turn-in and input with no downsides. The Dinan strut tower brace is a very high quality aluminum brace with precision machined ends that match the contours of the strut tower. Other braces simply sit on top which reduces their effectiveness. This is definitely one of the stronger strut brace designs on the market. The center bar is polished aluminum with carbon fiber inlays - an unmistakable sign of precise engineering when you open the hood.
For over 35 years, Dinan has been America's premier tuning company, pioneering advancements in BMW modification while retaining a focus on balanced performance that preserves the original character and driving feel that a BMW offers. When you install a Dinan part on your car, know that it's not only carefully developed and tested, but that Dinan stands behind it with a four year, 50,000-mile warranty. Dinan believes so fully in their "total package" approach that once your car has been fitted with enough of their parts, they celebrate your conversion from stock to Dinan with an exclusive trunk badge, displayed proudly by BMW enthusiasts everywhere. This part is worth 2 points towards your Dinan badge.
This item fits the following BMWs:
1997-2003 E39 BMW 525i 528i 530i 540i M5

Part #: D180-0390
In Stock
Free Shipping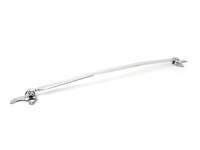 Improve the handling and steering response of your BMW today with a Turner Motorsport strut brace.
Turner Motorsport developed these in association with our European partners to provide a higher quality and better performing strut brace than our competitors. Made of aircraft grade aluminum these strut braces - also know as a "stressbar" - help to minimize chassis flex during the hardest cornering, which keeps your tires squarely on the road and delivers the traction you need when you need it most. Shock absorption is also increased, which reduces road forces and body roll and lends a firmer road-feel. Strut braces provide benefits for both street driven and track driven BMW's.
This item fits the following BMWs:
1997-2003
E39 BMW
525i 528i 530i 540i M5

Part #: 067018
Ships on May 7, 2018
Free Shipping