BMW E64 Underdrive Power Pulleys

Reduce parasitic loss of power on your BMW's engine by safely under driving the belt driven auxiliary systems. Reducing this drag on your engine results in MORE HORSEPOWER AND TORQUE to the wheels of your BMW. Our BMW underdrive power pulley kits are specifically designed for each BMW application to make the best power while maintaining stock driveability and reliability, eliminating potential downsides. Others may advertise "their" pulleys boasting more power, but we concluded that for street and track driven BMWs, ours are the best size and design to ensure both your engine and it's belt-driven systems (alternator, water pump, power steering etc) are well within safe operation. We run these under drive pulleys on our own BMWs, so we would not want them any other way.
You're currently viewing parts for your
(E64) 6-Series Convertible 2004-2010
.
Reset your chassis

For accurate results, specify your model below.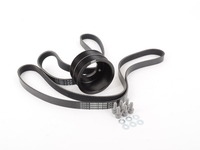 Get MORE HORSEPOWER and TORQUE on your 2006 and newer M5 sedan or M6 coupe/convertible by replacing the stock crank pulley with this specially designed performance version. The Power Pulley reduces rotational mass and safely under drives your belt driven auxiliaries for reduced parasitic power loss. The end result: More power to your M5 or M6's rear wheels! Designed to give the best performance benefit with no sacrifices or compromises to your BMW's reliability. These have been tested on hundreds of cars before public release and there are simply NO DOWNSIDES to this upgrade.
Limited time introductory offer: FREE GROUND shipping on all orders shipped within the 48 contiguous states shipping on this V10 pulley kit.

CNC machined using aircraft grade 6061 aluminum billet, and anodized with a stealthy black coating. Others may advertise "their" crank pulley boasting higher numbers (using a smaller pulley profile), but we have concluded that for street and track driven M5 and M6, this is the best size and design to ensure proper engine temp and auxiliary functionality. As the S85 V10 engine doesn't use a traditional harmonic balancer, all factory harmonics and dampening are fully and properly retained. We've found this pulley alone adds 18 to 22 HP and 17 to 21 Ft/lbs Torque on a stock M5 or M6 with no other mods(!!).

The E60 M5 / E63 M6 Power Pulley Kit includes:
(1) Underdrive Crank Pulley
(1) Correctly Sized Drive Belt
(6) Allen Head Bolts
(1) Installation instructions

This underdrive pulley fits the following BMWs:
2006-2010 E60 M5 sedan
2006-2010 E63/E64 M6 coupe & convertible


Part #: ppk-s85KT
Ships on Jun 27, 2018
Free Shipping