In the United States, the headlights and tail lights on newer BMWs differ greatly from the subjectively more attractive counterparts overseas. Give your BMW the sleek, upgraded, attractive look of a European model with our OEM replacement headlights, taillights, and indicators. If you need to replace or upgrade your current lights, we carry all the proper bulbs and headlight conversions your car would need.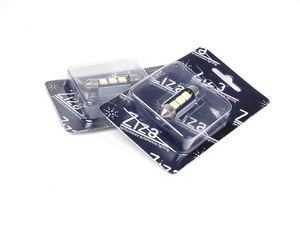 White light is inherently more pleasing to the eye than the stock yellow bulbs. Ziza's LED license plate bulbs are a direct plug-and-play solution that will not throw any codes, allowing you to seamlessly transform the rear end of your vehicle. LED license plate bulbs are one of the easiest modifications you can make to your BMW, and they make a massive difference.
If you already have already ditched your halogen headlights and yellow interior lighting, Ziza's LED license plate bulbs are a great way to finish off the white lighting theme to transform the look of your vehicle.