BMW F15 Camber / Caster Kits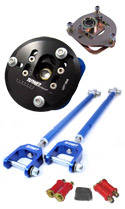 The camber setting in your alignment is one of the most crucial aspects of your suspension and the overall driving experience. Unfortunately, most BMWs do not have a camber adjustment in the front and a limited adjustment in the rear. This can be frustrating because camber comes into play whenever you make changes to the suspension or when you want more negative camber for more grip and better handling. There are multiple reasons to adjust camber -
•  You want more front end grip to reduce understeer and create a more balanced handling scenario,
•  You have lowered the car and need to reduce negative camber due to inside tire wear
•  You added wider tires or wheels and need extra clearance to bodywork,
•  Your car was in an accident or collision and the camber setting is now wrong. Note: there may be other factors to this situation and we recommend finding the root cause rather than a quick-fix.
We offer front fixed or adjustable camber plates or camber/caster plates, rear adjustable camber arms, and rear adjustable camber bushings from KMAC, Vorshlag, and also our own designs to fit your specific needs. In most cases, these adjustable camber kits are a direct replacement for the stock BMW part, enabling a seamless upgrade. Adjustable camber can be dialed-in using ordinary hand tools and most kits have reference marks for consistent and repeatable adjustments. No drilling, slotting, or welding required! Some kits perform specific functions and fit with specific types of suspensions (stock, stock-type, coil-over, etc). Give us a call if you need guidance in selecting the best camber plate option for your particular suspension or situation.

For accurate results, specify your model below.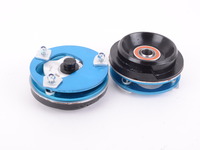 Location: Front
Type: Street/Track, Stage 2
Upper spring perch: OEM-size, 60mm, and 2.5" included
Bearings: urethane OEM-type center bushing; lubricated radial thrust bearing on spring perch
KMAC camber/caster plates use a patented adjustment method designed for easy and rapid alignment adjustments. The KMAC design has a 'floating' inner camber plate, rather than slotted, to allow camber and caster to be adjusted together. To adjust, simply loosen the top three nuts on the strut tower and position the KMAC mount to match your desired alignment settings. The KMAC design allows more camber and caster adjustment because separate caster hardware is eliminated. While primarily designed to increase negative camber for track use these can also be used to fix alignment issues that cause uneven tire wear or unwanted handling behavior.
KMAC camber kits are the most complete kits on the market, with all of the common spring perch options and strut hardware included. The OEM size spring perch as well as 60mm and 2.5" spring isolators are included which makes it easy to upgrade from stock struts to coil overs without having to buy new camber plates. Or swap springs on your coil overs between 60mm and 2.5" without buying additional upper perches. Also included are the most common strut pin hardware - 14mm lower bearing adapters and 12x1.5, 12x1.75, and 14x1.5 top nuts. This takes the guesswork out of ordering the correct hardware for your strut type. The urethane main bushing is also replaceable and the camber plate parts are made from 7075-grade aluminum for a lifetime of camber plate use.
Fitment Note 1: suspensions vary from manufacturer to manufacturer. The proper stacked height and clearances are required. K-MAC includes bearing adapters, spacers, and various top nuts but it is still the responsibility of the installer to ensure a correct and safe fitment. Basic instructions are included but professional installation is required. As with any race-derived component, additonal fabrication may be required.

Part #: 193816-2L
Ships on Apr 10, 2018
Free Shipping