BMW F15 Fuel Filters
The first place to look at for fuel supply and lean condition faults is the fuel filter. It's not hard for contaminants, dirt, and dust to find its way into your fuel system. Even rust can form in the tanks of some cars and that debris gets transferred through the system until eventually reaching the filter. There's nothing wrong with the system - the filter is doing exactly what it's supposed to do! But regular replacement of the fuel filter will ensure plenty of fuel is available for the engine to make power with. Is there a power
gain
from a fuel filter? No, but there is
power restoration
. The fuel filter is easily accessible on most cars and replacement is straight forward.

For accurate results, specify your model below.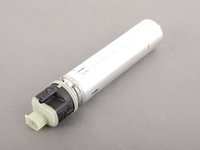 This is the Genuine BMW M57 / N57 diesel engine fuel filter. We recommend preventative replacement of the fuel filter at 60-80,000 mile intervals. Replacing your fuel filter with this Genuine BMW fuel filter with built in heating element will help prevent the filter from becoming clogged. A clogged fuel filter can result in a variety of problems including stalling, cold start problems, and reduced performance.
This item fits the following BMWs:
2011+
F10 BMW
535d 535d xDrive
2009+
F01 BMW
740ld xDrive
2007-2013
E70 BMW
X5 xDrive35d
2014+
F15 BMW
X5 xDrive35d

Part #: 13328572515
Ships in 5 days
Free Shipping