BMW F23 Exhaust Muffler Tips

Looking to enhance the appearance of your exhaust but don't want to buy a full system or change the sound? Exhaust tailpipe tips replace or cover the existing tips and give your muffler the sporty appearance of full performance exhausts. The muffler tips we sell are designed to blend with the bodywork and styling of your BMW and not look out of place or garrish. Many of the tip sets we sell are factory BMW accessory parts.
You're currently viewing parts for your
(F23) 2-Series Convertible 2014+
.
Reset your chassis

For accurate results, specify your model below.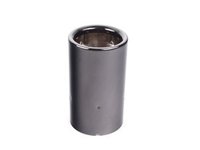 Enhance the look of your F22, F30 or F32 with the 4 cylinder turbo N20 engine with these black chrome exhaust tips. They simply slide over your existing exhaust tips and provide a larger, more aggressive appearing tip, similar to those offer on some of the high performance exhaust systems.
Sold Individually. 2 Required.
This item fits the following BMWs:
2014+
F22 BMW
228i
2012+
F30 BMW
328i 328i xDrive - Sedan
2013+
F31 BMW
328i xDrive - Wagon
2014+
F34 BMW
328i xDrive GT - Gran Tourismo
2013+
F32 BMW
428i 428i xDrive - Coupe
2013+
F33 BMW
428i Convertible 428i xDrive Convertible - Convertible

Part #: 18307610639
In Stock

Free Shipping
on orders $199 and up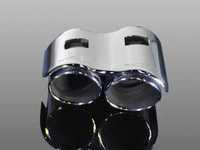 The AC Schnitzer muffler is designed to compliment your car and not overpower the driver and passengers with harsh tones. Schnitzer engineers their exhaust to sound great and be a natural fit to the character of the car while also producing more power and torque. Now, you can get new exhaust tips separately to help fill out the rear valence. AC Schnitzer is sure only to use the highest quality components in their systems for maximum corrosion protection and durability. These exhaust tips are designed for use with the AC Schnitzer exhaust systems. Detailed installation instructions are included.
This item fits the following BMWs:
2014+ F22 BMW M235i, M235i xDrive, M240i, M240i xDrive
2014+ F23 BMW M235i, M235i xDrive, M240i, M240i xDrive

Part #: 1814222450
Direct Ship