Find Parts That Fit Your Vehicle
BMW Akrapovic Performance Exhaust Systems
The Akrapovic (pronounced "Ack-rap'-o-vich") company was founded in 1990, based on the experience gained in the field of motorcycle tuning by Igor Akrapovic. Akrapovic is now the leading supplier of Titanium exhaust systems for cars and motorcycles, and are known internationally for their quality and performance. Akrapovic supplies exhausts to BMW Motorsport for racing applications such as the M3 GT4, BMW Motorrad, and many professional race organizations campaigning BMWs and Porsches. The titanium Akrapovic uses for their exhaust systems is produced exclusively for them. Their Titanium is three times stronger and more heat resistant than any other titanium product on the market, in addition to being 40% lighter than stainless steel. This high strength allows the use of thinner insulation while still achieving the highest quality standards, bringing decisive advantages both on and off the race track. The Akrapovic exhaust systems are the lightest and highest quality exhausts you can buy for a BMW. And as you'll find from their sound clips, they also have an amazing sound quality.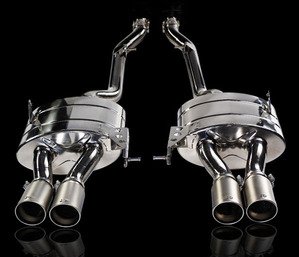 This slip-on muffler system was originally designed for use on the BMW M3 GT4 and now is available for the E92 M3 coupe or E93 M3 Convertible.

The Akrapovic Evolution Exhaust System for BMW M3 consists of 2 completely newly developed and now split-end mufflers. This exhaust system, made fully from titanium, reduces the overall weight when compared to the stock system by about 14 kg (30.8 lbs).

The power increase is about 5 HP. The torque is nearly constant at 3,6 Nm over the stock. That is the real joy of driving: high speed engine benefits in daily practice due to the torque increase. It improves the agility in the lower rpm-range noticeably. Also, the engine is stronger in the higher rpm-range and the elasticity is improved considerably. The improvement of acoustics played an important role in the development. The Akrapovic exhaust system amplifies and rectifies the beautiful sound of the 8-cylinder motor, without appearing invasive or having disadvantages in the daily use.

Not for sale outside the US or Canada.

This Akrapovic Exhaust fits the following BMWs:
2007+ E92 3 Series M3 Coupe
2007+ E93 3 Series M3 Convertible

Download the full brochure here .
Download the installation instructions here .
Download the dyno chart here .