Find Parts That Fit Your Vehicle
BMW Catalytic Converters
Our Catalytic Converters are the same quality construction as OEM but at a third of the cost! These are a direct replacement for the original BMW catalytic converter. These bolt on to your stock exhaust manifold and muffler, no welding required. We offer cats for both pre-OBDII BMW's (pre 1996) and BMW's with OBDII (1996+). We offer both 50 state legal converters and less expensive 49 state versions. Meets all EPA and CARB requirements. A factory warranty is included: 5 year/25,000 for 49 State versions, and 5 years/50,000 miles on 50 State legal versions.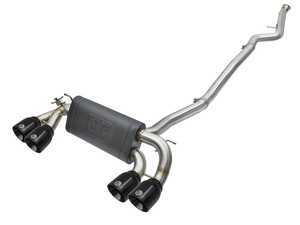 Sale - Save 10%
$2,072.89
$1,865.60
Sale - Save 10%
$2,072.89
Test Results
In testing, the down-pipe back exhaust system resulted in gains up to +22 horsepower and +18 lbs. x ft. of torque, as measured on our in-house dyno.
Potential for up to +20 horsepower and +41 lbs. x ft. of torque when combined with aFe's Twisted Steel street down-pipe (P/N: 48-36115-HC)
Aggressive Sound:
A free-flowing, transverse muffler is used to absorb high pitch tones producing a powerful sound and unleashing all available horsepower and torque. The muffler is finished with a high-temp powder-coated black finish and a stamped aFe power logo.
Exhaust Valve:
This down-pipe back exhaust system incorporates a factory style exhaust valve which uses the factory exhaust valve motor (not included). The valve helps regulate, direct and control the flow of exhaust gases by opening, closing, or partially obstructing passageways depending on throttle position for maximum performance.
V-Band Connection:
A machined, factory style V-band flange is used for a secure leak-free seal.
Simple Installation:
This MACH Force-Xp down-pipe back exhaust system uses factory mounting locations providing stability and a hassle-free installation.
Quad 4" Gloss Black Tips
Finishing off this system are quad 4" diameter, gloss black, 304 stainless steel tips. The tips come with a laser-etched aFe power logo for an aggressive style.

Leak-Free Seal:
High quality band clamps are used for a complete 360 degree sealing surface.
Brushed 304 SS Construction:
The performance down-pipe back exhaust system is constructed of 3" to 2-1/2" mandrel-bent, brushed 304 stainless steel tubing for maximum performance, corrosion resistance and strength eliminating cracking.

All aFe exhaust systems are engineered and manufactured in our Corona, California manufacturing facility.