E36 M3 Euro Supersprint Center Resonator
This E36 M3 center section has been replaced with a new 409 stainless steel version.
Click here to be taken to the new version.
This Euro center resonator replaces a stock European-spec center resonator or US/Euro catalytic converter section. The Supersprint exhaust piping is 60mm in diameter - 10mm larger in each pipe than a standard US exhaust system. This larger sizing helps to improve exhaust flow which frees up horsepower from the engine. Instead of working to push exhaust gas through small pipes the exhaust gas flows easier so the engine doesn't have to work as hard.
The Supersprint Euro center resontor replaces a stock BMW Euro M3 center resonator OR requires the full Supersprint Euro headers and Euro rear muffler. For the best flow with supercharging or intricate intake kits, the Euro system works best!
section: center resonatorconnects to: stock Euro headers, stock Euro muffler
Supersprint Euro headers, Supersprint Euro mufflermaterial: T304 stainless steel
This part alters or deletes the emissions equipment on your car. Because of this, we require a waiver of emissions compliance to be signed and sent in to TMS.
You can download the waiver here.
1992-1999 E36 BMW 325i 325is 325ic 328i 328is 328ic M3
US models require Euro headers and Euro muffler
1994-1999 E36 BMW Euro M3

Supersprint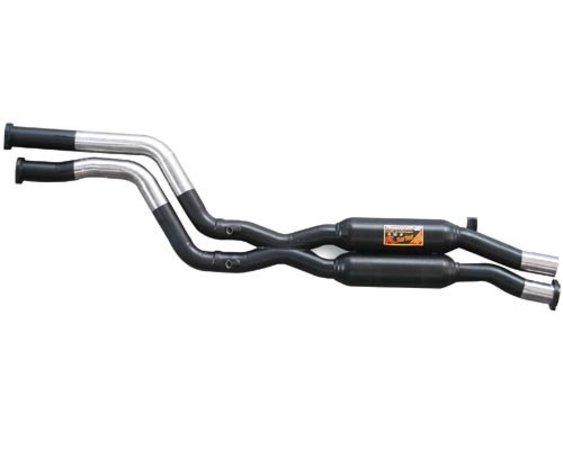 1 of