E32/E34 302mm Front Brake Upgrade for E28 528e/535i/M5
This package consists of front rotors and calipers to upgrade the front brakes of any E28 5-series, including the M5. This kit uses the front calipers, caliper brackets, and 302mm rotors from the E32 7-series and E34 540i. This makes the rotors about 3/4" larger than the stock 528e/535i rotors as well as thicker. The larger rotors will contribute to shorter stopping distances and the extra mass is better at managing heat, especially under track and fast road conditions. But the best part about this upgrade is that it's a straight bolt-on replacement of your original brakes! 15" or larger wheels are the only requirement. There are no other parts required and no modification needs to be done. Your original brake lines and pad wear sensor fits with the new brakes. This has long been an underground secret upgrade among E28 enthusiasts but only recently have calipers and caliper brackets been available at very reasonable prices. You no longer have to pick them off a junk car! And now we can offer more options for pads and rotor styles.
Brake Rotor Size Comparison:
E28 528e 284x22E28 535i/is 282x25E28 M5 300x30E32/E34 540i 302x28
On the M5, the E32/E34 brakes are more of a replacment alternative than a true upgrade. These are the perfect, low cost alternative to the 4-piston M5 caliper. The M5's multi-piston calipers are very hard to find as a fully-rebuilt unit. And new calipers from BMW are over $600 each! Your originals can be rebuilt with new seals but if the pistons or housing is corroded a full replacement is your only option. Changing to a single-piston E34 caliper may sound like a downgrade but they have the same surface area as the four-piston M5. In fact, the master cylinder in the M5 is the same as used on the 535i so the M5 isn't pushing any more fluid. So the brake balance on the M5 stays the same when used with the stock rear rotors. And this is why you don't need a different (750iL) master cylinder either with this kit. With our rebuilt calipers, the brackets are included to make this a direct bolt-on to the E28 steering knuckle.
The E34 caliper also has a lot more options for pads than any stock E28 caliper. The pad shape is the same as an E36 M3 so there are dozens of options for street, mixed use, and all-out track pads. We've made a few options available in the menu below or you can browse all of our E36 M3 pad options by
clicking over to the pad section here.
Kit Upgrade Contents:
34111159896, 302mm x 28mm E32/E34 540i rotors - choose from plain blank style, cross drilled, slotted, or drilled + slotted
34211161806, rotor retaining screws (x 2)
34111160363R, E32/E34 540i left front caliper with bracket (rebuilt)
34111160364R, E32/E34 540i right front caliper with bracket (rebuilt)
34111151604, caliper mounting bolts (x 4)
Notes:
- These are rebuilt calipers so a core charge will apply to each. The core charge is a mandatory selection in the menu below. This charge will be refunded in full when you send back your original calipers with brackets (in the boxes we provide). Or keep your 4-piston calipers for posterity (you would forfeit the core charge).
- Rebuilt calipers are not coated or painted and they will go through several stages of surface rust. If your calipers will be visible through your wheel, we strongly recommend painting or coating the calipers prior to installation.
This item fits the following BMWs:
1982-1988 E28 BMW 528e 533i 535i 535is M5
1982-1989 E24 BMW 633csi 635csi M6
T#:
338642
|
Part#:
TMS180846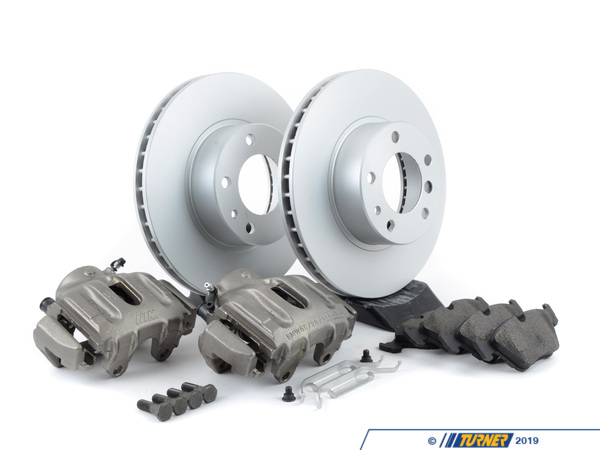 1 of
2 of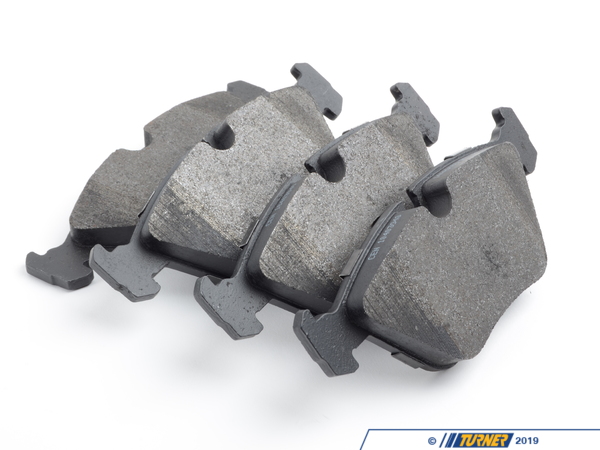 3 of
4 of
5 of
Direct Ship, Expected Ship Date: May 11, 2021