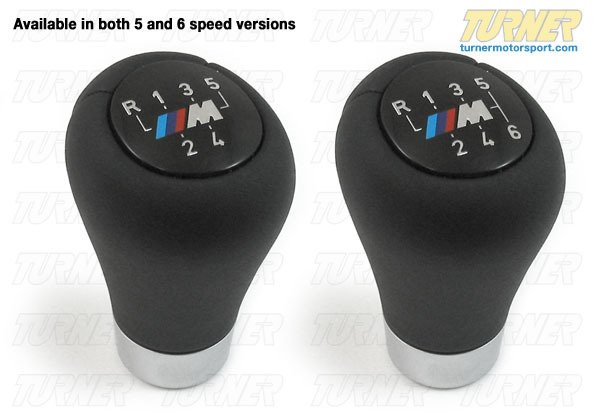 Manual BMW Shift Knob - ZHP Style Weighted Anatomic - 5 or 6 Speed Pattern
Mfg Part #

TMS1844

T-MS1-844

T MS1 844

Turner Part #

T#

339106

Brand
Ships in 2 days

Free Shipping
on orders $199 and up
Does this fit my vehicle?
For accurate results, specify your model below.
Product Details
This Genuine BMW shift knob is about 3/4" shorter than the "standard" shift knobs and is weighted (5.4oz) to give a better, more substantial, shifter feel for the driver. We love the subtle, yet noticeable improvement this makes in the "feel" of gear changes. It's also identical in size/shape/weight to the shift knob that came on the E46 330 ZHP, and is available in either 5 speed or 6 speed gear shift patterns.
Your choice of shift patterns:
+ 5 Speed ZHP Shift knob: BMW Part # 25117896031 (25-11-7-896-031)
+ 6 Speed ZHP Shift knob: BMW Part # 25117896886 (25-11-7-896-886)

Perhaps best of all, this shift knob fits ALL 1982 and newer manual transmission BMWs. That's right -- this knob can be used on ALL BMWs, 1982 and later. So no matter what model BMW you have -- E30, E36, E46, E90 or E92 or anything else -- this knob will look, work, and feel GREAT. This knob also looks and works great on all 1 series including 128i and 135i.
Note that many newer models have a 1-piece knob + boot.
This is standard on most M cars and on some other BMWs. We sell new replacement boots to use with this shift knob, choose the option below if you would like one included with your order (not for E9X M3 models).
Please choose the shift pattern below:
Loading Kit Configurator
Kit Configurator
Choose shift knob
Description
Qty
5 Speed Pattern (#25117896031) ($78.99)

Ships on Feb 23, 2018

1
6 Speed Pattern (#25117896886) ($78.95)

In Stock

1
Include new shift boot (LHD only)?
Description
Qty

No Thanks.

Yes - E30 Leather (#25111220204) ($92.78)

In Stock

1
Yes - E36 Vinyl (#25111221665) ($64.87)

Ships in 5 days

1
Yes - E36 Leather (#25111434322) ($163.76)

Ships in 5 days

1
Yes - E46 Leather (#25111434426) ($75.95)

In Stock

1
Yes - E46 Alcantara (#25117919219) ($54.95)

In Stock

1
Yes - E9X Non-M Leather (#25117595282) ($80.36)

Ships in 5 days

1
Yes - E9X Non-M Alcantara (#25110435847) ($54.95)

In Stock

1
Yes - E82 Alcantara (#25110435848) ($55.44)

Ships in 1 day

1
Image may not match selected options.
This Part Fits the Following BMWs
| Make | Model | Submodel | Engine |
| --- | --- | --- | --- |
| BMW | E24 | 630CSi | M30 3.0L |
| BMW | E24 | 633CSi | M30 3.2L |
| BMW | E24 | 635CSi | M30 3.4L |
| BMW | E24 | M6 | S38 3.5L |
| BMW | E28 | 528e | M20 2.7L |
| BMW | E28 | 533i | M30 3.2L |
| BMW | E28 | 535i | M30 3.4L |
| BMW | E28 | 535is | M30 3.4L |
| BMW | E28 | M5 | S38 3.5L |
| BMW | E30 | 318i | M10 1.8L |
| BMW | E30 | 318i | M42 1.8L |
| BMW | E30 | 318is | M42 1.8L |
| BMW | E30 | 325 | M20 2.7L |
| BMW | E30 | 325e | M20 2.7L |
| BMW | E30 | 325es | M20 2.7L |
| BMW | E30 | 325i | M20 2.5L |
| BMW | E30 | 325is | M20 2.5L |
| BMW | E30 | 325ix | M20 2.5L |
| BMW | E30 | M3 | S14 2.3L |
| BMW | E31 | 840Ci | M60 4.0L |
| BMW | E31 | 840Ci | M62 4.4L |
| BMW | E31 | 850Ci | M70 5.0L |
| BMW | E31 | 850Ci | M73 5.4L |
| BMW | E31 | 850CSi | S70 5.6L |
| BMW | E34 | 525i | M20 2.5L |
| BMW | E34 | 525i | M50 2.5L |
| BMW | E34 | 530i | M60 3.0L |
| BMW | E34 | 535i | M30 3.4L |
| BMW | E34 | 540i | M60 4.0L |
| BMW | E34 | M5 | S38 3.5L |
| BMW | E36 | 318i | M42 1.8L |
| BMW | E36 | 318i | M44 1.9L |
| BMW | E36 | 318ic | M42 1.8L |
| BMW | E36 | 318ic | M44 1.9L |
| BMW | E36 | 318is | M42 1.8L |
| BMW | E36 | 318is | M44 1.9L |
| BMW | E36 | 318ti | M42 1.8L |
| BMW | E36 | 318ti | M44 1.9L |
| BMW | E36 | 323ic | M52 2.5L |
| BMW | E36 | 323is | M52 2.5L |
| BMW | E36 | 325i | M50 2.5L |
| BMW | E36 | 325ic | M50 2.5L |
| BMW | E36 | 325is | M50 2.5L |
| BMW | E36 | 328i | M52 2.8L |
| BMW | E36 | 328ic | M52 2.8L |
| BMW | E36 | 328is | M52 2.8L |
| BMW | E36 | M3 | S50 3.0L |
| BMW | E36 | M3 | S52 3.2L |
| BMW | E39 | 525i | M54 2.5L |
| BMW | E39 | 528i | M52 2.8L |
| BMW | E39 | 530i | M54 3.0L |
| BMW | E39 | 540i | M62 4.4L |
| BMW | E39 | M5 | S62 5.0L |
| BMW | E46 | 323Ci | M52 2.5L |
| BMW | E46 | 323i | M52 2.5L |
| BMW | E46 | 325Ci | M54 2.5L |
| BMW | E46 | 325i | M54 2.5L |
| BMW | E46 | 325xi | M54 2.5L |
| BMW | E46 | 328Ci | M52 2.8L |
| BMW | E46 | 328i | M52 2.8L |
| BMW | E46 | 330Ci | M54 3.0L |
| BMW | E46 | 330i | M54 3.0L |
| BMW | E46 | 330xi | M54 3.0L |
| BMW | E46 | M3 | S54 3.2L |
| BMW | E60 | 525i | M54 2.5L |
| BMW | E60 | 525i | N52 3.0L |
| BMW | E60 | 525xi | N52 3.0L |
| BMW | E60 | 528i | N52 3.0L |
| BMW | E60 | 528xi | N52 3.0L |
| BMW | E60 | 530i | M54 3.0L |
| BMW | E60 | 530i | N52 3.0L |
| BMW | E60 | 530xi | N52 3.0L |
| BMW | E60 | 535i | N54 3.0L |
| BMW | E60 | 535xi | N54 3.0L |
| BMW | E60 | 545i | N62 4.4L |
| BMW | E60 | 550i | N62 4.8L |
| BMW | E61 | 530xi | N52 3.0L |
| BMW | E61 | 535xi | N54 3.0L |
| BMW | E63 | 645Ci | N62 4.4L |
| BMW | E63 | 650i | N62 4.8L |
| BMW | E64 | 645Ci | N62 4.4L |
| BMW | E64 | 650i | N62 4.8L |
| BMW | E82 | 128i | N52 3.0L |
| BMW | E82 | 135i | N54 3.0L |
| BMW | E82 | 135i | N55 3.0L |
| BMW | E88 | 128i | N52 3.0L |
| BMW | E88 | 135i | N54 3.0L |
| BMW | E88 | 135i | N55 3.0L |
| BMW | E90 | 325i | N52 3.0L |
| BMW | E90 | 325xi | N52 3.0L |
| BMW | E90 | 328i | N52 3.0L |
| BMW | E90 | 328xi | N52 3.0L |
| BMW | E90 | 330i | N52 3.0L |
| BMW | E90 | 330xi | N52 3.0L |
| BMW | E90 | 335d | M57 3.0L |
| BMW | E90 | 335i | N54 3.0L |
| BMW | E90 | 335i | N55 3.0L |
| BMW | E90 | 335xi | N54 3.0L |
| BMW | E90 | 335xi | N55 3.0L |
| BMW | E90 | M3 | S65 4.0L |
| BMW | E91 | 325xi | N52 3.0L |
| BMW | E91 | 328i | N52 3.0L |
| BMW | E91 | 328xi | N52 3.0L |
| BMW | E92 | 328i | N52 3.0L |
| BMW | E92 | 328xi | N52 3.0L |
| BMW | E92 | 335i | N54 3.0L |
| BMW | E92 | 335i | N55 3.0L |
| BMW | E92 | 335is | N54 3.0L |
| BMW | E92 | 335xi | N54 3.0L |
| BMW | E92 | 335xi | N55 3.0L |
| BMW | E92 | M3 | S65 4.0L |
| BMW | E93 | 328i | N52 3.0L |
| BMW | E93 | 335i | N54 3.0L |
| BMW | E93 | 335i | N55 3.0L |
| BMW | E93 | 335is | N54 3.0L |
| BMW | E93 | M3 | S65 4.0L |
| BMW | F30 | 320i | N20 2.0L |
| BMW | F30 | 320i xDrive | N20 2.0L |
| BMW | F30 | 328i | N20 2.0L |
| BMW | F30 | 328i xDrive | N20 2.0L |
| BMW | F30 | 335i | N55 3.0L |
| BMW | F30 | 335i xDrive | N55 3.0L |
| BMW | F30 | ActiveHybrid 3 | N55 3.0L |
| BMW | F31 | 328i xDrive | N20 2.0L |
| BMW | F32 | 428i | N20 2.0L |
| BMW | F32 | 428i xDrive | N20 2.0L |
| BMW | F32 | 435i | N55 3.0L |
| BMW | F32 | 435i xDrive | N55 3.0L |
| BMW | F33 | 428i | N20 2.0L |
| BMW | F33 | 428i xDrive | N20 2.0L |
| BMW | F33 | 435i | N55 3.0L |
| BMW | Z3 | 1.9 | M44 1.9L |
| BMW | Z3 | 2.3 | M52 2.5L |
| BMW | Z3 | 2.5i | M54 2.5L |
| BMW | Z3 | 2.8 | M52 2.8L |
| BMW | Z3 | 3.0i | M54 3.0L |
| BMW | Z3 | M Coupe | S52 3.2L |
| BMW | Z3 | M Coupe | S54 3.2L |
| BMW | Z3 | M Roadster | S52 3.2L |
| BMW | Z3 | M Roadster | S54 3.2L |
| BMW | Z4 | 2.5i | M54 2.5L |
| BMW | Z4 | 3.0i | M54 3.0L |
| BMW | Z4 | 3.0i | N52 3.0L |
| BMW | Z4 | 3.0Si | N52 3.0L |
| BMW | Z4 | M Coupe | S54 3.2L |
| BMW | Z4 | M Roadster | S54 3.2L |
| BMW | Z4 | sDrive30i | N52 3.0L |
| BMW | Z4 | sDrive35i | N54 3.0L |
| BMW | Z4 | sDrive35is | N54 3.0L |
*The above product applications have been written by Turner Motorsport. All warranties, product application, fitment, and performance are the responsibility of Turner Motorsport. For additional information see the terms of use.
others bought
recently viewed